Eddie Murphy Shopping 'Beverly Hills Cop' Reboot, Guest Starring Eddie Murphy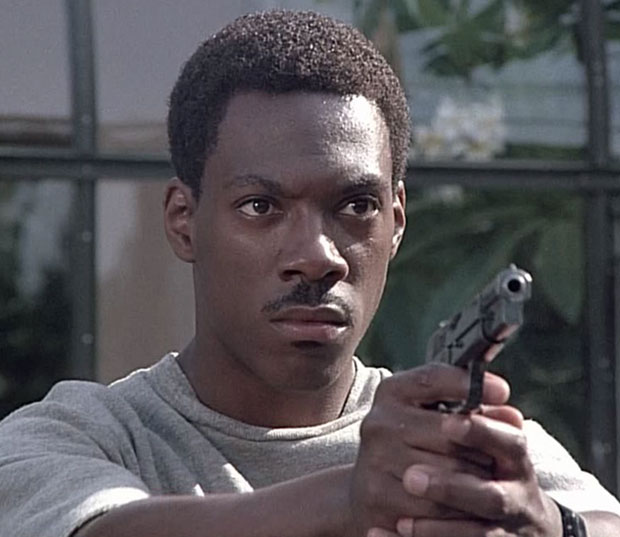 Eddie Murphy — comedian, actor and frequent obese woman impersonator — is itching to return to Beverly Hills. Deadline reports that the star of the Beverly Hills Cop franchise is shopping around an hourlong comedy-drama-action series based on the films, which starred Murphy as a witty Detroit cop named Axel Foley who moves to Beverly Hills to, Calif., to investigate crimes in the posh neighborhood.
Murphy would produce the series with The Shield boss Shawn Ryan, but he wouldn't just stop behind the scenes. The new show would center on Foley's son, "who moves to Beverly Hills to escape the shadow of his legendary dad," who has become the police chief in Detroit. The big tease is that Murphy would occasionally pop up as Foley in a recurring guest star role. It's safe to say that given the show's procedural nature, recognizable title, non-risky genre bending and Murphy's involvement (the star has been discussing the project openly since last year), it won't have to spend too much time sitting on the shelf.
Most people agree that Murphy is well-deserving of a comeback, after a string of flops and that whole Oscars debacle — but did anyone expect the comedian's big return to be on network television? Can a small screen even hold the personality of the legendary talent, who has since exploded in stardom since his days on SNL? It very well may have to, considering that Murphy clearly hasn't found the cinematic success he should have in recent years, save for a brief "could this be it!?" comeback in 2006's Dreamgirls. Perhaps moving back to television is not so much a last resort as it is a brilliant move. Murphy hasn't been featured regularly on TV since the claymation-lite The PJs in 2001; that show and SNL mark his only two major TV gigs. Maybe a return to TV is exactly what can bring Murphy back into the spotlight he deserves.
Follow Marc on Twitter @MarcSnetiker
[Photo Credit: Paramount Pictures]
MORE:
Eddie Murphy Backs Out Of Hosting The Oscars
Eddie Murphy Joins Arnold Schwarzenegger & Danny DeVito in 'Twins' Sequel 'Triplets'
Eddie Murphy Set to Star in Spike Lee's Marion Barry Biopic for HBO