You Shouldn't Have: The Most Elaborate Holiday Gestures on TV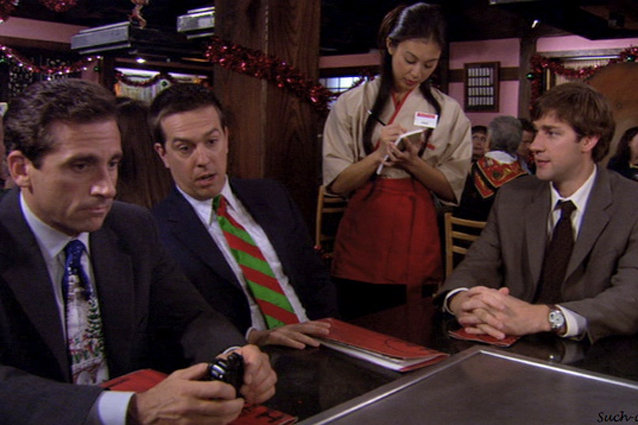 NBC
Size doesn't matter. The grandest gesture isn't always the best one. Blah, blah, blah. It's Christmas and it's time to pull out all the stops. For better or for worse. Usually worse.
The Office — "A Benihana Christmas"
In the comedy's third season Christmas episode, Michael loses his casual girlfriend Carol when he takes gift giving just a little too far. An all-expenses trip to Sandals Jamaica? Fine. Photoshopping himself into a picture of Carol, her kids, and her ex-husband and sending it out as a Christmas card? Questionable. In Jim's words: "But then again, Michael's a bold guy. Is 'bold' the right word?"
The West Wing — "In Excelsis Deo"
Not so much a grand gesture as a tremendous show of compassion, Toby uses the President's name to arrange for the funeral of a homeless Korean war veteran who froze to death on the mall. So affecting that we'll almost forgive Aaron Sorkin for never telling us what Josh wrote to Donna in The Art and Artistry of Alpine Skiing. Almost.
Cheers — "Where There's a Will"

A dying man amends his will on a bar napkin, leaving $100,000 to the gang at Cheers. Sounds like the perfect opportunity to bicker and fight and ultimately learn the true meaning of Christmas.
Parks and Recreation — "Citizen Knope"
After getting dumped by her campaign managers, Leslie is feeling useless and deflated. Though that doesn't stop her from gifting her colleagues with things they never knew they always wanted: for Donna, a leopard print robe that says "You can get it." For Andy, a certified platinum MouseRat CD. And for April, an original painting of her having decapitated the Black Eyed Peas. ("It's a Christmas miracle.") They get Leslie back by presenting her with a lovingly crafted gingerbread house and pledging their own support of her now grassroots campaign. 
The Big Bang Theory — "The Bath Item Gift Hypothesis"
No one could be more literal about the one-to-one exchange of holiday gifts than Sheldon. When he learns that Penny has a gift for him, he struggles to find something precisely equal in value to give her. But it's priceless — a napkin used and signed by Leonard Nimoy. He has no choice but to give her something just as rare: a Sheldon Cooper hug.