Eli Manning To Host 'Saturday Night Live': Score?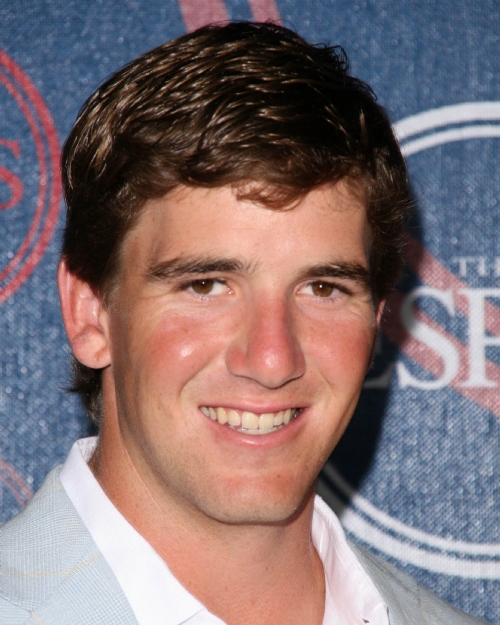 While New York Giants quarterback Eli Manning may no longer be living under the sports shadow of his older brother Denver Broncos transplant Peyton Manning (Lil' Manning has one more Super Bowl ring to show off than his big brother does) he still has one more arena to prove himself in: Comedy. When Peyton Manning hosted Saturday Night Live back in 2007, the then-Indianapolis Colts QB turned out one of the funniest episodes of the season (thanks largely in part to the instant classic United Way Digital Short) and one of the strongest hosting efforts ever by an athlete on the long-running show. Now it's Eli Manning's turn to try when he hosts SNL on May 5 with musical guest Rihanna.
Saturday Night Live is a notoriously tricky place for an athlete to find their footing (for every Michael Jordan and Derek Jeter, a little Andy Roddick must fall) and Peyton Manning arguably has a livelier personality and more natural knack for comedy better suited for the sketch comedy show than Eli. That's not to say that the 31-year-old can't hold his own, especially when it comes to facing off against Peyton. (He put up an awfully good fight in their inspired, hilarious SportsCenter commercial.) Here's three big plays Eli Manning can make to score a comedy touchdown (ah, football puns galore!) when he hosts SNL in two weeks:
Rely on Peyton: Yes, this is every younger sibling's worst nightmare, but sometimes you just need your gifted older sibling to help you out in a clutch situation. If the two can play up their "sibling" rivalry for the cameras and Eli runs with the joke, pretty soon people might be asking Peyton, "Why can't you be more like Eli?"
Skip the drag: Take it from Charles Barkley, it's a total drag in every sense of the word.
Just go for it, man: Sure, he's a mild-mannered dude off the field, but when it comes to pulling out all the stops and making miracles happen, Eli knows how to get the job done. If the show plays to Eli's strengths, expect those last few sketches of the night to be a real winner.
So will Eli be able to compete with Peyton? Or will New Yorkers – still too thrilled from the Super Bowl XLVI victory to care about anything else – not hold it against him if he doesn't? How do you think he'll fare? Sound off in the comments section!
[Photo by Dave Edwards- © 2008- DailyCeleb.com- All Rights Reserved]
More:
Read the Plot Synopsis for 'Super Bowl XLVI: The Movie'
Saturday Night Live Recap: Josh Brolin's Goatee and Gotye
Who Can Replace Kristen Wiig, Jason Sudeikis, and Andy Samberg on SNL?