Elise Testone backstage at 'Idol': 'I'm not being rude.'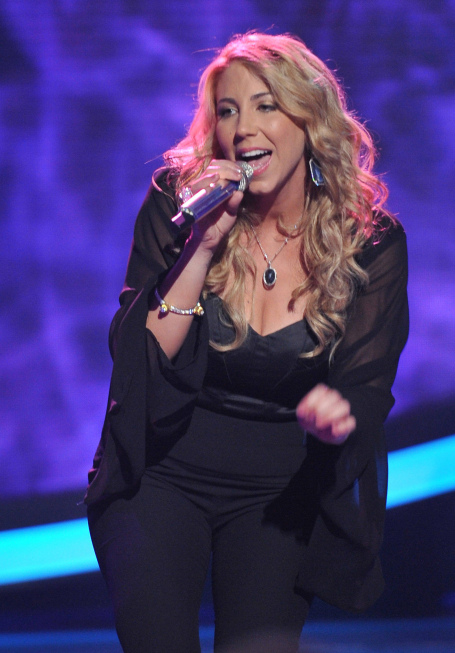 Wednesday night's American Idol was an evening of now and then. In addition to contestants belting out today's No. 1 hits and soul favorites from back in the day, a visibly emotional Ryan Seacrest opened the show by paying tribute to his friend and TV legend Dick Clark, who passed away earlier Wednesday.
As I sat inside the CBS Television City, it was clear that though the tribute may have been quick, it was important to both Ryan and everyone who contributed to the show. Let's face it: Without Dick Clark, shows like American Idol might not even exist.
The show's producers, however, didn't allow their sadness to take the attention away from the Top 7. (Yes, for the second week in a row! As you no doubt remember, Jessica Sanchez was saved from elimination by the judges last week.) Hollie Cavanagh kicked off the show with her rendition of "Rolling in the Deep" by Adele. And there wasn't a question in any audience member's mind that she was looking for her own comeback. No matter that the contestant had struggled in previous weeks — when Hollie belted out that first note, the audience went nuts. (And did you notice that Ryan even mentioned her first note post-performance?) Of course, it's not clear whether that's because of Hollie's talent or a widespread love of the song.
But fans in the audience weren't the only ones on Hollie's side — Jennifer Lopez and Randy Jackson, who delivered the contestant plenty of praise throughout the night, danced along with her performance of Dusty Springfield's "Son of a Preacher Man" later in the night.
Ready for the obvious news of the day? Colton Dixon continued to be a favorite among the women in the audience, receiving some of the loudest cheers of the night when he took the stage to sing his first song, "Bad Romance" by Lady Gaga. (The new red streak didn't hurt the red-hot contestant!) But it was not Colton's night with the judges (sorry, Colton — still no standing ovation for you!) who told him that his first performance was a mix of good and bad and looked less than enthused during his other performance of "September" by Earth, Wind, & Fire. "The judges were a little rough, and honestly, I don't get it. I did the song the way I wanted to do it, I thought I did it well, and that was that. I was totally confused by what they were saying," Colton told me backstage. "I kind of understand it, but I'm not the guy to really show off vocally. I'm the guy who changes up a song and makes it my own."
One thing is for sure that Colton has a friend in Ryan, who greeted him during the commercial break before his first performance with a pat on the back. Speaking of Ryan: At Wednesday night's taping, the Idol host received only slightly fewer cheers than Colton. (Perhaps audience members were reaching out in support following the host's loss of a good friend?) There was even a sign reading "Dunwoody [Ryan's hometown] loves Ryan." Ryan's reaction… to put his hand over heart and give his signature smile. Aww.
Continuing the night of music, Elise Testone sang "No One" by Alicia Keys and had the whole audience as back up singers. Nearly everyone watching knew all the words — no one (heh) was shy about joining in. But not everyone was as enthused about her second performance of "Let's Get It On" by Marvin Gaye — Jennifer and Randy told her to show her emotions on stage and take her performances up a notch. It was then that Elise decided to break one of American Idol's cardinal rules: Not talking back to the judges. Elise told me backstage later that she had just meant to clear the air, which, from the audience's point-of-view, seemed to earn her respect from Ryan, who followed up with her after her talk with the judges. It's not clear, however, how the audience felt — the theater went completely still and quiet during Elise's words.
But the contestant isn't worried about how she came off to viewers. "I didn't want to just stand there and smile and not connect with their conversation," Elise told me later in the pressroom. "So I wanted to engage. I'm not being rude and I didn't even discredit anything they said."
Phillip Phillips had no need to defend himself. The judges raved about his performances of "U Got It Bad" by Usher and "In the Midnight Hour" by Wilson Pickett. He received one of the longest standing ovations of the night and even encouraged Jennifer to do a little jig in her seat during his second performance of the night.
With her near elimination behind her, it was clear that Jessica wanted to leave her mark on the Idol stage with her first performance of "Fallin'" by Alicia Keys. During the performance, I could see Randy moving to the music, which made his praise following the performance all the more unsurprising. (Like the judges were going to critique her after saving her!) But, Randy & Co., seemed to love Jessica's second performance of "Try A Little Tenderness" even more. The audience was invested, sure, but no one was more into it than the three in the judges' chairs. Steven leaned back in his chair and bobbed his head to the beat to the music while Randy looked equally enthralled with the performance.
Jessica, however, wasn't the only star of the night — Skylar Laine was sure to prove that she, too, is a contender in this competition. The audience grooved along with a countrified version of Lady Gaga's "Born This Way," which led to a standing ovation from those of us in the audience. But even she knew she had scored following her second song, Marvin Gaye's "I Heard It Through the Grapevine." As she walked off stage, she gave a giant high five to Ryan, who once again gave her his signature, Crest-approved smile as they walked off the stage.
Of course, we can't forget the last contestant of the night, Joshua Ledet, who, once again, delivered two powerhouse performances that made up for his bottom three finish last week. His covers of both Fantasia's "I Believe" and Sam Cooke's "A Change Is Gonna Come" led to standing ovations from the judges, with the latter performance even leading J. Lo to literally jump up and down for the contestant.
Will it be enough, though? As we saw last week, shocking eliminations are familiar territory on Idol. And tonight will be a doozy — two of our favorites are poised for eliminations. Who will they be, and how will they react? Come back tomorrow for my behind-the-scenes Idol intel!