'Ellen' Parodies 'Titanic': Leo's Long-Lost Nude Scene Rival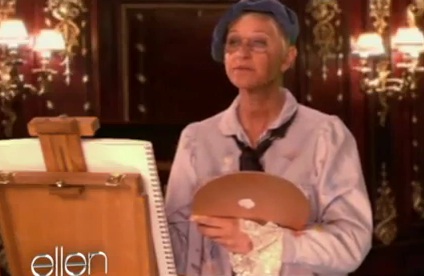 The only thing most men remember about the first time they saw Titanic is what Kate Winslet looked like lying on a chaise lounge in the buff. And while the iconic scene has seen endless parodies, none have possessed quite as much charm as Ellen DeGeneres' latest take.
In celebration of the release of Titanic in 3-D, DeGeneres put her knack for adorably misinformed parodies of films to good use. In Ellen's "un-cut" version of the scene, Rose's breathlessness was up for grabs between our hero, Jack, and Ellen, master stick-figurist. Couldn't afford to see the brand new version of the beloved film over the weekend? Let this enhanced (or recovered, if you want to play along with the ruse) version curb the tide for you. Plus, you won't get the 3-D vision dry-eye after watching three and half hours of big screen action. Win-win!
More: