Emily Maynard: 9 Reasons Why She Will Be the Best 'Bachelorette' Yet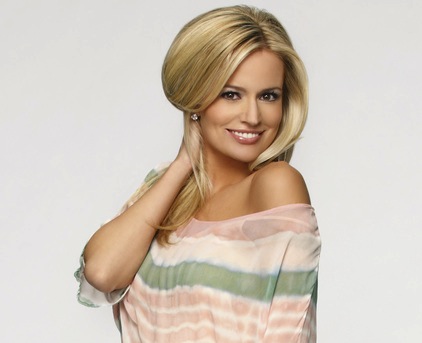 It may have been entertaining to watch Bentley Williams play games with Ashley Hebert's heart or Ali Fedotowsky dump Chris Lambton before the final rose ceremony (what? You wouldn't be watching The Bachelorette if you didn't enjoy schadenfreude too!)  — but nothing will compare to Emily Maynard's season of The Bachelorette. How do we know this? We're psychic. Or we just simply like Emily just as much as Bentley did. 
So, we might be biased. But here are the 10 reasons why we don't want to miss Maynard's Bachelorette season, premiering Monday:
1. Maynard has a reality-ready heart-wrenching storyline. At the age of 19, Maynard got engaged to a race car driver, Ricky Hendrick. Tragically, Hendrick died in a tragic plane crash, leaving Maynard all on her own. But that's not the most shocking part. A week after Hendrick's death, Maynard found out she was pregnant with their daughter. Only a cruel TV watcher wouldn't want to wish Emily a happy ending. 
2. Maynard has produced plenty of relationship drama before. After the single mother decided to take her chances at finding love via The Bachelor, the reality star met and fell in love with Brad Womack… only to break their engagement after the season's end. Will we accept some more drama? YES!
3. Each and every one of us Bachelor devotees love a star who is also a parent. Just look at Jason Mesnick, who watched fans obsess over finding his son a new mother. Bachelorette baby on board? We're in!
4. Maynard was considered enough of a draw for the franchise to convince ABC to shake up production. Typically, the season kicks off in Los Angeles, but — since Maynard refused to uproot her daughter — production moved to Charlotte, N.C. to start filming. If ABC thinks Maynard is worth the relocation trouble, she's worth the trouble of you picking up the remote. 
5. It's likely we won't have to roll our eyes as we endure a Bentley — Maynard already knows the tricks of the Bachelor game, and is sharper than some of predecessors. (Ahem, Ashley Hebert.) Now, if ABC wants to deliver an
actual
lovelorn Bentley…
6. …then we'd love to watch as Maynard talk that one through with Bachelorette bud Hebert.
7. Chris Harrison has a good repertoire with Maynard. Will he tell her to send the jerks home, or convince her that they are necessary for the reality TV-friendly intrigue? For our TV-watching sakes, let's hope for the latter.
8. Didn't we already mention Bentley? The Bachelor and Bachelorette are known to boast surprise guest appearances to boost ratings — how could ABC resist a surprise stop-by from Williams, who first applied to the show to meet Maynard instead of eventual Bachelorette Hebert, or even Womack?