'Emily Owens, MD' Series Post Mortem: And This Is Why We Can't Have Nice Things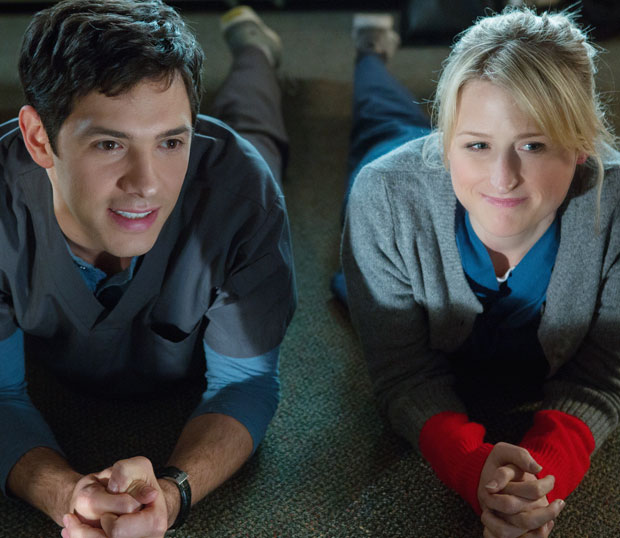 And with that, Emily Owens, MD is no more. Cue the screaming.
No, really. I was screaming at my TV as the end credits rolled. I thought I knew what to expect, after news broke months ago that the Mamie Gummer series was going to be axed after only 13 episodes. So many stories would be left open-ended — so much would be left undiscovered and undeveloped. But then I thought — well, more like hoped — that they would still end the show on a good note. You know, try to tie up as many loose ends as possible. But since the episodes had already been shot and finished before the cancelation, this would not be the case.
Emily Owens, MD's last episode was treated as a midseason finale, which means that we were left with a major cliffhanger intended to lure the audience back after a long hiatus. Keep them wanting more! Well, congratulations, because we were left wanting quite a bit more. You see, the end of Tuesday night's episode found Emily and her best friend Will hooking up. Doing "the deed." Consummating their until-now unrequited love (on her end) with a roll in the hay. While this is a big deal in and of itself, it was made all the more shocking because Emily and her boss Micah finally gave in to their feelings (despite their professional relationship of boss and inferior) and decided to date. The will-they-won't-they love triangle of the entire season became a true, fully-fledged love triangle. 
RELATED: RIP 'Emily Owens, MD': A Tribute to a Show Canceled Too Soon
And this is why Emily Owens, MD should not have been canceled. Forget all my previous arguments that were based on the quality and unique aspects of the show (which were all completely valid, by the way). Let's focus instead on the timing of the cancelation.
We were just getting to the good stuff! The meat! The substantial, quality drama! We finally got past the introduction stage, and could begin the real story. Emily had evolved from an insecure girl stuck in her high school days to a mature woman — standing up for herself, and being honest with those around her. She finally took risks that paid off: she was happy! And, of course, with her newfound strength and independence came the complications of having too much of a good thing: both Micah and Will made a play for her.
We should have been able to get the chance to see how Emily dealt with this new situation. She finally got what she wanted, and then some. How would she handle the consequences of her decision to sleep with her best friend while also dating her boss? 
RELATED: 'Emily Owens, MD' Is Just Like 'Grey's Anatomy'… And That's A Good Thing
And that's just Emily's storyline. Let's not forget about the vast array of supporting characters, all with their own compelling, intriguing stories. First off, Emily's other best friend Tyra finally decided to move out of her dad's home so she could become independent. Micah's mother agreed to do the clinical trial and try to fight off her terminal case of cancer, after Micah's sister lied and said that she was pregnant to convince their mom to fight. Dr. Bandari's old flame was back at the hospital, and he made it clear that he didn't care that she was married (they had had a fling a year before). Cassandra realized Will was in love with Emily and dumped him, the discovered that he had made a huge mistake with a patient that ended up killing the patient. Will then confessed his mistake to the patient's family and to the hospital. Yikes.



Every character was evolving in their own way, for better or for worse. Even characters that we had previously viewed as villains (i.e., Dr. Bandari and Cassandra) were starting to show human traits. The way Cassandra offered to cover for Will after his mistake showed how much she cared for him and his career, even though they had already broken up. Dr. Bandari proved that she wasn't as perfect as she pretends to be when her affair came to light. She makes mistakes and feels emotions, guys! She was trapped in a broken marriage and didn't know how to get out — we were finally starting to care about the characters we never even wanted to care about. 

RELATED: CW Developing New Robin Hood Drama With 'Emily Owens, MD' Producer

I feel as if a rug was pulled out from under me. As if the floor underneath my feet just became a little less stable. Like I was duped. Tricked into liking a show that would never give me the emotional payoff it promised. Why couldn't we just have the full season? It's such a tease, only giving us 13 episodes. It's as if those 13 hours of my life are ones that I'll never get back. Wasted.

But despite how bitter I may be now, I know that I'll be glad I stuck with Emily Owens, MD until the very end. It was a charming show — unique, intelligent, and cute. The stories were real, and the characters were relatable. I honestly can't think of any other show that's like it on the air. So why, CW, did you have to cancel this one?

Maybe the ratings weren't too hot, maybe other critics didn't share the same feelings that I have. Maybe we all took this show for granted. But after spewing out elitist society shows for the 1 percent like Gossip Girl for six seasons, you'd think a down-to-earth, sweet, real show would get more than just a half season. See, this is why we can't have nice things. 

[Photo Credit: Jack Rowand/The CW]

Follow Sydney on Twitter @SydneyBucksbaum
---
You Might Also Like:


15 Oscar-Winning Nude Scenes


Topanga's Revealing Lingerie Shoot: Hello '90s!