Emmy Idle Threats: Give 'Game of Thrones' Emmy Gold or I'll Give (?) a Crown of Gold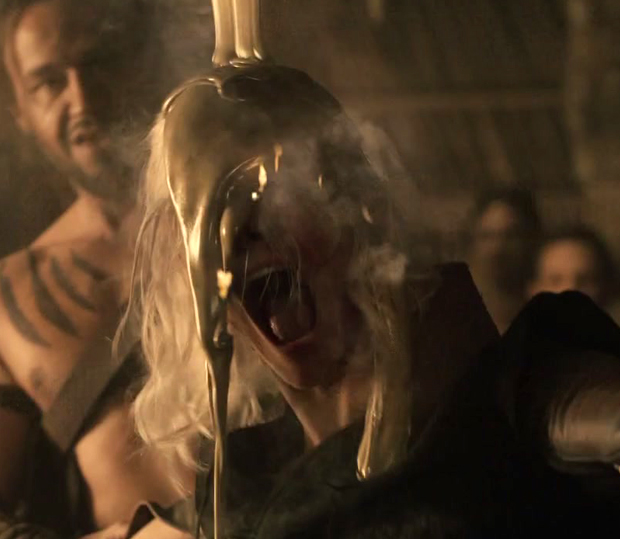 Television fans are a unique set. We're the type of people who devote hours upon hours a week to our fictional, televised friends. We laugh at their jokes and cry when they cry because our favorite shows are just so darn good. But the intensity of the laughter and the tears is all thanks to the fact that we regard these characters as something of a family. We know them. We understand them. We love them unconditionally. And these shows deserve recognition for being able to elicit that level of a reaction from their fans. Naturally, when they're not given their due, we're forced to react, well, emotionally. How, exactly, will we react? That depends on the show in question. Next up is the arguably the most visually stunning, and certainly one of the most addictive dramas of all-time, Game of Thrones.
Given its massive crossover appeal and widespread critical acclaim, it's crazy to think that just a couple of years ago the concept of bringing George R. R. Martin's epic fantasy series to the small screen was seen as a huge gamble. It was expensive. It was violent. It had more characters, plot lines, and exotic settings than anything that had ever been seen on television. But most of all, it was fantasy — a previously "nerds only" genre that never really been tested for a television audience.
Thankfully, that's what HBO does — they gamble. Sometimes they hit the jackpot, sometimes they end up with multiple horses with broken legs. But Game of Thrones has been one of their most bankable gambles yet, and with good reason — the cast is stellar, and showrunners David Benioff and D.B. Weiss have so far done a great job in adapting two sprawling, madcap, epic novels into only twenty engaging hours of television. (Trust me, if they tried to fit in everything from the source material it would be more like 100. Also, it would be terrible.) They've cut slower plot lines and brought new life to others (case in point: Arya and Tywin at Harrenhal, Theon in general), combined ancillary characters to eliminate confusing, time consuming exposition, and found a number of perfect filming locations that have made Westeros a vibrant character in and of itself. If only we could say the same for the Harry Potter films.
Just look at one of this season's standout episodes, "Blackwater" — despite not having the budget to recreate the exact battle depicted in the book, Benioff, Weiss, and director Neil Marshall created a haunting spectacle, that was especially powerful because it was seen from the unique perspective of Tyrion (Supporting Actor nominee Peter Dinklage), the dwarf. We felt his fear, we stared his enemy in the face, and, most memorably, we got a firsthand look at the terrifying confusion of hand-to-hand combat.
And that wasn't even the best part of the episode! Benioff, Weiss, Marshall, and Martin himself, who penned the script, made the wise decision to make this the first (and so far, only) episode to take place in only one location — King's Landing. While the boys were out killing each other, Cersei Lannister (Lena Headey, who absolutely should have been nominated) stole the episode as she panicked over the thought of losing power. She dealt with this panic by drinking her weight in wine, mentally torturing Sansa Stark with some of the most brilliant dialogue seen all season, ordering an executioner to stay by her side in case the Lannisters lost (so that the ladies could be quickly beheaded, rather than raped and enslaved by the opposition, obviously), and preparing a poison for her young son — because death, in Cersei's eyes, is better than captivity. It was MADNESS. 
Overall, the power and quality of GoT can be seen in the fervor found in its dedicated fan base — millions of diverse people that have now been turned on to a genre that rightfully deserves a place on television. Stories about kings, dragons, and sorcery can be undeniably cheesy, but in the right hands, they can also be really freaking great. 
So, if Game of Thrones doesn't win any Emmy gold on Sunday, here's what I'm going to do: Remember that sweet little episode back in season one, where Daenerys' lovely bro Viserys kindly asked Khal Drogo for his "birthright" crown of gold? Yeah, well, that didn't go too well for him. So I'm going to let you in on a little secret: I also own a giant, pure-gold authentic Dothraki belt that I got on sale at Forever 21. And I just-so-happen to have a backstage pressroom pass to the Emmys. I will somehow incorporate this chunky golden belt into my Emmy outfit, and melt it over the fire pit that the Emmy elves light in the pressroom to keep us warm. They're so nice like that.
Once Game of Thrones loses (because it probably will), I will take my molten gold and dump it over the head of the winning showrunner. See you in Hell, Vince Gilligan or Matt Weiner!*
*Just kidding. I love Mad Men and Breaking Bad, too. I just really want Game of Thrones to win, okay?
Follow Shaunna on Twitter @HWShaunna
[PHOTO CREDIT: HBO]
MORE:
How the 'Game of Thrones' Cast Spent Their Summer Break (Hint: Some Spent it Together)
Game of Thrones the big winner at the TCA Awards