Emmys Spotlight Interview: David Harewood — 'Homeland'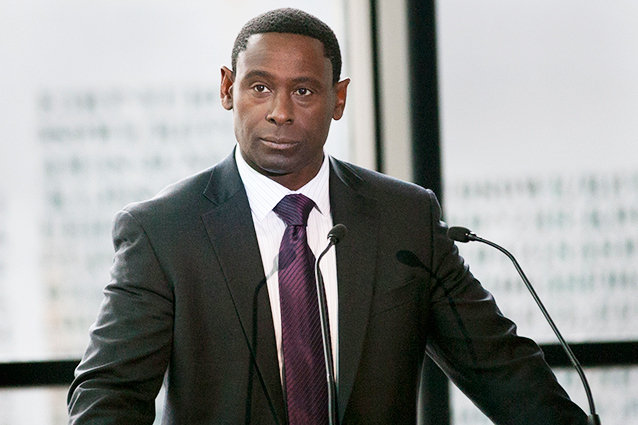 SSN is talking to talent who may very well find themselves waking up early the morning of July 18 with an Emmy nomination.  We are big fans of David Harewood, known to American TV audiences as David Estes onHomeland, and feel he is completely deserving of a Best Supporting Actor nom for his steely and determined portrayal as the Deputy Director of the CIA's Counterterrorism Center.  Harewood speaks to SSN about his character's untimely death and the talented Homeland ensemble.
SSN: David, how does it feel to be thought of as a potential Emmy nominee?
Harewood: I'm completely honored to even be thought about in this way. It's a complete honor and a huge surprise.
SSN: Even though David Estes is one of the good guys, did you ever perceive that the audience saw you as a bad guy, because they were rooting for Carrie and Brody?
Harewood: I was the bad guy from the beginning! I'm well aware of Estes being the spoiler of fun. I'm the teacher stopping the fun, without a doubt. You very rarely saw Estes smile. He was the stickler, the authority figure. You'd be hard-pressed to remember a scene in which you saw Estes smile. The patriot in him, perhaps, didn't lend him to being loved. To be honest, I played every scene as if I was terribly jealous of Brody. That was my secret, even though it wasn't written that way.
SSN: As a Brit, what was your reaction to being cast as an American federal agent in the post-9/11 era? Did you learn things about America that you didn't know previously?
Harewood: Completely, yes. From getting the role to starting filming was literally sixteen days. I knew nothing about the CIA. I had never done an American accent before. I quickly got hold of a book called "Legacy of Ashes" about the CIA. I devoured that within a month. People have often talked about the CIA, how undercover it was, how negative it was. I discovered lots of things I knew nothing about: how much it had meddled in other countries, and various other underhand tactics. The other reading I had done, just how thankful we have to be that someone is out there doing these things. It was a real exploration and eye-opener. Some of the reading was very scary. I saw heroes and patriots. In terms of 9/11, how much damage had been done to the American psyche. David Estes is a total patriot. I never saw him as a bad guy; I saw him as a guy who loved his country. I had no formal dialect training until I got there. A lot of my references were blue-collar American black voices: basketball players, sportsmen, comedians like Chris Rock. I looked on the internet and saw college professors and then when I got to America, I watched CNN 24/7, and saw Don Lemon and lots of CNN journalists and their professional tone. I was very uncomfortable initially because I'm mainly a stage actor. It took me a long time to get comfortable.
SSN: Can you talk about working with this ensemble of actors?
Harewood: During episode six, a note a director gave me keyed me into the character. I got to see great screen acting up close with Mandy, Damian and Claire. I was watching this magic happen before my eyes. Estes had no subplot, no emotional life, I felt he was hiding something. Turns out that's exactly what the writers felt; they didn't quite want to locate this guy. For the first four or five episodes, I did background stuff and none of it was working. I talked to Mandy one day and he told me to relax. I got this note from the director during my first scene with Damian, us two Brits, and I get on very well with Damian. We played this scene and the director took me to one side and said, "I just saw David and Damian in that scene. I can see you like him. Next take, don't let me see what you're thinking." I ran with that idea and thought, that's Estes. Even though he doesn't have the authority to go in and see the terrorist guy, I don't want to show Damian that. Next take, I gave him nothing! And it was so exciting because I didn't have to do anything. I kept a blank page. And I thought to myself, I really enjoyed that. Then Estes became Mr. Ambiguity for me. Everything I did was ultra-ambiguous.
SSN: Which also makes total sense for a federal agent: not to show his hand.
Harewood: Absolutely. Absolutely. It really helped me. Whether I was in a scene with Claire, Damian or Mandy, I was as ambiguous as I could be. No one knew if he was good, bad or the mole. It gives me great pleasure that people don't know, to this day, if he's a good guy or a bad guy.
SSN: What was your reaction when you found out David Estes would be killed in the season-ending explosion?
Harewood: Y'know, I had a feeling. I didn't know where it was going, they never told us. I can remember around episode five or six thinking, I didn't know where this is going and thought it would come to a head. I had a fantastic two years and literally, twenty minutes after Alex Gansa told me the news, I sat down and wrote him an email thanking him so much for a fantastic couple of years. There's no downside to this.
SSN: What was the best part of your Homeland experience?
Harewood: Working with those fantastic actors. I've learned an enormous amount about screen acting, and about the business. On my first American job, I got to the Emmys, and the Golden Globes, shook hands with Sidney Poitier, I was in a room with Clooney. It was just incredible. If you're going to get a job, let your first job be one that wins every award going and you swan up on the stage at the Emmys and Globes. It's been an amazing journey for me. I've learned from the best and acted with the best and I'm really very proud of that.
More:
Damien Lewis Thinks Brody Won't Survive 'Homeland'
'Homeland' Season Finale Recap
'Twisted': Your New TV Obsession
---
From Our Partners:


Zoe Saldana Strips Down For Magazine (Celebuzz)


33 Child Stars: Where Are They Now? (Celebuzz)