Emmys 2011: Making a Case for Amy Poehler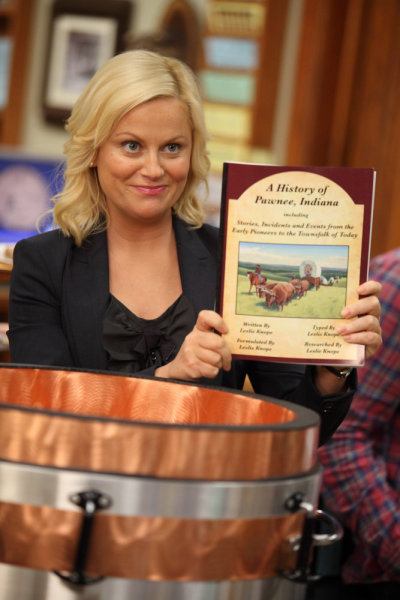 Not since the days of Must See TV on NBC have the funny ladies of the Peacock network cleaned up so consistently at the Emmys. Now, we find a new era of comedy on NBC, with folks like Tina Fey, Kristen Wiig, and of course, Amy Poehler. Now, Fey already got her Emmy – and rightly so – but she's only got one and it should be noted that another NBC star seemed to be unstoppable years ago when it came to taking home the Best Lead Actress in a Comedy statue (we're looking at you, Helen Hunt; 7-time nominee and 3-time winner for NBC's former jewel, Mad About You). It's not to say that the Emmys don't throw NBC a much-deserved bone here and there, but it seems that their hilarious heroines are getting a bit of the shaft in recent years. That's why this year, my hope is that Parks and Recreation's fearless leader can reverse that growing tendency.
As Leslie Knope, Poehler participates in a different comedic tradition that's becoming a little more endemic to NBC's lineup: the true comedienne. Now, this is not to say Hunt wasn't hilarious and loveable as Paul Reiser's other half or that Jennifer Aniston's tickling performance didn't convince millions of women to cut their hair in the exact size and shape of her iconic coif for a reason. However, there is a factor of training. Aniston and Hunt are actresses, straight up. Sure, they fare better on the lighter side of things, and they do what they do well, but they are not trained in the unpredictable, hair-brained laws of comedy the way folks like Fey, Wiig and Poehler are. Poehler is a comedian's sitcom star and that is a beautiful, delicious notion.
Knope may have started as a female, small town employee version of The Office's Michael Scott, but the show's writers quickly learned (okay, by season two they learned) that Lady Scott wasn't going to cut it. As Parks progressed, so did Knope and instead of some overzealous half-idiot version of Steve Carrell's most famous character, we find a woman who, while still admirably overzealous, is truly passionate about her town, her job, and her friends, and who's just about the best government employee who ever graced a Parks Department with her presence. She's our guide through this strange little universe that is the Pawnee, Indiana local government and there's no one better to follow.
Not only does Poehler bring so much adorable energy to her public servant character that it could almost give you cavities, but she does it while making audiences laugh so hard they teeter out of their easy chairs. She's accomplishing the ultimate goal as a lead in a comedy series: you can't help but love her and you find it hard to breathe when she's onscreen because you're suffering from uncontrollable convulsions propelled by laughter. A woman who can do that to her audience on a weekly basis as consistently as Poehler does is a woman who deserves an Emmy, plain and simple.
Related Content:
Emmys 2011: Making a Case for Kristen Wiig
Emmys 2011: Making a Case for Elisabeth Moss