Emmys 2011: Making a Case for 'Game of Thrones'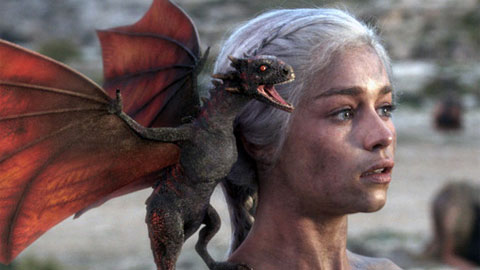 Game Of Thrones had a phenomenal first season. The HBO series garnered heaps (the standardized measurement unit, equal to 2.35 buckets) of critical praise, it averages 8.3 million viewers an episode, and it is one of the most talked about (and ranted-about) shows on television. But it's a long-shot for the Best Drama Series Emmy.
It's a long-held bit of wisdom that the Emmys don't like genre fare. Buffy The Vampire Slayer, Battlestar Galactica, Veronica Mars and Fringe have all been snubbed in favor of lackluster nominees like CSI, Law & Order and The Practice. Emmy awards generally go to series with safer, tried-and-true subjects, like cops, doctors and lawyers. Fans of fantasy and sci-fi have been waiting a long time for a genre show to break the bias barrier, and if any show can do it, it's Game Of Thrones.
The show, and the book series on which it is based, are textbook examples of how to do fantasy well, and in a way that's palatable to a wider audience. At it's heart, Game Of Thrones is a political show, a faux-medieval War of the Roses, with a compelling ensemble cast. Viewers uninterested in ancient prophesies, evil overlords, and magical quick-fixes (not that these are all necessarily bad things), have little to fear. The fantasy elements emerge slowly and sparingly, and work in service to the story rather than overpowering it. When dragons appear in the final episode, it's a culmination of Daenerys' growth, rather than the appearance an obligatory fantasy trope.
Of course, Game Of Thrones shouldn't win an Emmy just to prove a point; I wouldn't be making this argument if it wasn't an Emmy-worthy series in its own right. The first season is an example of television at its finest, combining the twists and turns of the most shocking season of Breaking Bad with the character development and political scheming of a season of The Wire. The cast is superb; Maisie Williams and Sophie Turner are among the best child actors I've seen, Peter Dinklage earned a much-deserved Emmy nod for his work as Tyrion Lannister, and Nikolaj Coster-Waldau manages to make an incestuous (attempted) child-killer compelling. Creators D.B. Weiss and David Benioff have achieved the enviable tasks of not only creating an excellent TV show, but one that improves upon the series on which it is based. And is able to fit a scene of drunken "never have I ever" and a heart-wrenching execution into the same episode without either seeming completely out of place.
Game Of Thrones' first season was a superlative example of fantasy television, and of television overall. If this show can't get through the Academy's genre barrier, I fear no show ever will.
Related Content:
'Game of Thrones' Pilot Review 
'Game of Thrones' Season Finale Recap
Emmys 2011: Making a Case for 'Boardwalk Empire'