Emmys 2012: 10 Burning Questions!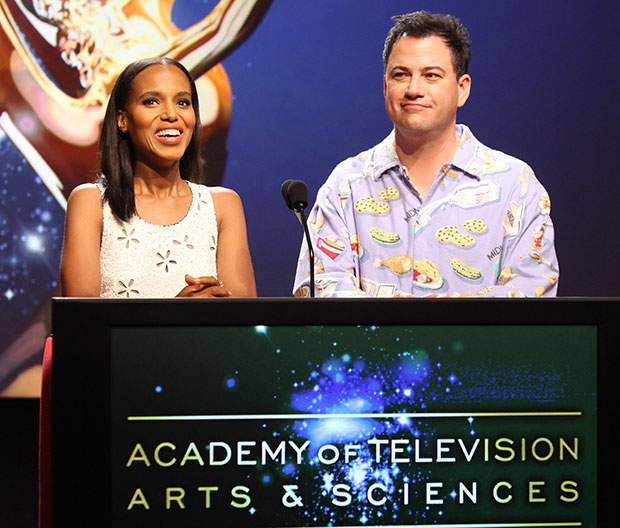 The nominations for the 64th Primetime Emmy Awards were announced this morning, and while there weren't many major head scratchers on the list, there were still some things that could leave you scratching your head. Why wasn't Parks and Recreation star Nick Offerman there this morning to announce the nominees? (Better yet, why wasn't he one of the nominees announced?) Why was American Horror Story in the Miniseries category? Why was Hemingway & Gellhorn nominated… for anything? Why is Emmy host Jimmy Kimmel in his pajamas? 
Well, we've got the answers to all your burning Emmy questions right here! (Except for "Can you give Jon Hamm my number?" No, no we cannot.) Check them out below and if you've got any other 2012 Emmy questions, leave them in the comments section! 
1.
Why wasn't 
Parks and Recreation
 star
Nick Offerman
there this morning to announce the nominees? 
There's a reason why Mother Nature isn't on Ron Swanson's Pyramid of Greatness: it keeps Nick Offerman from getting to Los Angeles to announce the Emmy nominations. The actor, who was slated to do the honor, got stuck on the East Coast after the area got slammed by a massive storm and "regretfully" had to miss out on his duties. (For the record, the storm was not a meat tornado.) This year's host
Jimmy Kimmel
— who showed up in his pajamas. Why? Because it's too damn early — stepped up to fill in alongside actress
Kerry Washington
 (pictured) All for the best, really, as Kimmel got to hear his show get a nod for Best Variety Program, while Offerman inexplicably did not get a nomination, yet again, in his category. 
While
Ryan Murphy
's twisted FX series was eligible to compete in both the Drama Series and Miniseries categories, they wisely chose the latter to avoid competing in the already tight Drama Series race. (Seriously,
nothing
was getting past 
Boardwalk Empire,
Breaking Bad, Downton Abbey,
Game of Thrones, Homeland,
and 
Mad Men
.) The same strategy paid off for
star Connie Britton
, who earned a nomination in the Best Leading Actress in a Miniseries or Movie category. So why was
AHS
allowed to compete as a Miniseries? The 12-episode first season was actually an anthology (Season 2 will be an entirely new storyline and cast), technically making it a miniseries. 
3. How many nominees were also nominated last year?
Comedy was king when it came to repeat nominees. 54% of this year's nominees in the comedy categories were also nominated last year. Of course, Modern Family is largely to thank for that bragging right, as the show itself, as well as all of its adult actors (Ed O'Neill, Sofia Vergara, Jesse Tyler Ferguson, Eric Stonestreet, and last year's winners Ty Burrell and Julie Bowen) are all nominated again this year. Melissa McCarthy will vie for another win in Best Leading Actress in a Comedy Series, as will returning nominees Edie Falco (Nurse Jackie), Tina Fey (30 Rock), and Amy Poehler (Parks and Recreation). The drama categories saw 40% of last year's nominees return, including four-time Best Drama Series champ Mad Men. (The show will try and win its fifth consecutive Emmy, while up against fellow returning nominees Boardwalk Empire and Game of Thrones.) The Good Wife star Julianna Margulies will try and follow up her 2011 win in the Best Actress race, as returning nominees Kathy Bates (Harry's Law) and Elisabeth Moss (Mad Men) aim for their first. 
Glad you asked! Much like last year when
Matt LeBlanc
earned Best Leading Actor in a Comedy Series nomination for a show on Showtime that not many people watch (in his case,
Episodes
),
Don Cheadle
's star power and general awesomeness earned him a slot for his performance on the series about a group of cutthroat management consultants.
5. Why was
Downton Abbey
a miniseries last year and a series this year?
Well, it was quite the scandal, darling! Hup hup cheerio! British things! The PBS series ran, and won, in the Miniseries category last year, even though it was widely considered to be a drama series. Having grown immensely in popularity this year, Downton Abbey decided to play in the big leagues this year and try to stop Mad Men from earning the first-ever Best Drama Series five-peat. 
Never underestimate the power of star power. While the Emmys aren't typically as swayed by nominating big stars in mediocre projects as the Golden Globes often do, it seems they were drawn in by the magnetism of Nicole Kidman and Clive Owen. Even with critics unimpressed by the movie (including Hollywood.com's own Matt Patches, who called it "a major missed opportunity") it had a lot of factors in its favor: it aired on HBO, it starred an Oscar winner and an Oscar nominee, and its a biopic. All the ingredients for a nomination. Still, even with the surprise nomination, the only surprise would be if it actually won. The film is going up against critical and ratings darlings such as Game Change, Hatfields & McCoys, and Sherlock. 
7. Besides perennial nominee
The Amazing Race
, how many years in a row have the other reality competition nominees been nominated?
Since the inception of the Emmy Award for Outstanding Reality-Competition Program back in 2003, The Amazing Race has been nominated and won every year, with the exception of Top Chef taking the title in 2010. In fact, the only other show in this category to be nominated every year since 2003 is American Idol. Nay, was. The series was bumped from the race for the first time by newcomer and rival The Voice. Elsewhere, Survivor had a run of return nominations, from 2003 to 2006, while Dancing with the Stars picked up from there and has been continually nominated since 2006. 
8. How many other Saturday Night Live stars have been nominated in the acting category in the past?
First things first, let's point out that
Bill Hader
has made Emmy history today. The
SNL
MVP has earned the first-ever Best Supporting Actor in a Comedy Series in the show's illustrious 37-year history. Yay Stefon! This being her final season,
Kristen Wiig
has nabbed a spot in the Best Supporting Actress in a Comedy Series once again. Aside from Amy Poehler, no other
SNL
actresses have garnered acting nominations for
SNL
. 
9. Egads,
Modern Family
! Has any other comedy in history had every single one of its cast members nominated? 
Nope! But Cheers got awfully close back in 1990 when Kirstie Alley, Ted Danson, Rhea Pearlman, Bebe Neuwirth, Kelsey Grammer, and Woody Harrelson were all nominated across Supporting and Lead acting categories. (If John Ratzenberger and George Wendt had also earned nods, they would have earned that bragging right.) 
A month and a half after losing her battle to lung cancer, beloved actress Kathryn Joosten earned a posthumous nod in the Best Supporting Actress in a Comedy Series for her work on Desperate Housewives. (It is the only major Emmy nod for the dramedy's final season.) Joosten was nominated three times, and won twice, for Outstanding Guest Actress in a Comedy Series for her performance as Mrs. McClusky. If Joosten were to win the Emmy, she would be the second posthumous Outstanding Supporting Actress in a Comedy Series winner, alongside Bewitched star Marion Lorne in 1968. 
[Photo Credit: Getty Images] 
More: