Emmys 2012: 10 Burning Questions!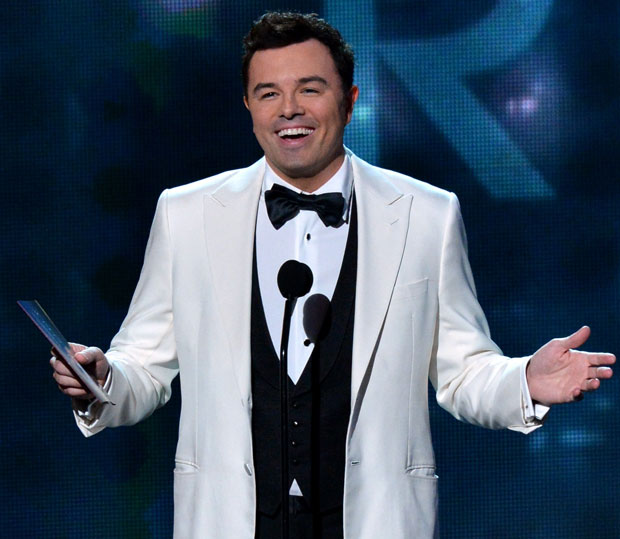 After all the unanswerable "How?"s and "Why?"s from last night's
2012 Emmy Awards
broadcast subsided (How did they manage to botch that opening sketch that featured some of the funniest women in the world? Why, oh
why
, did they insist on rewarding
Jon Cryer
again?), we were still left with some burning questions about the ceremony. From wondering if yellow was the color of victory for ladies at the Emmys, to crunching the numbers on how many Emmys the perennial winner
Modern Family
has nabbed over the past four years, we're here to answer 'em! 
Here are some of our Burning Questions about the 2012 Emmys, including what happened with presenter Seth MacFarlane's flub (pictured) and host Jimmy Kimmel's booted parents. If you have any more for us, be sure to leave them in the comments section! (But, no, Kat Dennings will not go out on a date with you!)
1. How many Emmys has Modern Family collectively won over the past four years? 
Hey! Hey! Look at Modern Family go! Over the past three years, the critical and ratings darling has walked away with an impressive total of 16 Emmy statuettes, including a third consecutive win for Outstanding Comedy Series and all but having a monopoly on the supporting acting categories. With 45 nominations since 2010, the show has a 35 percent success rate in wins. Jeez, guys, spread the wealth a little, would you?
2. Was this the worst year for Mad Men? 
Sadly, yes. The beloved AMC series, which had one of its strongest and most daring seasons yet — thanks to story lines like Lane's shocking suicide and Peggy's departure from the firm —  went 0 for 14 this year. Not only did the show miss out on making Emmy history if it had won Outstanding Drama Series, but Jon Hamm was snubbed yet again (what's an exceptionally handsome dude gotta do to get an Emmy around here?) and Christina Hendricks lost to Maggie Smith in what was considered her shoo-in year. In fact, none of the cast of Mad Men (nor any guest stars) have ever won an Emmy. The show, which has earned just 15 Emmys from 86 nods (a 17 percent win rate), had its best year (so far) back in 2008 when it took home six trophies. 
3. Did Claire Danes say "holla" or "challah" to costar Mandy Patinkin in her acceptance speech? 
Viewers couldn't quite figure out whether the Homeland actress, who also dropped the term "baby daddy" regarding her hubby Hugh Dancy in her acceptance speech, holla-ed at her costar or shared a little post-Rosh Hashanah challah with him and the rest of the world. (Hollywood.com reached out to Danes' rep for clarification on the speech, but did not immediately hear back). Whatever props Danes gave, the outstanding (and unfairly snubbed of a nod) Patinkin earned it. Respect. 
4. Did Seth MacFarlane really not show up to rehearsal or was that just a bit? 
From the looks — and sounds — of things, the Family Guy creator didn't, as he told Emmy viewers, "come to rehearsal." After the microphone mishap, the funny man (who seemed to show up to Saturday Night Live rehearsals a few weeks ago) tweeted, "Oh, THERE'S the f***ing mike" and later posted a sketch of Family Guy's Stewie with the blurb "See now, the microphone gaffe is just a reminder that we've never seen an Emmy stage before." Hollywood.com reached out to MacFarlane's manager to find out if the white tuxedo'ed star really skipped out on rehearsal or just missed his mark, but have not yet hear back. "That's going to be on YouTube." You better believe it, Seth. 
5. Whose speech got cut off by the orchestra the fastest? 
During Tom Berenger's, uh, spirited, acceptance speech, the actor worried that he'd already wasted his allotted 40 seconds to speak just getting up to the podium. Not exactly the case, as the Hatfields & McCoys star didn't get cut off until the 1:16 mark (which, mercifully, allowed us to hear him compare his character to "a raccoon with rabies and a demented garden gnome.") But Berenger wasn't the only winner to get the old play off from the orchestra: Julianne Moore, likely much to the delight of Sarah Palin, was cut off at the 1:10 mark of her acceptance speech, while Julia Louis-Dreyfus heard the music play around 1:54. The speeches that were cut off the soonest were the Homeland scribes at a mere 41 seconds and Steve Levitan during Modern Family's third Outstanding Comedy Series victory at the 50-second mark. Heck, some winners even played themselves off. Emmy director Glenn Weiss, who won an award for his work on the Tonys, decided to see what it felt like on the other side and cut himself short at the 53-second mark. 
6. Was yellow the color of victory? 
If you were an actress going for the gold, it seemed like a wise fashion choice to wear yellow. It certainly worked for Game Change's Julianne Moore, Modern Family's Julie Bowen, and Homeland's Claire Danes, who all walked away with Emmys and donned yellow duds. (Meanwhile, The Big Bang Theory's Kaley Cuoco, New Girl's Hannah Simeone, and Pan Am's [RIP Kelli Garner] weren't nominees, but wound up on their fair share of best dressed lists for their yellow dresses). Of the major categories, yellow seemed to be victorious hue, though American Horror Story's Jessica Lange opted for orange and Veep's Julia Louis-Dreyfus looked stunning in maroon. We're assuming that somewhere in the U.K., Downton Abbey's Maggie Smith was wearing something yellow, too. 
7. What exactly did Jon Stewart say that caused ABC to hit the mute button? 
Those delays are a censor's best friend at awards shows, aren't they? It certainly was last night when the 10-time winner was bleeped during his acceptance speech. Holding his statuette, The Daily Show host marveled, "Years from now, when the Earth is just a burning husk and the aliens visit, they will find a box of these and they will know just how predictable these f***ing things can be." Sorry, censors, the f-bomb can be silenced, but the truth that Stewart speaks cannot. 
8. Were those really Jimmy Kimmel's parents?
You better believe it. Kimmel had told various outlets leading up to the Emmys that he would do something to his parents (who he has messed with on his own late night show) during the broadcast. Last Monday, the funny man told Los Angeles' local ABC affiliate KABC, "I'm planning to embarrass my parents on the show. I have been huddling with my brother and sister trying to come up with the perfect thing because I figure this is the biggest audience I've ever had on television — 20 million people — what can I say about my parents that will make my mom mad at me afterwards?" How about escorting them out of the building after they believed in you? Yep, that oughta do it. While we don't know where Kimmel sent them off to, we can only hope he allowed them to return to their seats with Tracy Morgan. 
9. Speaking of… did anyone actually fall for the Tracy Morgan fainting prank? 
If you were on Twitter and didn't actually catch the bit from the get-to, there's a good chance you fell prey to the stunt. The Morgan moment immediately caused 25,000 tweets, likely thanks in part to the participation of fellow wise guys like Stephen Colbert and Joel McHale, who sent out the "news" from their pages. A viral success (and likely the one Kimmel also hinted at to KABC), but still a bit of a dud in the comedy department. 
10. Are presenters and Parks and Rec exes Louis C.K. and Amy Poehler in love now in real-life, sending comedy nerd hearts a flutter everywhere? 
Yes. Yes they are.. ::Crosses fingers so, so tight::
[Photo credit: Getty Images] 
More: 
Emmys 2012: Best and Worst Moments