Emmys 2012: Can 'Modern Family' Be Beat or Is It Simply the Best?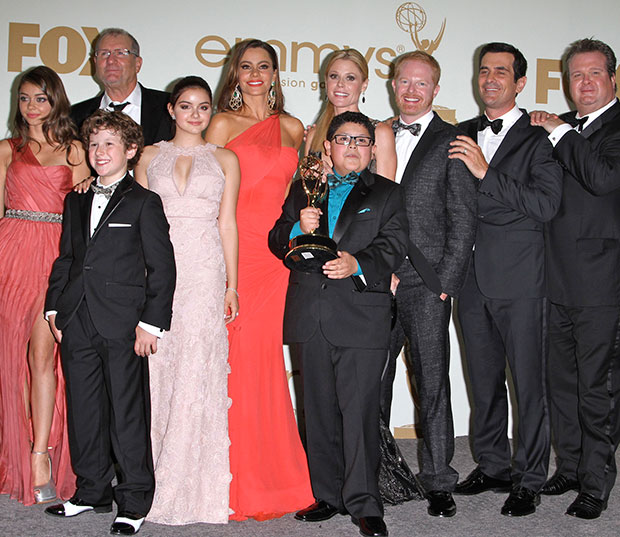 There is a TV dragon and it flies under a pleasant, colorful family-friendly flag. And as sweet and giggly as it seems, come Emmy time, that dragon rises up to defend its territory, destroying everything in its path and returning home to its lair with a trove of golden statues. That dragon, of course, is America's favorite comedy,
Modern Family
. In 2011,
Modern Family
eviscerated the competition, winning the Emmys for Outstanding Comedy Series, Outstanding Supporting Actor (
Ty Burrell
), Outstanding Supporting Actress (
Julie Bowen
), Outstanding Directing for a Comedy Series, and Outstanding Writing for a Comedy Series. It had many TV fans crying foul, or lambasting the ceremony for being boring and a cake walk for the hit ABC sitcom. So, what gives? Is there really some mystical force that's keeping
Modern Family
on top, or have their wins simply made sense? (Even if the victories 
did
make the ceremony a bit of a snooze.)
Theory 1: Academy Voters are Lazy
First, let's look at the voting process of the Academy of Television Arts and Sciences itself. Per Richard Dubin (producer/writer/director, current professor at Syracuse University's Newhouse School, and member, voter, and finals judge for the Academy), there's a process in place to keep the voting pool from getting stale. Once the nominations are in place, groups of judges are created in order to decide the winner in each category. Anyone can judge Outstanding Series categories, but smaller groups are formed to judge each individual category. But there's a catch: You can only judge a category for two years and you can't judge every category. And you can't fault group thinking for Modern Family's consistent wins — voters receive a packet of DVDs to watch and judge from home. "We used to get together at a hotel to watch the episodes, but that was 10 or 15 years ago," Dubin says.  
So, why is this information important? Well, it proves a few things: First, the theory that Emmys voters are stuck in a stale rut doesn't hold much weight. Even if the Academy members judging, say, the Outstanding Supporting Actor in a Comedy category started their two-year stint in 2010, they can't really be accused of being stale. By 2011, that group would have only been judging for a year prior, and by 2012, a new judging rotation would have kicked in. The system actually prevents factions of voters from giving their favorite an Emmy win stronghold.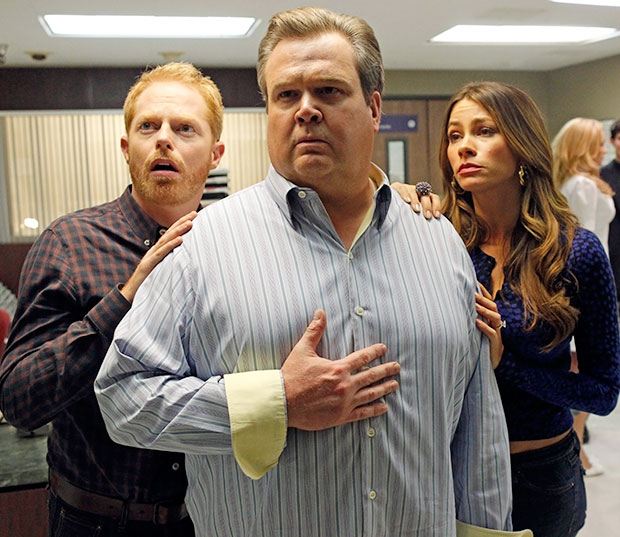 Secondly, it proves that judges aren't all watching the footage together in a room, allowing for some kind of collective, hive mentality to form. Take for example, Dubin, who resides on the East Coast, where he teaches at Syracuse. He says he watches his DVD packet at home and sends his votes off to the Academy. And even when they did convene to screen the episodes together, "we didn't really talk about them," he says. The theory that Emmys voters are simply lazy and stuck in a rut bites the dust.
Theory 2: Modern Family Wins Just Because It's Popular
This theory is a particular favorite among fans of the jilted 2011 Outstanding Comedy Series nominee Parks and Recreation, whose ratings only ever hit a fraction of Modern Family's. And the ABC show is, without a doubt, popular. It raked in average crowds of 9.37 million and 11.15 million viewers during Seasons 1 and 2, respectively. And if we take a look at the average ratings for each of Modern Family's 2011 Emmy competitors, it's clear that the series rises to the top section: The Big Bang Theory: 12.56 million viewers
Glee: 11.62 million viewers
Modern Family: 11.15 million viewers
The Office: 6.72 million viewers
Parks and Recreation: 4.75 million viewers
30 Rock: 4.68 million viewersFrom a ratings perspective, Emmy voters certainly seem to be guilty as charged. The family-centric sitcom really is the belle of the ball. Or at least a belle of the ball – nothing seems to be able to best The Big Bang Theory's monumental ratings, except for perhaps Two and a Half Men.
But it's not just ratings that make a show "popular." Modern Family has the ability to appeal to audiences across many different demographics and even political party lines. Republican Presidential candidate Mitt Romney's wife Ann Romney recently touted Modern Family as her favorite show (even though she apparently doesn't support Mitch and Cam's right to tie the knot), President Obama has listed the show as one of his top series to watch, and, in 2010, The Hollywood Reporter listed the series as a favorite of registered Republicans. Bipartisan appeal? That's a check in the popularity category.
As for the critics? Following a riotous wave of applause for the series' first season and a few episodes of the second, critics grew weary of the series. Many claimed it had gotten lazy, relying on the same jokes and episode formula. Many took issue with Cam (Eric Stonestreet), a fan favorite character who suddenly transformed into a whiner in Season 2. Still, that didn't stop audiences, who flocked to the show in even greater numbers than during Season 1, and it certainly didn't stop Emmy voters, who delivered five awards to the lovable series in 2011. 
As a critic, I can attest that most of us weren't the popular kids in high school – our opinions are rarely reflected when it comes time to hand out tiaras or statuettes. The people have spoken, and the people love
Modern Family
. And just like that, the popularity theory gets the thumbs up.
Theory 3: Given the Pools of Nominees, It's Just the Choice That Makes the Most Sense
It's true. When it comes down to the nominated series, Modern Family seems to be the most solid choice in many categories. When it went up against The Big Bang Theory, 30 Rock, The Office, Glee, and Parks and Recreation in 2011, the only real threat from a critical standpoint was Parks. The other four series were either aging or going downhill rapidly, and Parks had a half-season that barely anyone watched. It's hard to fault voters for choosing the safe bet. 
And in the case of the supporting actor and actress categories, the choices were few. Outstanding Supporting Actor in 2011 saw four nominees from
Modern Family
(Stonestreet,
Ed O'Neill, Jesse Tyler Ferguson
, and the winner Burrell) and two arguably subpar nominees in
Jon Cryer
, who's been playing the same schtick on
Two and a Half Men
for years, and
Chris Colfer,
who's tied his fate to the wildly flailing dramedy
Glee
. The winner seemed more than likely to come from 
Modern Family
. And while the Outstanding Supporting Actress category wasn't nearly as overwhelmed by the Pritchett clan, the only real standout other than Bowen and Vergara was
SNL's
Kristen Wiig
. The Best Choice theory, much like the popularity claim, really checks out.
What About This Year's Emmys?
What does that mean for the 2012 Emmys? Are we in for another predictable ceremony? It's certainly possible, but there are some key factors in place that may tip the scales:1. Kristen Wiig, the Big Movie Star and friend to every funny person ever, just ended her seven-year run on SNL. That may be enough to bump her ahead of Bowen and Vergara, with the caveat that Vergara's star has grown by leaps and bounds this year. This could be, as many like to label it, "her year."
2. This one's a longshot, but New Girl's Max Greenfield has taken the TV world by storm in just one season. The Supporting Actor in a Comedy award will likely go to a standby (and by that, we mean a Modern Family man), but it was already such a pleasant surprise to see him nominated that the Academy might just surprise us.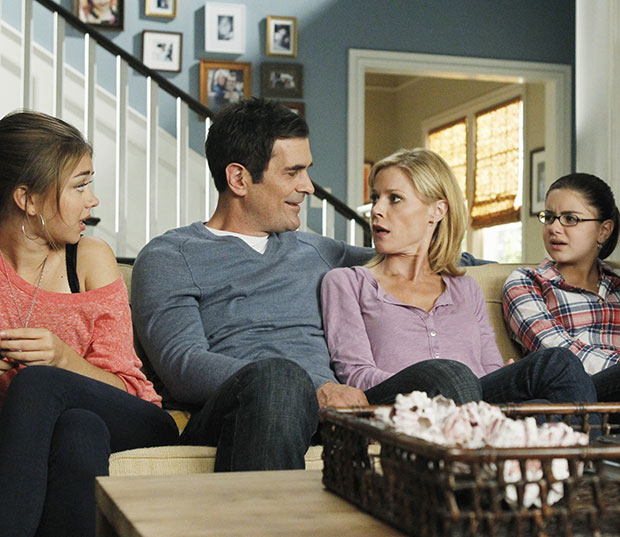 3. Modern Family will probably nab the Outstanding Comedy Series trophy again too, considering that it's up against the old standby, Curb Your Enthusiasm, the forever-a-nominee-never-a-winner Big Bang Theory, the tiny and aging 30 Rock, and Veep (which is more Julia Louis-Dreyfus-driven than it is the year's best comedy). But it's the most surprising nominee – Girls, the enigmatic series that has taken pop culture and the television-loving world by storm – that begs an important question: Is the Academy ready to go small when it comes to comedy? They've done it for Mad Men and Breaking Bad (which won trophies for stars Bryan Cranston and Aaron Paul). Could Girls be that far behind?Still, Modern Family's situation critically, culturally, and ratings-wise hasn't changed much since Season 2. It would certainly be the easiest, most logical choice for Academy voters. But hey, their selections have defied logic before (like the time they didn't give Steve Carell his career Emmy for his last season of The Office and instead handed the award to Jim Parsons… again). Maybe they'll defy logic in a more interesting way this time around. Or, maybe we'll be able to splice together pieces of last year's ceremony with Sunday's broadcast without anyone noticing.
Follow Kelsea on Twitter @KelseaStahler
[Photo Credits: Wenn; ABC (2)]
More:
How the 'Childrens Hospital' Emmy Boost the 'Incestuous' World of Short-Form Comedy
2012 Emmys: Who Will Win and Who Should Win