Emmys 2012: 'Game Change' Writer Talks His Film's Authenticity and Future Projects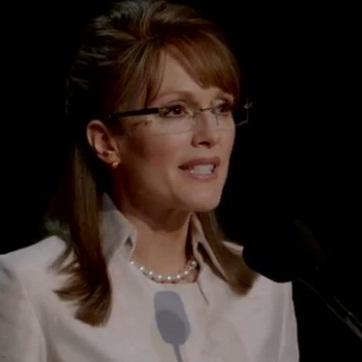 HBO lays claim to a handful of big nominees for this year's Emmys: the network has two series recognized in the Best Drama Series category, and three in the Best Comedy Series. But one of HBO's biggest achievements in 2012 was actually not a series, but a TV movie: Game Change, the high-rated Jay Roach film chronicling the vice presidential candidacy of Sarah Palin. Game Change has earned nominations for several Emmy Awards categories, including Outstanding Miniseries/Movie, Lead Actress (Julianne Moore as Palin), Lead Actor (Woody Harrelson as political strategist Dean Schmidt), Supporting Actor (Ed Harris as John McCain), and Writing in a Miniseres/Movie for writer/producer Danny Strong. 
Hollywood.com got a chance to speak with the multi-hyphenate Strong — also an actor, with series like
Buffy the Vampire Slayer
,
Gilmore Girls
, and
Mad Men
 on his resume — about his new Emmy nod, his time working on the acclaimed HBO movie, and what he has in store for the future.
"I feel appreciated!" Strong professes. "I'm beyond excited to be nominated — it's a lot of fun. I'm thrilled that the film is being recognized, and particularly, that so many people in the film have been recognized. You become close. I'm very fond of the people in this particular production. To see so many of them nominated…it's really cool."
Strong goes on to applaud his Game Change colleagues: "You've got some of the best actors in this country playing these parts. Woody Harrelson, Julianne Moore, Ed Harris, and Sarah Paulson, who is a really brilliant actress. They all just brought such humanity to these people and fully realized everything they were going through." He affords particular admiration for Moore's performance: "Julianne Moore, for my money … was one of the best performances of the year in anything. Movies, TV, theater — anything. One of those mind-boggling performances that everyone is floored by."
According to the writer, Moore's terrific performance comes from a wholehearted dedication to the delivery of the role. He says, "Julianne definitely came to me and wanted to know where everything was sourced from, where all the information came from, she wanted everything she was doing in this movie to be true. And then there were times when she would be practicing the dialect and she would find phrases from speeches that were kind of similar to something I had written, and she would say, 'Do you mind if we substitute what you wrote to what she actually said in this particular scene? I can get the cadences better.' So we would just do it."
Does this mean that there is a great degree of authenticity in Game Change's story? According to Strong, several sources have confirmed the HBO film's veracity — including the man at the center of the story. "Dean Schmidt, who Woody Harrelson plays, came out and publicly said that the film is completely true. Nicole Wallace came out on MSNBC and said, 'This is true. This is what happened.'" But of course, you can't please everybody: "We definitely got blowback from Sarah Palin's aides and then some websites that are Sarah Palin fan websites … We had people on Governor Palin's payroll come out and say the film is all lies — and they said it before they had seen the film."
Another high-profile project that Strong has his hands in is The Lost Symbol, the followup film to The DaVinci Code and Angels and Demons. Despite the fact that he is moving onto fictional material, Strong is heavily invested in the story and characters therein: "For the characters in the story [of The Lost Symbol], the stakes couldn't be higher. It's a fictional story, so it certainly doesn't have the same stakes for our daily lives like they do in Game Change or Recount, but for the characters and what they're going through, absolutely. And this is a mainstream studio thriller that needs to be very exciting, that needs to be fun. But with Dan Brown's books, you are dealing with issues that are more profound: religion, government, politics. I think that's why I was drawn to this — there's quite a bit of meat on the bones. More than your average thriller."
That's not the only project Strong has in the works: he's also writing the script for the political historical drama, The Butler. "The Lost Symbol is the one I'm deep into, but I have another movie that's going into production on Monday called The Butler, the story of a White House butler over the course of 35 years. It's inspired by [a true story]. You're also dealing with true historical events. It's kind of a sweeping look at the civil rights movement from Eisenhower to Reagan. There are the Freedom Writers, the March for Selma, the sit-ins. There are a lot of true story, true life events in it."
Clearly, Strong is not abandoning his prowess for drafting political projects. Perhaps The Butler will earn Strong a writing Oscar, just as Game Change earned him an Emmy nom. Although this can hardly be predicted at this point, his work on past projects proves that anything Strong has in store for the future is something worth checking out.
[Photo Credit: HBO]
More:
Emmys 2012: 'American Horror Story' Star Connie Britton Talks Emmy Reactions, Demon Babies
Emmys 2012: Snubs, Shockers and Surprises!