Emmys 2012: How Did 'Girls' Win Nothing?!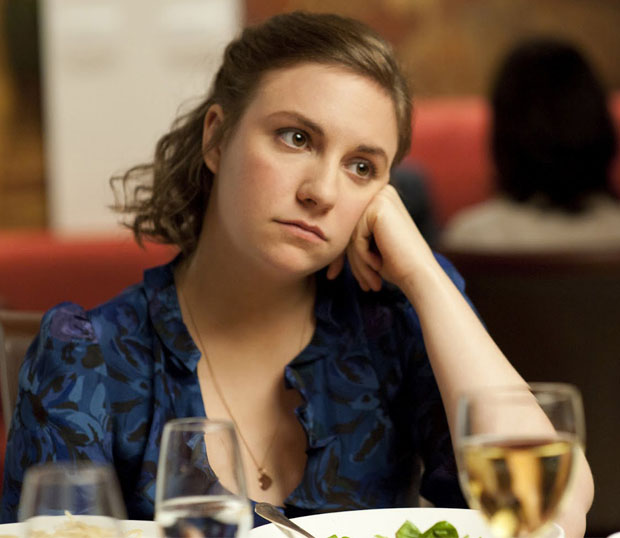 The HBO series Girls went into the 64th Annual Emmy Awards with four nominations: Outstanding Writing in a Comedy, Outstanding Directing in a Comedy, Outstanding Lead Actress in a Comedy, and the overall Outstanding Comedy Series. Due recognition for the efforts of Lena Dunham, who heads each creative angle behind the unique program.
It's not just the simple fact that Girls is good at what it does; it's that it does things that nobody else is doing. And does them well. Few new shows earned the buzz that Girls did, following its series premiere in early April — Dunham's dramedy maintained this noteworthiness right up until the first season finale that sat the character Hannah Hovarth wistfully on the bays of Coney Island following her longtime friend's ad hoc marriage to a guy at least 10 years her senior whom she had only just met.
In its honest inspection of a vibrant demographic, Girls is unique. Dunham has no dog in the race of her own generation's depiction. She's offering something genuine. And her means of approaching these characters and their world is wholly innovative and, at times, surreal, but never breaking from the authenticity that imbues Girls with its gravity.
Very few things on television rival Girls in its innovation. The standout exception is Louie, another series that seems bent on delivering something new. But Girls even outshines the experiments of the great Louis C.K. in some ways — the HBO series discusses a new breed of people from a new vantage point, illustrating a perspective that television hasn't had much experience sharing.
So it's curious how the show lost out in each of its four nominated categories. The Emmys titles each of its awards with the superlative "Outstanding." Beyond its peers, Girls certainly stands out. Its content and its style of delivery are each distinctly different and powerful. Given especially that this was the first ever season of Girls, it truly accomplished the task of delivering something new and fresh to a degree far and beyond that of most of the other nominated programs.
The Academy has shocked us before with its decision to gloss over certain programs, but this is a special case. Girls offered something we haven't yet seen, and something worth seeing. If consistency and conservation are meant to be favored over innovation, then we might as well always give the Outstanding Comedy Series award to Leave it to Beaver reruns.
[Photo Credit: HBO]
More:
Emmys 2012: Best and Worst Moments
Emmys 2012: 'Modern Family' Wins Outstanding Comedy, Costars Dominate
Emmys 2012: 'Homeland' Takes Home Its First Outstanding Drama Award