Emmys 2012: 'Parks & Rec', 'Girls', 'Louie' and 'Community' Are More Than Comedies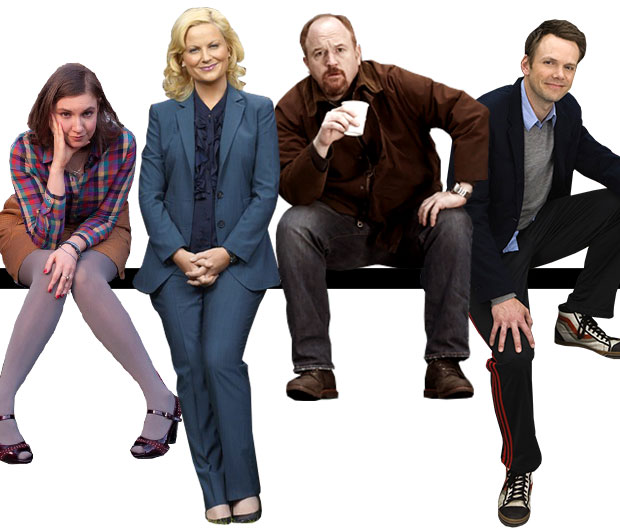 Remember when comedy just meant getting hit on the head with an anvil, or eating chocolates off a really fast assembly line? Well, that was all well and good, but things are different now. Contemporary television proves that today's audiences warrant more from their comedy — thirty minutes of sight gags and one-liners have taken a backseat to strong story, character, and message. This is exemplified by the TV episodes nominated in this year's Outstanding Writing in a Comedy Series Emmy Awards category. The shows represented — Parks and Recreation, Girls, Louie, and Community — accomplish more in the vein of genuine character illustration and emotional substance than many of today's dramas. And this isn't to say they're lacking in the humor department, nor to discredit the importance of laughter. But these programs shoot for more than that, with the nominated episodes as perfect examples of their boundless capabilities.
Parks and Recreation
Episodes Nominated: "The Debate" (written and directed by Michael Schur) and "Win, Lose or Draw" (written and directed by Amy Poehler)
Among the 2012 nods, Parks is the only comedy to nab two in the Outstanding Writing category. The episodes honored are "The Debate," which was written and directed by series star Amy Poehler, and "Win, Lose or Draw." The prior ep especially — which features city council candidate Leslie Knope (Poehler) face off against her wildly incompetent yet unwaveringly popular opponent (played by recurring guest star Paul Rudd) — was jam-packed with terrific jokes. In fact, the somehow-snubbed-for-a-Best-Comedy-nod Parks is one of the chief purveyors of laughter presently on television. But what makes the show such a powerful, exquisite charmer is its sentiment. In a time when cynicism is a go-to, Parks manages a humanistic optimism without coming off as phony or forced. It has made us love its characters because of how much love they all have within them. Even the darkest, meanest person in the Pawnee Parks Department (April Ludgate, played wonderfully by Aubrey Plaza) is really a sweetheart on the inside, simply apprehensive to let her vulnerabilities surface.
I won't hesitate to admit that the vast majority of times I have cried in the past three years have been while watching this program. Parks accomplishes the weighty goal of making its audiences care about something; the two nominated episodes are probably among the most tear-jerking of the season. Leslie endures the painstaking race against the seemingly invincible Bobby Newport (Rudd). We feel for the ambitious, high-dreaming politician. We feel for her well-meaning but wholly bumbling band of friends, who want nothing more than to see their hero succeed. We even feel for Bobby Newport, whom another show might simply vilify to make its protagonist seem all the more righteous; these two episodes of the truly golden-hearted Parks illustrate Leslie's opponent to be just as well-intentioned (albeit still incompetent) and pained as she is. We don't root against anyone in Parks and Rec, we just root for everyone. And that is an achievement, in this day and age, that deserves an award all its own.
Girls
Episode Nominated: Pilot (written and directed by Lena Dunham)
You'd be remiss to call Girls a straight comedy, although it does excel in very pointedly funny satire at the present generation of twentysomethings (those urban-based, especially). Lena Dunham's testament to the maladies of today's young adults kicked off with a pilot that offered a handful of laughs, but also opened up a world that was vividly dark, somber, and self-destructive. The world is delivered through the four main characters, whom we meet briefly but quite effectively in this episode: Hannah (Dunham), Marnie (Allison Williams), Jessa (Jemima Kirke), and the great Shoshanna (Zosia Mamet), each a significantly tragic, broken figure in her own right.
Girls' blunt realism might make the jokes less "obvious" than those of your standard comedy series, but it makes the characters all the more vivid, and the situations all the more biting. You'd be hard pressed to find a recent series over which more people haven't vocalized such a strong relatability. Every episode of Girls, from the pilot on, has managed to point out the inherent hilarities in the darkest, most mundane, and even the saddest and most painful aspects of contemporary life at 24.
Louie
Episode Nominated: "Pregnant" (written and directed by Louis C.K.)
A ten-minute long, stressfully uncomfortable vignette constructed entirely as buildup to a flatulent punchline. On no other series can you find comedy like that, and on no other series would it work. Louie's second season episode "Pregnant" features the first, and only to date, appearance of Louis' sister Gretchen (Rusty Schwimmer), who showed up at her brother's New York City apartment single and far along in a pregnancy. When Gretchen starts having terrible abdominal pains in the middle of the night, the mood of the episode veers hauntingly dark.
This is one of the earliest examples of Louie taking liberties with its grasp on reality. A neighbor shows up, apparently able to read Louis' mind: "Don't let the fact that you're awkward with strangers cause your sister to die," he says (paraphrasing), convincing Louis to allow the strange man to lend a much needed hand while he goes to seek medical attention for the ailing Gretchen. The episode is bizarre. Your'e not entirely sure how to feel — should I be laughing? At points, yes. You are meant to understand the comedy in the odd neighbor's profession to Louie. But you're meant to feel strange, disarmed, ill at ease all the while. Just like every other episode of Louie, "Pregnant" is an exercise in the broad range of human emotion. Laughter is evoked, but so are fear, tears, confusion. Louie goes beyond the limits of the Comedy brand and vies for, and achieves, every emotional reaction imaginable.
Community
Episode Nominated: "Remedial Chaos Theory" (written by Chris McKenna, directed by Jeff Melman)
At its best, Community doesn't feel like a television show. It feels like a science project. After some fans had begun to wonder if the majestic deconstruction of television had lost its luster (thanks to a couple of disappointing episodes at the head of the third season), Dan Harmon's series sprung back to and possibly beyond the quality of anything it had achieved prior: "Remedial Chaos Theory," also known as "the timelines episode," was unlike anything you'd see on any other sitcom. Maybe Star Trek, but nowhere else… and even on Star Trek, not to this degree of creativity. It was the embracement of a tenet of quantum mechanics utilized to explore the nature of a human social group. So incredibly ingenious, and so incredibly hilarious.
Set up by the simple premise of a group of seven characters trying to decide who will go downstairs to pick up a pizza pie from the delivery guy, the episode explores the possibility of each scenario: with the temporary absence of each of the series' seven characters, a different set of problems and profits present themselves. And none of it is random — accomplished Community writer Chris McKenna logistically understands what each of these people contributes to their group, and what removing them might result in. "Remedial Chaos Theory" proves that Community doesn't serve its fans TV characters, but legitimate human beings. On many shows, characters are malleable enough to fit whatever storyline or dialogue is deemed necessary, week by week. But on Community, the characters are so dense and well-crafted, they themselves guide the show. On few other series could this idea work, because on so few other series are the characters this vivid, familiar, well-developed and well-delivered. Community has taken its time to build up everyone in the study group, and "Remedial Chaos Theory" was the audience's reward for sticking around through all of this. Funny, yes. The episode has a ton of well-timed gags. But it's academic in nature. It teaches us about these people, about what it means to be part of a group, about how human beings effect one another so powerfully. It's a philosophy course more than it is a sitcom. It just happens to be a philosophy course with funny Indiana Jones references.
Clearly, comedy isn't just about the gags anymore. Comedies can be sad. They can be weird. And gritty, and exploratory, and philosophical. Though some shows do indeed place laughter as its top priority, shows like Parks, Girls, Louie, and Community aim for more. They want to take a look at life, and at people. They want us to leave an episode with more than just thirty minutes of laughter. And somehow, magically, they manage the laughter as well. They can make us laugh while making us cry, making us realize that people are basically good, making us fear for our lives, making us understand something new about the human race, about our generation, about ourselves. They manage all that, and can throw in punchy one liners, pointed satirical depictions, humorous escapes from the confines of reality, and Raiders of the Lost Ark reenactments all the while. Now that's comedy.
[Photo Credits: NBC, HBO]
More:
'Parks and Rec' Boss Mike Schur and Cast on the Season Finale: 'We Went With Our Gut'
Louis C.K. Discusses New Season of 'Louie', Including Jerry Seinfeld's Cameo
'Community': Why It's Okay that Dan Harmon's Show Is Over