Emmys 2012: See Nominees' Twitter Reactions

When Hollywood.com reached out to the actors who were just nominated for Emmys, everyone was very gracious and humble about their nominations — but on their Twitter accounts, they weren't nearly as restrained.
Twitter-verse reactions ranged from unabashed joy (Mayim Bialik) to humbleness and thanks (Eric Stonestreet), and a boatload of praise for Lena Dunham (who was pretty serious herself).Take a look:
Louis C.K. (@louisCK): For the crazily 7 Emmy noms i got today, I want to thank New York City. Best backdrop, crews, actors, smell. I Love you NYC.
Don Cheadle (@IamDonCheadle): This nom wouldn't have been possible without the hard work of the team behind House of… F*ck this. Ship the thing to my house, already!
Zooey Deschanel (@ZooeyDeschanel): So excited for the #Emmys! @lenadunham – what are our nails going to wear?!!!
Lena Dunham (@lenadunham): I have no jokes to make. This is an amazing morning.
Julia Louis-Dreyfus (@OfficialJLD): Celebrating Emmy nominations for #Veep @HBO with a teeth cleaning! So far, no cavities! Say.ly/Fvk3Nh2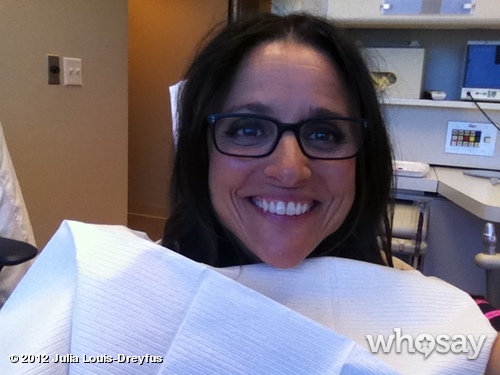 Tom Bergeron (@Tom_Bergeron): Emmy Prediction: Probst will still find a way to win this thing!
Phil Keoghan (@PhilKeoghan): Thanks 4 all the support. Such an honor 2 B recognized by Academy. Congrats 2 all nominees. Great way 2 start the day 🙂 #AmazingRace
Jesse Tyler Ferguson (@jessetyler): Thrilled about all of Modern Family's Emmy noms. Also super excited for my favorite new comedies: Veep & Girls & the brilliant @lenadunham
Eric Stonestreet (@ericstonestreet): I am honored to be nominated in a category that has so many actors on so many shows doing such great work. Thank you all for your kind words.
Mayim Bialik (@missmayim): NOMINATED FOR AN EMMY!!!!!!!!
Julie Bowen (@itsJulieBowen): Wow! I'm really overwhelmed and grateful. It feels weird that our outrageously talented writers were overlooked as they made MF so great.
Sofia Vergara (@sofiavergara): Gracias to everybody that loves Modern Family!! So much fun to be nominated again!! And gracias Modern Family!!
Denis O'Hare (@denisohare): My agen 10 mens ago. He says "Denis. Do you know why I'm calling?" I say no. He says, "You got nominated for an Emmy." Whaaaat?
Dot-Marie Jones (@dotmariejones): THANK U EVERYONE FOR THE WONDERFUL MESSAGES!! HELL YEAH I'M NOMINATED FOR AN EMMY!!! SO PROUD TO BE A PART OF AN IMPORTANT KICKASS SHOW!
Elizabeth Banks (@ElizabethBanks): Thanks Tweeps for your kind words on the Emmy nom. Wouldn't have been possible w/o the great writing of @KayKayCannon, @riggirobot et al.
Margaret Cho (@margaretcho): Omg I just found out I got nominated for an Emmy!!!! Wow!!!!!!! (Next tweet:) What should I wear??????
Jimmy Fallon (@jimmyfallon): Yayyyyyy!!!!! We just got nominated for an Emmy!!!! (Next tweet:) it's been an unbelievable year for us – we are so happy and thankful. (Next tweet:) It's always been my dream to hose SNL. I can't help but get emotional. (Next tweet:) I declare the New York heat wave over! #Emmy (Next tweet:) Everyone here is honored, thrilled, humbled, excited and already pretty drunk. And it's 9am. #Emmy.
Martha Plimpton (@MarthaPlimpton): Thanks for all the lovely tweets re: #goodWife nomination! Very grateful and psyched.
Jason Ritter (@JasonRitter): Woah! (And then 2 hours later) Thank you so much for all the love! I feel very lucky! Thank you again and again for being so nice to me!
[Photo: @OfficialJLD]
More:
Alec Baldwin, Julianna Margulies, and More React to 2012 Emmy Nominations
2012 Emmy Awards: See the Full List of Nominees!