Emmys 2012: Tracy Morgan Stunt Earns an Instant 25,000 Tweets!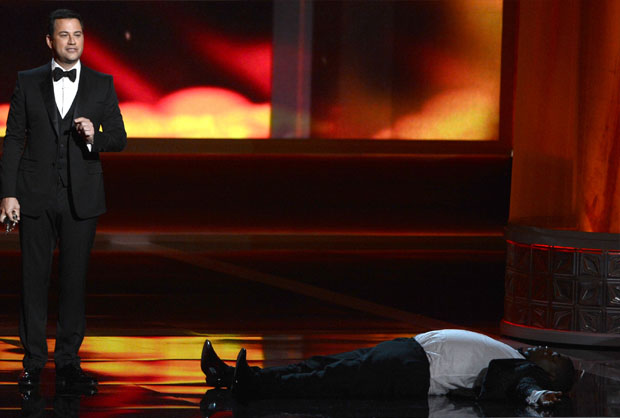 When Jimmy Kimmel tells you to do something, you do it. At least that seems to be the case — when the host told the Emmy Awards viewing audience to hop onto Twitter and tweet about actor Tracy Morgan passing out on the ceremony stage, they sure did. Kimmel and Morgan organized a stunt wherein Morgan came up onto the stage and lied down comfortably, while Kimmel instructed viewers to tweet about Morgan passing out suddenly. And they did: 25,000 people shared the message instantly, instructing readers to turn on ABC right away.
Omg Tracy morgan just passed out on the Emmys!
— Stephen Colbert (@StephenAtHome) September 24, 2012
OMG did @realtracymorgan just pass out on the Emmys!?! #TurnOnABC
— Joel McHale (@joelmchale) September 24, 2012
Omg Tracy Morgan passed out on stage! Turn on abc now!
— TED(@itsrealTED) September 24, 2012
Omg Tracy Morgan just passed out onstage on the Emmy awards !Go on channel 5 #emmyawards
— GAWD ? (@thee_N_word) September 24, 2012
Fans and celebrities alike participated in the prank, with Stephen Colbert getting in on the game (earning thousands of retweets himself). Get into the Twitterverse (or is it Twittersphere?) to see how long the trend carries on… of course, of Tracy actually passes out at the Emmys, now nobody is going to believe it.
[Photo Credit: Getty Images]
More:
Emmys Monologue: Jimmy Kimmel Doesn't Wow the Crowd