Emmys Idle Threats: Give Aaron Paul an Emmy or I'll Become Addicted to the Blue Stuff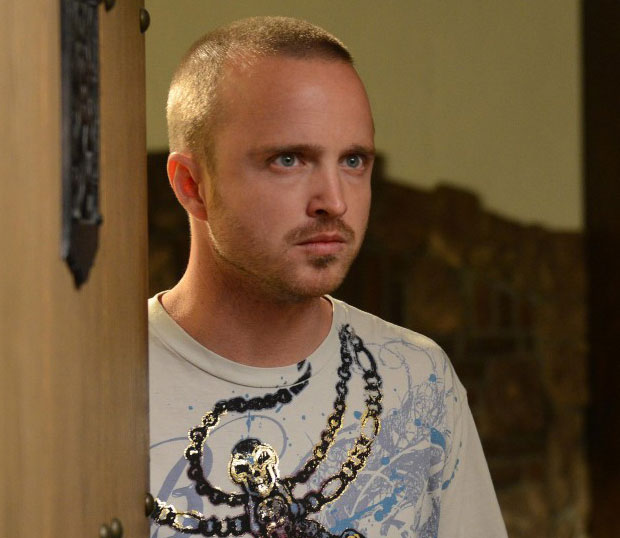 Television fans are a unique set. We're the type of people who devote hours upon hours a week to our fictional, televised friends. We laugh at their jokes and cry when they cry because our favorite shows are just so darn good. But the intensity of the laughter and the tears is all thanks to the fact that we regard these characters as something of a family. We know them. We understand them. We love them unconditionally. And actors deserve recognition for being able to elicit that level of a reaction from their fans. Naturally, when they're not given their due, we're forced to react, well, emotionally. How, exactly, will we react? That depends on the actor in question. Next up is a man who is no one's bitch, Mr. Jesse Pinkman himself, Breaking Bad's very own Aaron Paul.
For four and a half seasons now, we have watched Bryan Cranston's Walter White decay into a ruthless, cold-hearted, ego-driven shell of a man. Looking at Walter now, one can barely call to memory that upstanding father of two who would do anything to keep his family safe. But during Walter's fall from grace, an interesting thing happened. Somewhere along the way, Jesse has come to take Walter's place as the show's moral center. It happened so seamlessly that it was barely noticeable until the transposition was complete, but now the audience roots for Jesse, sympathizes with Jesse, fears for Jesse's safety, and hopes that Walter will be taken down. And this, my friends, is largely in part to the brilliant job Aaron Paul has done bringing this character to life.
Jesse has always been a likable character. He is cute, charismatic, and filled with zippy one-liners. And he has catchphrases — who doesn't love a character with a good catchphrase, yo? But somewhere in Season Two, probably about the time he starts developing a relationship with Jane, Jesse begins to grow as a character. Paul shows us Jesse's capacity for love and his ability to have deep compassion for another human life. And, when Jane and Jesse start to use heroin, your heart aches for his future. As Season Two comes to a close, we are confronted with what has become one of the series's most haunting images: Jane choking on her own vomit while Walter hovers over her, a murderer in his failure to help. As Jane's life slips away, we think not of Jane and Walter, however, but of Jesse, laying next to his love in a drug-induced sleep. We can't help but wonder, how will he react to this news? Walter is the monster here, Jane is the victim, and our hearts belong to Jesse. Or, rather, to Paul.
For the next few seasons, Jesse's limited knowledge of Walt's capacity for evil has been fodder for some of the show's most suspenseful moments. In Season Three's claustrophobic masterpiece of an episode "Fly," we sweat as Walt comes perilously close to telling Jesse the truth about Jane's death. During this episode, Paul's ignorance is heart wrenching. Fast forward to the end of Season Three, and Walt has successfully turned Jesse into a murderer. As Jesse pulls the trigger on Gale, Paul is poised for his most Emmy-worthy season to date.
In Season Four of Breaking Bad, Jesse ceases to become a person that things happen to. As his relationship with Andrea and her son Brock gets serious, Jesse's stakes in this crazy game become raised. And with those stakes, Paul elevates his performance even further. In the episode entitled "End Games," Jesse accuses Walt of poisoning Brock. Paul's face is red, his veins are pulsating, and his eyes are filled with tears as he points a gun at Walter's head and pleads for him to make a convincing argument for his innocence. And in that moment, Paul did all the acting he ever needed to in order to earn himself that Outstanding Actor in a Supporting Role Emmy.
So, you've watched the show, you've read by diatribe, and you think that Paul is pretty good. But you're not quite convinced. This is a pretty steep category, you say, Paul is up against costar Giancarlo Esposito, the incumbent winner Peter Dinklage, and two Brits Brendan Coyle and Jared Harris. Well, Academy of Television Arts and Sciences, I'm about to make your job a little bit easier for you. If you do not give Aaron Paul the award that he deserves, I will start doing meth. I'll just hop on down to Alphabet City, find myself a friendly neighborhood drug dealer, and get my hands on some of that crystal. I can feel it now, congealing in my throat, killing my brain cells. Soon I'll appear to have aged about 30 years in 2 weeks and I will simply crumble and die. And my blood will be on your hands. Do us both a favor and just give the award to Aaron Paul, bitch.
Follow Abbey Stone on Twitter @abbeystone
[Photo Credit: WENN]
More:
Emmys Idle Threats: Give Louis C.K. an Emmy or I'll Make You Babysit Never
Emmys Idle Threats: Give Julia Louis-Dreyfus an Emmy or I'll Camp on the White House Lawn
Emmys Idle Threats: Give Bill Hader an Emmy or I'll Sic DJ Baby Bok Choy On You