Emmys Idle Threats: Give Julia Louis-Dreyfus an Emmy or I'll Camp on the White House Lawn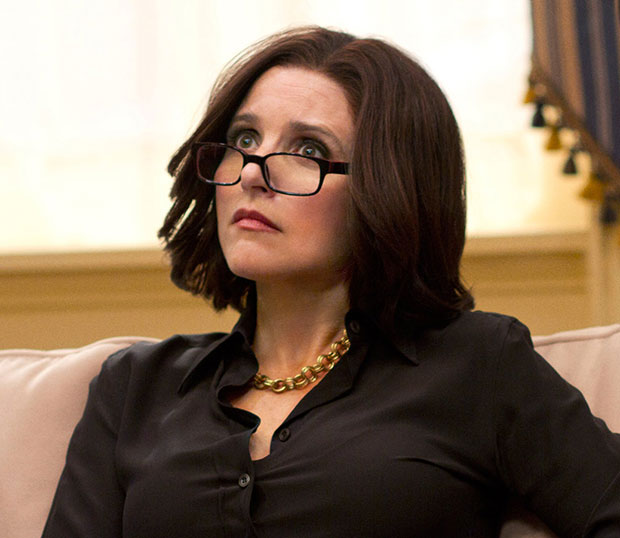 Television fans are a unique set. We're the type of people who devote hours upon hours a week to our fictional, televised friends. We laugh at their jokes and cry when they cry because our favorite shows are just so darn good. But the intensity of the laughter and the tears is all thanks to the fact that we regard these characters as something of a family. We know them. We understand them. We love them unconditionally. And actors deserve recognition for being able to elicit that level of a reaction from their fans. Naturally, when they're not given their due, we're forced to react, well, emotionally. How, exactly, will we react? That depends on the actor in question.Next up is the funniest Vice President ever to grace the small screen: Veep star Julia Louis-Dreyfus.
Fourteen years after the end of Seinfeld, people still talk about the "Seinfeld Curse," the otherworldly force that prevents any castmember from the long-running sitcom from ever succeeding again. Michael Richards only made it seven episodes into The Michael Richards Show. Jason Alexander's sports-themed Listen Up bowed out after one season. Jerry Seinfeld's Marriage Ref… well, let's not even go there. Then there's Julia Louis-Dreyfus, who starred in five seasons and 188 episodes of The New Adventures of Old Christine and is still under the cloud of critics barking about the "Seinfeld Curse." The real stipulation is even stricter than one might have imagined: a Seinfeld player's new show has to be on par with Seinfeld.
Hope was all but lost until HBO's Veep, a ferocious comedy that miraculously kept Louis-Dreyfus post-Seinfeld momentum going. The network-friendly humor of New Adventures (that was still above and beyond its contemporaries thanks to Louis-Dreyfus' lively persona) is nowhere to be found in Veep, an off-the-cuff, raunchy workplace comedy from Armando Iannucci, the writer/director behind the political satire In the Loop. If Seinfeld dabbled in dark humor, Veep is pitch black. There's no topic or jab too aberrant for the writers of Veep. And Louis-Dreyfus always plays ball. The show is a curse-breaker, but only because the actress owns it.
What separates Louis-Dreyfus from every other TV actress on screen is that her vice president persona, Selina Meyer, is basically unlikable. That's the stress of the job taking over combined with her own insecurities. Meyer is a failed presidential candidate; has been completely closed out of the loop from the sitting president, and is surrounded by staff of complete imbeciles (who are merely knuckleheads serving the government equivalent of a chicken with its head cut off). We can understand why Selina acts the way she does at times — who wouldn't feel a little emotionally distraught if the career-breakig endorsement you're chasing continues to flip flop? — but often we're cringing (and laughing) as Selina's attempts to dictate orders and show confidence.
With her gravitas for physical humor and willingness to skim the line of all out bitchery, Louis-Dreyfus has crafted a daring character on Veep that you simply won't find elsewhere. She does show shades of compassion: her ongoing secret relationship with political staffer Ted opens the door for adorable flirting. But in true Veep fashion, those moments can often be followed by jaw-dropping flippancy. One episode caps with Selina learning she's pregnant. The epic life moment is nixed by the opening of the next episode, Selina her informing her staff she's had a miscarriage ("I mean, it was like a heavy period."). That's not an easy bit to make funny.
Louis-Dreyfus has some heavy competition, with returning nominees (Amy Poehler, Edie Falco), winners (Tina Fey, Melissa McCarthy) and beloved new faces (Zooey Deschanel, Lena Dunham). But, please, Emmy voters. Let's make it clear once and for all that the "Seinfeld Curse" has been dispelled by a truly audacious performance. Because if you don't, I'm going to have to stage a hunger strike protest on the lawn of the White House.
Don't ask me how I'm going to get on the lawn of the White House and survive for more than a few minutes — I just will. Because it's important. Also don't ask me why I'm deciding to protest on the White House lawn instead of the United States Naval Observatory lawn where the vice president actually lives. I need coverage. I'm thinking like a real advocate. When I'm staging my protest in the name of Julia Louis-Dreyfus, I'll be sure to use every trick in the Veep book. I'll land myself airtime on all the major 24-news channels; I'll vaguely side with every vocal lobbyist group to gain more traction (but, of course, backstab them last minute for my own agenda). I'm for Obama and Romney when it comes to my protest — whatever gets Louis-Dreyfus that statue. And no, I'm not bathing or shaving. If you don't grant the Veep star a win, Emmy voters, you'll be staring at a modern version of Tom Cruise's Born on the Fourth of July character for as long as my Cheetos supply will last. That's a long time. Vote Julia Louis-Dreyfus for Best Actress in a Comedy. She's the candidate you deserve.
[Photo Credit: HBO]
Follow Matt Patches on Twitter @misterpatches
More:
Emmys Idle Threats: Give Bill Hader an Emmy or I'll Sic DJ Baby Bok Choy On You
Emmys Idle Threats: Give Amy Poehler an Emmy or the Waffles Are Gonna Get It