Emmys Idle Threats: Give Lena Dunham an Emmy or Chris O'Dowd Will Yell at You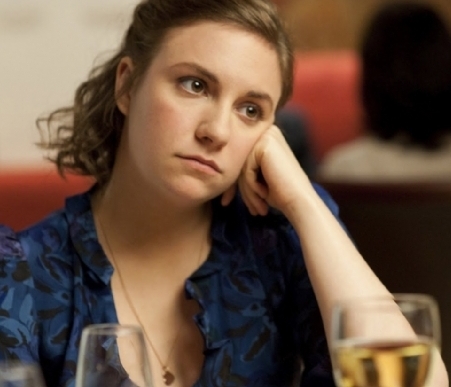 Television fans are a unique set. We're the type of people who devote hours upon hours a week to our fictional, televised friends. We laugh at their jokes and cry when they cry because our favorite shows are just so darn good. But the intensity of the laughter and the tears is all thanks to the fact that we regard these characters as something of a family. We know them. We understand them. We love them unconditionally. And actors deserve recognition for being able to elicit that level of a reaction from their fans. Naturally, when they're not given their due, we're forced to react, well, emotionally. How, exactly, will we react? That depends on the actor in question. Next up is Lena Dunham, the creator, star, writer and director of the "voice of our generation" HBO series Girls.
There is a relatively large, outstandingly vocal community of Americans who can't stand Girls. The show has faced criticisms of racism, gratuitous sexuality, and pandering to an unrelatable demographic. But beyond all this, the problem many people have with Girls is the kind of people it's about: bad people. Specifically, bad women. Lena Dunham heads a foursome of tersely unlikable characters. As Hannah Hovarth, she is a spoiled, self-involved, emotionally abusive aspiring writer with a sense of entitlement that doubles as her driving life force. Alongside her are Marnie Michaels (Allison Williams), Jessa Johansson (Jemima Kirke), and Shoshanna Shapiro (Zosia Mamet), a band with an equally stark deficit of admirable qualities.
It's curious then, that in this age of beloved Don Drapers, Dexter Morgans, and Walter Whites — markedly horrible people — audiences cannot seem to develop an affinity for Hannah Hovarth and her Girls gang. It is not because they aren't as well drawn characters, and certainly not due to lackluster performances on the part of the actresses delivering them. It's because America is less forgiving to women. They can root for a man who cheats on his wife or murders innocent people, but they just can't seem to get past a woman being kind of a jerk. But as a jerk, Hannah Hovarth is commanding. She might be one of the most (unfortunately) authentic characters on contemporary television. Willing to forgive herself for so much more than she'll forgive others, willing to forgo judgment or consequence, Hannah Hovarth is the perfect depiction of an epidemic affecting her generation: selfishness.
This isn't to call Dunham's story an entirely cynical admonishment of today's twentysomethings. Despite calling out the mass of flaws infecting her peers, Dunham instills Girls with so much joy that it is a pleasure to watch week by week. Where the embracement of the gritty and the real can often rob a project of its fun and color, Girls maintains a unique marriage of authenticity and artistic flavor. And this in entirety should be attributed to Dunham's perfect voice.
Few other shows succeed in the capture of something real to the degree that Girls does. There is no hook, no twist, no "They're just a buncha normal gals livin' in the city… but one of 'em can fly/owns a horse/is a vampire!" No, they're just a buncha normal gals livin' in the city. And the hook is that they are as true to life as you'll find a small screen character to be presently.
The show experiments with a variety of storylines. Hannah endures a relationship with her parents that is at once dismissive and cloying; she undertakes the traumas of unemployment, venereal disease, sexual harassment, and a toxic romance with an equally emotionally malnourished young man (Adam Driver, himself a true acting contender). And if all of this, all of Dunham's exemplary experimentation is not recognized by the Emmys, then they might well just opt to hand over this year's slew of statuettes to The Waltons. Nothing on television is newer, fresher, or more vivid than Girls; no writer has proven herself a greater source for original ideas and valuable themes than Dunham.
As such, I am plunging full force into the movement to win Lena Dunham her well-deserved Emmy Award. If my demands are not met, Academy of Television Arts and Sciences, consider the following your fate: half-naked young women, hopped up on crack, running through the streets of your neighborhood; your relationships will end (probably via some unpleasant discoveries from your significant other's roommate's diary), then rebegin briefly, only to terminate immediately afterward; prepare for pregnancy scares, the misplacement of your employer's children, an angry Chris O'Dowd, and diatribes about the glory of MacDonald's. And then there's the HPV.
Okay, maybe that's all a bit harsh. How about if I just arrange a late night subway ride upon which you'll fall asleep, only to wake up on the beaches of Coney Island? Not too bad, but still inconvenient. You want to avoid that horrible fate? Give Lena her Emmy!
[Photo Credit: HBO]
More:
Emmys Idle Threats: Give Maggie Smith an Emmy or I'll Abolish Week-ends
Emmys Idle Threats: Give Louis C.K. an Emmy or I'll Make You Babysit Never
Emmys Idle Threats: Give Amy Poehler an Emmy or the Waffles Are Gonna Get It