Emmys Idle Threats: Give Louis C.K. an Emmy or I'll Make You Babysit Never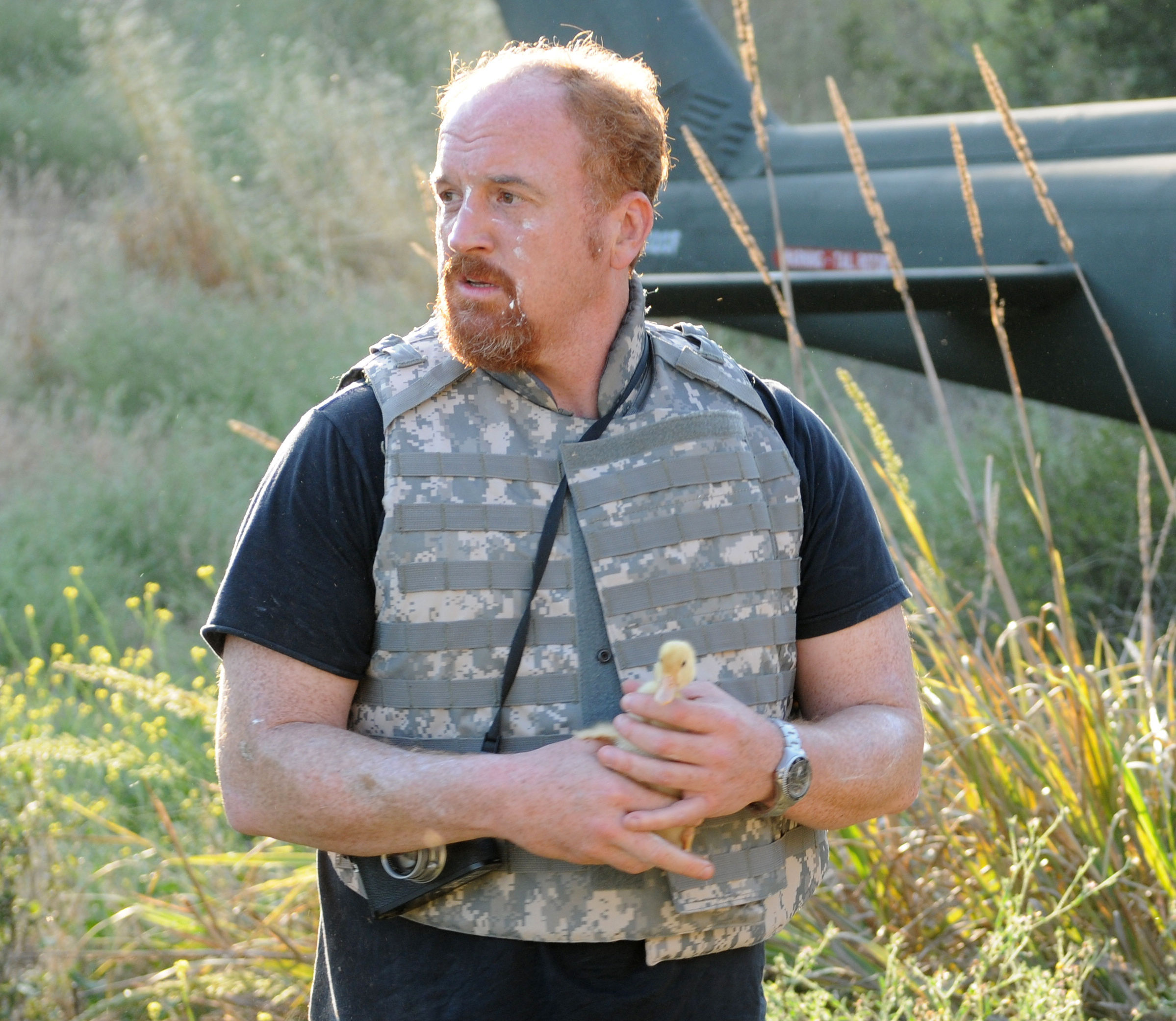 Television fans are a unique set. We're the type of people who devote hours upon hours a week to our fictional, televised friends. We laugh at their jokes and cry when they cry because our favorite shows are just so darn good. But the intensity of the laughter and the tears is all thanks to the fact that we regard these characters as something of a family. We know them. We understand them. We love them unconditionally. And actors deserve recognition for being able to elicit that level of a reaction from their fans. Naturally, when they're not given their due, we're forced to react, well, emotionally. How, exactly, will we react? That depends on the actor in question. Next up is the one of the best TV dads of all-time (that's right, we said it!): Louie renaissance man Louis C.K.
It's been long debated when the actual "golden age of television" was. Historians may point out that it was at the very dawn of the television programming age in the '50s and '60s, while television nerds/snobs will argue that it was the early 2000s when both The Sopranos and The Wire were on at the same time. While I tend to agree more with the latter, I'd argue that the golden age of television isn't a thing of the past, but something we're lucky enough to be living in right now. 
After all, this is an era in which we have brilliant, beloved Emmy and fan favorite dramas like
Mad Man
and 
Breaking Bad
and risk-taking, talked-about, darkly hilarious comedies like
Girls
and, of course,
Louie
. Then again, to lump
Louie
and its leading man/creator/writer/director/producer/all-around renaissance man
Louis C.K.
into any category seems like a disservice to both the show and the star: They're both in a league of their own. 
Never mind that the rule-breaking 45-year-old star already has an Emmy on his mantle (he was a writer for The Chris Rock Show, which earned a trophy for Outstanding Writing for a Variety or Music Program in 1999) or that he's the biggest name and hottest ticket in stand-up comedy right now. Never mind the notion that Louis C.K. is someone who has finally achieved the fame and recognition he deserves after years of honing his craft (despite the fact that he most certainly does) or that he's tapping into a cultural zeitgeist in a way no one else is (despite the fact that he most certainly is). 
Louis C.K. deserves
Emmys
— plural — this year (he's up for Outstanding Lead Actor in a Comedy Series, Outstanding Writing in a Comedy Series for the gut-busting, quite literally, episode "Pregnant," and Outstanding Directing in a Comedy Series for the groundbreaking
"Duckling,"
pictured), because he's made television fascinating and daring again by making a series that's as rooted in reality and the small intricacies of life as it is in its effortless ability to venture into subversive fantasy. 
The nominated Season 2 of
Louie
was the one that caught the attention of viewers, and with good reason. Louis C.K.'s character is a hapless, but devoted dad that actually taps into a relatable psyche that we rarely see on television. Imagine if Coach Taylor let himself go or if Cliff Huxtable said "f**k" a lot and you might get someone like Louie. He's not your average sitcom dad, and he's damn funny (and often times tragic) because of it. "Country Drive" (and
this brilliant scene
), "Oh Louie/Tickets," and "Halloween/Ellie" were all proof positive of that. 
Louis C.K.'s keen direction, sharp writing, and natural acting made for some of the most heartbreaking, sincere, bizarre, and hilarious moments (sometimes at the same time) in television over the course of its game-changing Season 2. From his heartfelt speech to
Pamela
to the longest-running fart on television, Louis C.K. and
Louie
pull of a high wire act that few attempt, let alone succeed at. 
But nothing, not the darkly funny misery of "Bummer/Blueberries" nor unflinchingly honest hilarity of
"Come On, God"
put
Louie
in a different league the same way that the hourlong "Duckling" did. An instant classic episode of television on par with recent greats like
Mad Men
's "The Suitcase" or
Breaking Bad
's "Fly," 
Louie
's "Duckling" brought humanity, humor, and humility to a place where those things are rarely found: a wartorn country. 
The episode brought Louis C.K.'s loosely-based-on-himself comedian Louie to Afghanistan for a USO tour where he unexpectedly bridges a cultural gap when a duckling his daughter packed for him escapes and gets laughs and smiles during his visit. If that moment didn't tug at your heartstrings enough, consider this: C.K.'s real-life daughter came up with that profound and beautiful storyline. 
I understand that Louis C.K.'s show and humor may make some older viewers nervous or uncomfortable (the masturbation-themed "Come On God" was likely the breaking point episode for many) but if they don't vote for him, I'll just make them watch something even more nervous and uncomfortable:
Never
. That's right, Emmy voters, hope you don't like pristine bathtubs or your area rug anymore, because I'll make sure Never will never make you think twice about rewarding the genius of Louis C.K. and
Louie
ever again. 
[Photo credit: FX] 
More: 
Emmys Idle Threats: Give Julia Louis-Dreyfus an Emmy or I'll Camp on the White House Lawn