Emmys Idle Threats: Give Maggie Smith an Emmy or I'll Abolish Week-ends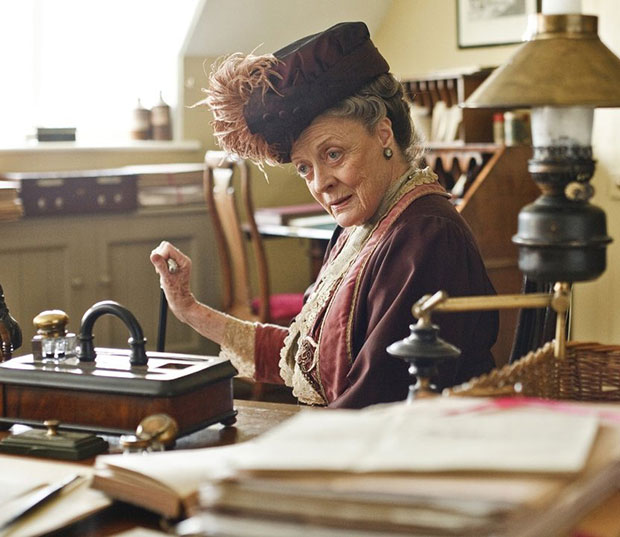 Television fans are a unique set. We're the type of people who devote hours upon hours a week to our fictional, televised friends. We laugh at their jokes and cry when they cry because our favorite shows are just so darn good. But the intensity of the laughter and the tears is all thanks to the fact that we regard these characters as something of a family. We know them. We understand them. We love them unconditionally. And actors deserve recognition for being able to elicit that level of a reaction from their fans. Naturally, when they're not given their due, we're forced to react, well, emotionally. How, exactly, will we react? That depends on the actor in question. Next up is the sassiest countess to ever grace the small screen, Downton Abbey star Maggie Smith.
I'm just going to cut to the chase here, people: Dame Maggie Smith is an icon. If she was American, she'd be a damn national treasure. They would make 1,000 gold-plated statues of her likeness and drop them throughout the American countryside for everyone to gaze upon in adulation and honor. These are just facts of science. She is 77 years old and has probably been playing that age for the last 40 years — talk about commitment! But it has arguably been on Masterpiece Theater's hit Downton Abbey that she's shined the most. And listen, if homegirl doesn't win the Emmy Award for Outstanding Supporting Actress in a Drama this year for her masterstroke turn as Violet Crawley, the Dowager Countess of Grantham, things will go terribly wrong. Like, Thomas and O'Brien scheme-levels of terrible. I will make sure of it, with Bates as my witness!
First of all, she is a dame. A literal, actual dame — as in a title that was given to her by the bloody Queen of England, Elizabeth II. That's the female version of a knight, you guys! Pay your respects. But outside of being one of the most fabulous geriatric ladies there is, she's also an icon in the biz (yes, that's right — the biz!). Sure, she won the Emmy last year for her role (but back then, Downton was in the miniseries category), but credit must be given when credit is due. She's only ever won two Emmys in her lifetime, which is a colossal crime. Time to make up for lost time, I say.
The past year of Downton's reign has been a revelation for its American home, PBS/Masterpiece Theater. Remember when PBS was just sitting-at-your-grandparents-house viewing? Not anymore: Downton Abbey made PBS fun again, and gave us a weekly dose of Edwardian drama our lives were so greatly lacking. It's not just the period costumes that make Downton great (although the fancy hats are unparalleled), but the show's ability to give us soap opera melodrama without all the suds and a bit more intelligence. And while Downton Abbey without Maggie Smith would probably be a fine show, it would definitely not be the great show it is with her. The Dowager Countess is Lord Grantham's mother, and boy, oh boy is she ever a stuck-in-her-ways old-fashioned type. But that's what makes her great! Her reactions to modernity? Priceless. She isn't without a sense of humor, either (how could she be, with a title as dour-sounding as "Dowager"?). The Dowager brings a lightness to the calamitous nature of Downton: because daaaayum that is one kooky, up-in-arms home, y'all. They must live for the days where the most scandalous thing to happen is a lukewarm cup of tea. And while, yes, she sometimes plays a part in that, she's often the voice of the past — and therefore, a great juxtaposition to all the changes that took place in World War I-era England in which Season 2 was set.
Dame Maggie is a seasoned professional, and her dexterous control of the character's psychology is fascinating. The Dowager is largely cold and unapologetic in her opinions, but she's not without heart. Just look at how William the footman weaseled his way in after he was injured in battle. Her emotional attachment to the downstairs staff is straight-up warm-fuzzy status compared to some English nobility (we'd imagine) — and having it come across as sincere and believable? Well, that's all Maggie. Bringin' some fierce old English realness.
And let us not forget the best part of all: zingy one-liners! I swear, creator Julian Fellowes must have a staff of 10 writers that do nothing else but come up with the hilariously brusque things she quips. And she carries them off with the perfect gravitas every time. "All this unbridled joy has given me quite an appetite," was certainly a highlight of Season 2. If you need a refresher, this video should do the trick (and bonus points if you replay it any less than five times. It might be impossible). Have you ever been so happy to gaze upon the imperious stare of a delightfully snobby countess before? We think not. It remains to be seen if Shirley MacLaine will give her a run for her money, but either way, the joy will be exponential with the two women on screen. Every thug needs a lady and every old English aristocrat needs a brash new-monied American to lock horns with, sometimes. Her competition this year is fierce, with castmate Joanne Froggatt (Anna) also up for the award against heavy-hitters like Christina Hendricks, Anna Gunn, Archie Panjabi and Christine Baranski, but we know deep down everyone is rooting for Maggie. We just know it, you guys!
So sure, she might not know what weekends are, but that's just the sort of swag a Dowager's got to have: Her life is not defined by the days of the week, y'all. It's all play, all day when you're a Countess of Grantham. And if Maggie Smith doesn't nab that award, I'll make sure none of you ever have a weekend to spend watching reruns and new episodes of Downton Abbey ever again. I will remove every weekend from every gCal, iCal, regular calendar, and sundial. I will petition whoever in the universe is in charge of the days of the week! Say goodbye to your beloved Saturdays and Sundays. Do you hear me, Emmy voters?! Do the right thing. Must every day involve a fight with the Americans? It doesn't have to, if you're smart with this decision.
[Photo Credit: Masterpiece Theater]
Follow Alicia on Twitter @alicialutes
More:
Emmys Idle Threats: Give Louis C.K. an Emmy or I'll Make You Babysit Never
Emmys Idle Threats: Give Julia Louis-Dreyfus an Emmy or I'll Camp on the White House Lawn
Emmys Idle Threats: Give Amy Poehler an Emmy or the Waffles Are Gonna Get It