Emmys Monologue: Jimmy Kimmel Doesn't Wow the Crowd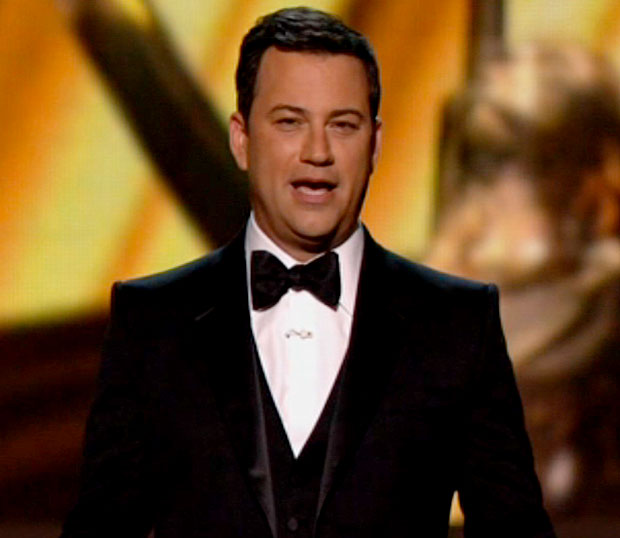 Jimmy Kimmel should be a pro at giving monologues by now, since he gives them five nights a week on his late night show, but all that practice didn't quite pay off when he opened the 64th Annual Primetime Emmy Awards. Our man Jimmy was stiffer than the butler's collars on Downton Abbey and had about as much energy as Revolution (you know, that NBC show about life after the electricity goes out. Get it?). Perhaps it was a bad case of nerves? (See video of Kimmel's opener below.)
As for the jokes themselves, they were humorous, as Kimmel tends to be, but didn't venture outside of safe territory. Picking on Here Comes Honey Boo Boo, pointing out that Jon Hamm is handsome, and that there are a lot of gay people on Glee aren't really going to get Kimmel an Emmy for Best Host of a Three-Hour Broadcast That May or May Not Delay Your Local Nightly News.
What was excellent was a taped segment that played before his monologue. Kimmel has always been a master of the viral video and his bit about getting too much botox to host the Emmys and barging into the women's room to cry about it. Who doesn't love naked Lena Dunham eating a cake, a Hulk-like Kathy Bates punching in a door, Christina Hendricks giving duck face, and an in joke about the awful year that the Best Reality Host nominees hosted the show? The piece was quirky, sly, interesting, and brought everything we hoped that Kimmel would as a host. Of course, he still has the rest of the show to prove himself. Let's hope he gets over those nerves and gets the show on the road.
Follow Brian Moylan on Twitter @BrianJMoylan
[Photo Credit: ABC]
More:
What Jimmy Kimmel Can Learn From Past Emmy Hosts
Emmys 2012 Red Carpet: Who Were the Fashion Winners?