Epic Signs 'X Factor' Band Fifth Harmony: Is The Girl Group Revolution Coming?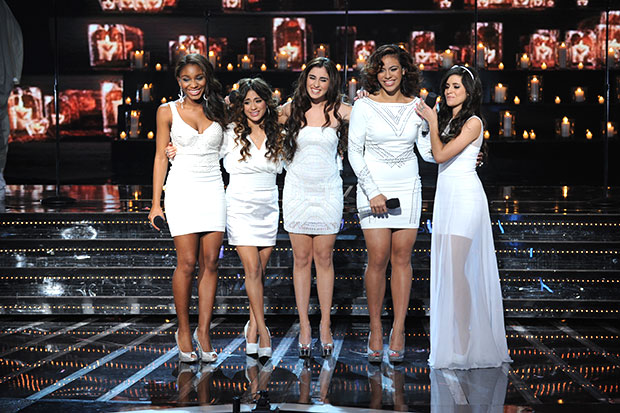 Who runs the world? Girls. Just give it a few months.
After witnessing the colossal resurgence of the boy band phenomenon with the successes of The Wanted and One Direction, the dream of the late '90s was alive and well in pop culture. And now, the tides may be shifting back to the ladies. Think about it: Beyoncé just announced that Destiny's Child is reuniting amid rumors that the trio will perform at the Super Bowl. English superstar girl group (like, so famous one of them was rumored to be romancing Prince Harry) The Saturdays chose this moment in time to bring their talents to the U.S. in the form of an E! reality show aimed to promote their music. And now, the third-place girl group that captured our attention on The X Factor's final weeks, Fifth Harmony, is getting their shot at the big time thanks to L.A. Reid and Epic Records, who just signed the pretty little ladies, according to The Hollywood Reporter.
The girls, Ally Brooke, Camila Cabello, Normani Hamilton, Dinah Jane Hansen and Lauren Jauregui met on the show and were grouped together by Simon Cowell, much like One Direction did on the UK X Factor, but throughout the season, they weren't quite cutting it. They were criticized for their lack of harmonies and in some cases lack of movement altogether. But as the season drew to a close, the girls figured it out, practiced some haunting harmonies, and blew the judges away with a fanciful cover of Ellie Goulding's "Anything Could Happen." It was like a fairy tale… but one that ended with the girls losing their shot at the competition to winner Tate Stevens and receiving a third place title instead.
Still, Cowell has compared the group to his mega success One Direction, who also lost on X Factor, and there is a gap in the market for a girl group or two to make it big. But now the heat is on, because as we saw with the boy band phenomenon, only one will truly be the tops (sorry, The Wanted).
Destiny's Child has a head start, but after debuting their weak single "Nuclear," the dust they stirred up has settled a bit. The Saturdays have the foundation of fans in England, but that's not everything or 10-year English music scene vets Girls Aloud would be huge here. Fifth Harmony actually have an advantage in that they are fresh and have a built-in fan base thanks to X Factor (a fan base who worked to get #SimonSign5H to be a trending topic on Wednesday). All they need is a song so infectious, so well-played (like One Direction's perfectly calculated "What Makes You Beautiful" and its ability to appeal to every possible demographic and disposition) that we can't help but fall in love and, more importantly, clamor for more. That's the key and with powerful allies like Reid and Cowell, they may just be able to get their hands on it.
Watch Fifth Harmony's best X Factor performance below and weigh in: do you think they could be the next big thing?
Follow Kelsea on Twitter @KelseaStahler
[Photo Credit: Fox]
'X Factor' Needs Another One Direction: Why Fifth Harmony Isn't Done Just Yet
Destiny's Child Song Released: Is It Any Good?
'American Idol' Season Premiere Recap: I Heart New York and the New Judges
From Our Partners:

The Cutest Celebrity Kids! (Celebuzz)