Episodes of Sitcom Christmas Past
Those weeks between mid-December and mid-January can hold lots of holiday joy, but they are a veritable wasteland of TV reruns (I know, I know…the dreaded r-word). We've got to wait until January 15 for most of our favorites to come back to the small screen with new material, but what about our TV rituals? I expect to settle in and watch my favorite sitcoms on Thursday nights; whatever am I to do? Well, thanks to the magic of Hulu, Netflix, and other video on demand services we can travel through past Christmases instantly when those reruns start to feel a little stale.

Ludachristmas (30 Rock Season 2)
There's nothing like Christmas in New York and there's nothing like a New York Christmas on 30 Rock. Travel back to Liz Lemon's first Christmas-themed escapade (Season One's was decidedly non-festive) which includes Tracy with a Lindsay Lohan style ankle bracelet to keep him from consuming Christmas spirits, a visit from Liz's brother, who, thanks to a traumatic accident, is still stuck in 1985 and thinks he's 17 when he's actually 40, a plot by Jack's mom to drive the "perfect" Lemon family insane and Kenneth's attempt to teach the TGS staff by taking away their annual drunken Ludachristmas celebration and replacing it with bible study.
Find it on: Netflix, Amazon Downloads or iTunes ($1.99), Hulu Plus

Christmas Party (The Office Season 2)
This is what started it all; it's the reason we wait all year for mid-December when we can see yet another office party gone awry. It's the first ever The Office Christmas Party. Back when Michael was the craziest one in the building he turned Secret Santa into Nasty Christmas and that special brand of face-palm awkwardness was our reward. We get our first glimpse at just how crazy Jim was about Pam (aww) and Meredith gave Michael a very unwanted Christmas present.
Find it on: Netlfix, Amazon or iTunes ($1.99), Hulu Plus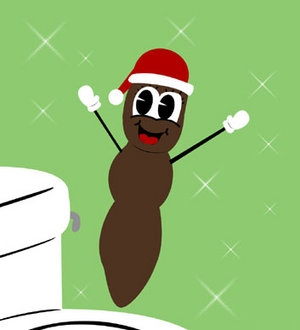 Christmastime in South Park (South Park, various seasons)
It's a smorgasbord of South Park Christmas "cheer." The collection includes seven South Park Christmas specials including episodes that give us Santa double fisting machine guns, Kenny's resurrection from Season 5, a murderous, yet cuddly cute Woodland Critter Christmas, and of course, adventures with Mr. Hanky the Christmas Poo. (Hiiiiiiiie-dee-ho!)
Find it on: Netflix, Amazon Downloads (for a fee), South Park Studios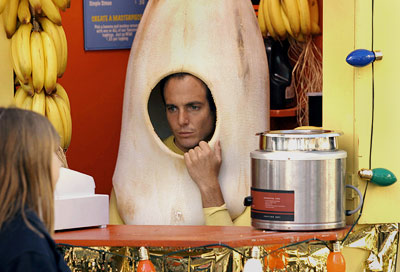 Afternoon Delight (Arrested Development, Season 2)
Ah, Arrested Development. If I could have one Christmas wish (okay, one TV related Christmas wish), I would wish for more Arrested Development. Since that's not an option as far as I know (although those swirling AD movie rumors are always fun to believe), we must resort to a few classic episodes and, in this holiday season, there's only one episode that captures that old-time holiday tradition: awkward encounters with your relatives. When George Michael ditches his dad and their Christmas tradition, Michael and Maeby spend the afternoon together and sing a duet that makes just about everyone feel like throwing up in their mouths a little bit.
Find it on: Netflix, Amazon or iTunes ($1.99), Hulu Plus

Undeck the Halls (Modern Family, Season 1)
It was our first Christmas with Modern Family, and it's totally representative of the show's dynamic; the Dunphy's are threatening to take Christmas away from the kids, Manny and Gloria test Jay's patience with the culture clash of including their Colombian traditions in Christmas and Cam gets a mall Santa fired. Merry Christmas, right?
Find it on: Amazon or iTunes ($1.99), Hulu Plus

Comparative Religion (Community, Season 1)
Of course, it's hard to top this year's "Abed's Uncontrollable Christmas" episode, but in case you've already watched it 15 times and are looking for something more vintage, last year's Christmas episode was pretty damn good too. We saw the potpourri of the study group's religions reach a head, Jeff challenged a school bully and the whole thing ended with carols and friendship (but of course not without a massive bully smack-down in piles of fake snow). Try to remember that just because this year was AWESOME, it doesn't refute previous season's perfectly hilarious and lovely holiday episodes. Plus how can you not love 'Oh, Christmas Troy?'
Find it on: Amazon or iTunes ($1.99), Hulu Plus

MythBusters Christmas Special (Season 5, episode 1)
It's been long enough that you've probably had time to forget which way these Christmas and New Year's Eve themed myths busted on this classic episode. Take a look back and figure out if reindeer could really hold Santa's sleigh, how to keep the needles from falling off your Christmas Tree and how much you'd have to yodel to start an avalanche in some wintry wonderland. Ahh, science.
Find it on: Amazon ($1.99)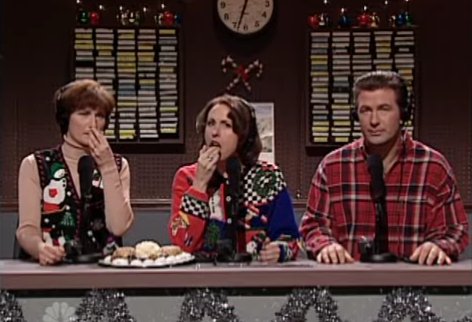 Saturday Night Live (Season 24, Episode 9, Host Alec Baldwin)
Go back to that magical time when Alec Baldwin and Tina Fey teamed up on something other than 30 Rock (not to downplay the brilliance of their current alliance). Fey was head writer, Will Ferrell was still a cast member and the show produced a comedy classic in the NPR Delicious Dish segment that gave us Pete Schweddy's Christmas balls. Mmm, balls.
Find it on: Netflix, Hulu Plus (Just the Schweddy clip)

A Very Special Family Guy Freakin' Christmas (Family Guy Volume 2)
Do you miss the old days of Family Guy? Back when it was really offensive? Take a trip down Quahog's memory lane and watch the episode that gave us Stewie taking an Exorcist-style picture with a mall Santa, KISS saving Christmas from pterodactyls, Brian burning down the Christmas tree (and the house) and Lois going Ho-ho-horrifically insane on all things filled with Christmas joy.
Find it on: Netflix, Amazon Downloads ($0.99), Hulu Plus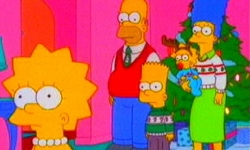 She of Little Faith (The Simpsons, Season 13)
After the commercialization of the church scandalizes Lisa, she turns to Buddhism. She then suffers through a holiday season without being able to join her family in Christmas celebration because she's no longer a Christian. Richard Gere makes the most tolerable guest appearance he's ever made and convinces Lisa that she doesn't have to renounce her family's holiday traditions to be Buddhist. Ahh, remember back when The Simpsons actually shared wonderful little nuggets of wisdom like that?
Find it on: Netflix (Hard Disc only)