Everyone Shut Up About Your Damn TV Reunions Already!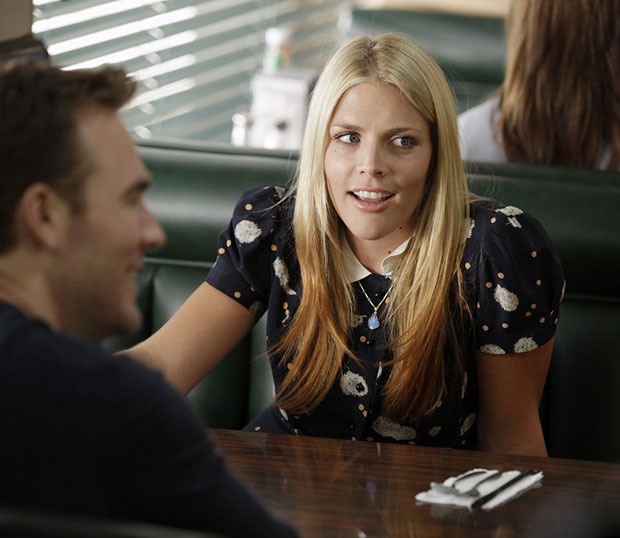 Last night's episode of Don't Trust the B—- in Apt. 23 was absolutely perfect. That's not because it featured tranquilizer guns, moral depravity, and jokes about gay hookup app Grindr. (But then, really, when doesn't it?) No, it was because it finally took television and the entertainment press to task for it's unhealthy obsession with "reunions." Ugh, if I have to hear one more thing about "reunions" I'm going to reunite my feet with a bridge and then disunite them when I jump the hell off of it.
Last night James Van Der Beek, who plays a version of himself on the show, was talked into doing a Dawson's Creek reunion to disastrous results. The whole thing was a play on the disturbing trend that is taking over TV when it casts people from one of its stars' old shows to try to get a little boost in the ratings. If the old gang is back together, everyone will come flocking, right? Recently we heard about the Heroes reunion on Hawaii Five-0 because George Takei and Masi Oka will both be on (this is after the same show capitalized on Terry O'Quinn and Daniel Dae Kim's Lost reunion). Then there's the Will & Grace reunion on Smash because Sean Hayes will be stopping by to sing a few bars with Debra Messing. Oh, and let us not forget about the Franklin & Bash reunion that is happening because Mark-Paul Gosselaar is going to guest-star on a show produced by his current costar Breckin Meyer.
OK, we all need to calm down with this nonsense. First of all, Gosselaar and Meyer are currently starring on a show together which has only been on for two seasons! That's like having a reunion of the cast of New Girl when you can see them already united each Tuesday on Fox for free. That is ridiculous. As for the Will & Grace reunion, do you know what that is missing? Will! And Karen! The same thing goes for Heroes, especially considering that Takei (though excellent) was never even a series regular. Where are the rest of the damn heroes? These aren't reunions, these are just popular actors appearing on the show together once again. Do you know what that is called? Acting! It is called acting on a show with someone who you have acted with in the past. It is called the way that television has always worked since the dawn of time.
You don't see The Good Wife calling it a Birdcage reunion because Christine Baranski and Nathan Lane have been cast together. You don't see the same show calling it a "Fire Island Hot Tub Party" reunion because Alan Cumming and John Benjamin Hickey are back together. You don't see TBS calling the season one episode of Law & Order featuring Cynthia Nixon and Chris Noth a Sex and the City pre-union because it happened before the later show was cast. No, some people don't want the cheap publicity from having two actors that worked together sharing craft services once again.
But some shows (Cougar Town and their several Friends reunions) or certain groups of fans (there have been more phony Lost reunions than we care to count) just won't let it go. And neither can the press, which gets plenty of clicks on the internet from the nostalgia of people wanting to reengage with their favorite old shows. Red carpet interviewers are the worst, asking anyone who has ever been on a popular show when we can expect a reunion as they walk past the wall of flash bulbs. They all say they'd love to do it, but it never quite happens. Hmm. I sarcastically wonder why? Because it's an awful idea, that's why!
As far as I can tell, this recent "reunited and it feels so good" obsession started with Jimmy Fallon trying to reassemble the cast of Saved by the Bell, which got his fledgling show plenty of attention and wasn't a horrible idea. That was around the same time when Seinfeld did a real/fake reunion on Curb Your Enthusiasm. Also a good idea. So is Entertainment Weekly's annual "reunions" issue because it actually delves into where the people have been, has them reminisce about the show/movie that made them famous, and puts them into interesting photos. Also, in all of these cases, the entire cast gets together (minus Screech, who is still reuniting with a porn movie). A reunion is not made of two people. You don't call dinner with your mom a family reunion. It's just life. It's just the way things are.
That is what was perfect about Don't Trust the B—- in Apt 23. (We really need a shorter name for this show. Don't Trust? The B? Apt. 23?) It was a little bit of a reunion – Busy Phillipps stopped by as did Frankie Muniz and our old reunion friend Gosselaar all playing versions of themselves – but without falling into the old nostalgia trap of having them relive their old roles. It took our old favorites and made them into something new and interesting. It also poked fun at the ridiculousness of the proposition to begin with: the fans who can't move past the moment in time when they were obsessed with one particular program, actors not wanting to appear ungrateful about their success but not wanting to go back into a role they're trying to outshine, and our collective obsession with nostalgia. It ended with some good advice: to walk away from the past in slow motion as it explodes like in a John Woo movie. It's time we do that to the whole concept of reunions in general. There are more shows out there than any human being can watch, tune in to one of those and just hope two people from The Wire pop up on any given episode. It happens more often than you'd even know or most people care to make a big stink out of.
Follow Brian Moylan on Twitter @BrianJMoylan
[Photo Credit: ABC]
More:
'Lost' Reunion! Elizabeth Mitchell Joins J.J. Abrams As 'Revolution' Regular
Celebrate a 'Clueless' Reunion when Alicia Silverstone Joins 'Suburgatory'
From Our Partners:

Donald Trump Speaks Out on Ripping Kristen Stewart on Twitter, Warns Robert Pattinson: 'Back Off…She's Bad News!' — EXCLUSIVE
(Celebuzz)

Emily VanCamp, Lea Michele, January Jones: Celebrities Who Show Major Cleavage in GQ — GALLERY
(Celebuzz)