Everything You Need to Know about 'Jersey Shore' Before the Final Season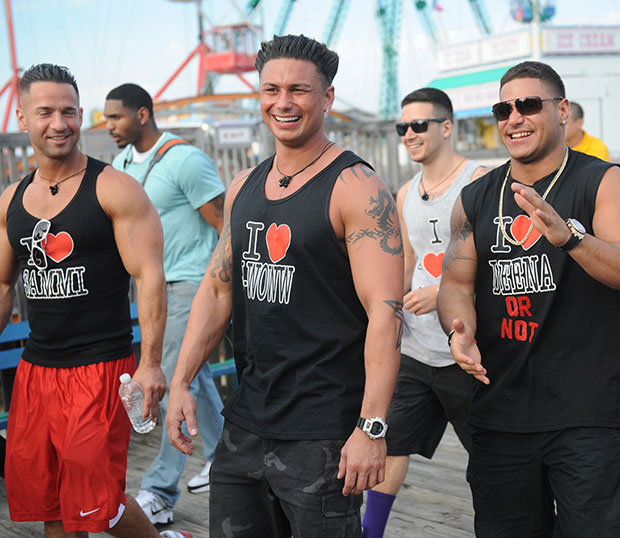 Can you even believe that it was less than three years ago that MTV introduced us to Snooki, JWOWW, The Situation, DJ Paulie D, and the rest of the crew on Jersey Shore and our lives were forever changed? And can you believe that, in December of 2009 when we first met the wild group of guidos, that barely no one cared? Only 1 million people tuned into the first episode, can you believe it? Can you believe that this thing that would go on to define MTV for the next few years was being burned off during the winter doldrums? Well, it all happened, and now it's all coming to an end.
The show's sixth season will be its last and it premieres tonight on MTV at 10 PM. Below I will answer all of your (OK, all of my own) questions about the sixth and final season.
So, who the hell is on this damn thing?All the usual suspects from the past season are back: JWOWW, Snooki, DJ Paulie D, The Situation, Deena, Sammi, Ronnie, and Vinny. Oh, and The Situation's sober coach.
Really? He has a sober coach?
Yes, The Situation got out of rehab shortly before the sixth season of the show started filming and he had a sober coach by his side to get him through the tough spots like, you know, being in a place where every memory you have is of when you are plastered. We still don't know if he'll be on camera.
So that means he won't be drinking?
Will we be able to stand him sober?
Well, I couldn't really stand him drunk, so we'll see how much of a difference that makes.
What about Snooki? Will she be nursing on the show?
No, she's still pregnant. They filmed the show early this summer in Seaside Heights, their old home in New Jersey. Snooki was pregnant at the time and didn't give birth until the show wrapped. At some point during the season she moves into an apartment next to the main house because she couldn't suffer living in the house with all those yahoos and
moved to an apartment next door to finish the season.
Wow, things are really going to be different.
For sure. Snooki and Sitch are gonna be sober sisters, Ronnie and Sammi are still together and getting along(ish), JWOWW and Roger (the mayor of Seaside Heights) are still in a relationship, and Deena is in a relationship too.
So, who will be using the smoosh room?
Just Vinny and DJ Paulie D. But that hot tub hasn't been put to good use since season one. What a shame.
Doesn't the whole thing seem a little bit like a shell of its former self?
For sure. It's down from it's gigantic Season 3 ratings high of 8.8 million, which was the highest rated broadcast ever on MTV for all time, and has been slipping ever since. Season 4 in Italy was pretty fun and had some classic moments, but Season 5 was a huge snore and just a continuation of fights from the season before, since they were filmed simultaneously.
Wait, how long has it been since everyone saw each other?
Season 5 was filmed the summer of 2011, so it had been a year since they started filming in the summer of 2012. A lot has changed since then.
What's going on with all the other Jersey Shore shows?
Well, The Paulie D Project was a total disaster and is probably gone forever, but MTV still hasn't officially axed it. Snooki & JWOWW, which was equally boring and just as lowly rated somehow got renewed for a second season. But now that Snooki has a kid and JWOWW is engaged this isn't going to be the rowdy party time that the network was originally anticipating. It's gonna kinda be like Bethenny Ever After but with less liquor and husbands with even more muscles.
So, how are you going to feel when this goes off the air?
Sad, for sure. But also a little bit, I don't know, relieved? I mean, it's about time. And watching this final season, it's a little bit like going to the Homecoming dance a year after you graduated from high school. It's nice to see all your old friends and be someplace familiar and you have a great time and all but you've just, you know. Kinda moved on.
Follow Brian Moylan on Twitter @BrianJMoylan
[Photo Credit: MTV]
More:
TV Network Swap: What If 'Jersey Shore' Was on PBS?
Goodbye, 'Jersey Shore': A Eulogy for an MTV Era