Everything You Need to Know Before the Second Season of Emmy Darling 'Homeland'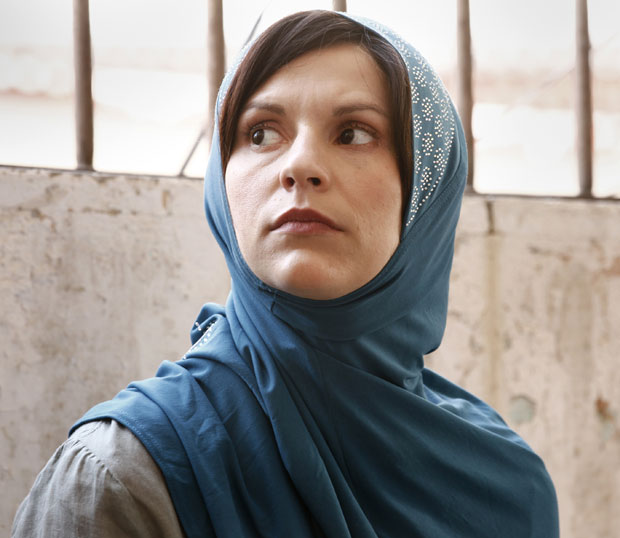 Over the next few months, we'll see new series soar, old series sour, and so much Jersey Shore madness, we'll want to shower. Let's face it: The Fall TV season is intimidating. With dozens of new and returning shows hitting our small screens, we know we have some big choices to make. So, to help you determine what to watch, we're digging deep into the most notable series premiering this season. Where did each show leave off? Where is it headed? And who should you watch it with? Today, we're checking out Homeland which just cleaned house at the Emmys and is one of the best damn shows on television.
Program: Homeland
Premiere Date: Sunday, September 29th, at 10 PM on Showtime
Tagline: CIA Agent Carrie Mathison (Clair Danes) was a rising star in the bureau's Middle Eastern division until she went overboard researching a case and her boss Saul Berenson (Mandy Patinkin) and others discovered that she is secretly bipolar. She went over the edge investigating Nicholas Brody (Damian Lewis), an American POW that returns after years of being held captive by terrorists. Carrie thinks he has turned terrorist himself. When she gets no backing from the bureau for her case, she starts trailing him (illegally) on her own and starts a relationship with him. Is he as bad as she thinks he is and is she as crazy as everyone thinks she is. And just what do aliens have to do with any of it? Oh, nothing. Brody's wife is just played by one on V.
All the Cliffhangers: For those of you who didn't watch season one, you need to go get the DVD right now and get into it. You won't be able to stop watching until it's all done. For those of you who have, you know that Carrie went over the deep end and off her medication and every other idiom for being absolutely insane when constructing her case against Brody. She even went to his house and told his wife and family that he was a terrorist and made this crazy color-coded chart on the wall of her apartment that showed how he was connected to master terrorist Abu Nazir. While she was yelling at his family he was, you know, trying to blow up the Vice President of the United States, so she was kind of right to go bonkers. But the season ends with Carrie going into the hospital to get electro shock treatment which will probably make her forget everything she discovered about Brody. Brody is running for Congress and he tells Carrie never to talk to him again.
How It Starts Out: We see Carrie living with her sister, taking her meds, and enjoying a very peaceful life picking vegetables in her garden to make lasagna. She's teaching English as a Second Language and trying to get healthy. Brody has been elected to Congress and the Vice President he once tried to suicide bomb is now going to ask him to be his running mate when he runs for president.
But Wait, Doesn't Carrie Have to Be in the CIA?: Yeah, this show is kind of pointless unless she is. How does she get there? Well, there is an asset (this isn't accounting class, that's what spies call informants) who knows something about a bombing and will only talk to Carrie. Her old bosses have to go to her house and grovel to get her to travel to the Middle East to talk to this women.
That Means There Will Be Head Scarves?: Of course!
Watch for Yourself: The first 20 minutes of the season premiere are already available. What are you still doing reading this? Go watch! (Then come back and read this.)
Ratings: The ratings for the finale were the biggest of the show's history, scoring about 3.75 million viewers between the original airing and the encore presentation (what networks call repeats) that night. That's the biggest finale in Showtime history. It was also almost 3 million more than its debut, which means people were picking the show up as it went along. Between that and the Emmy buzz, the second season premiere should be huge.
Accolades: Just about every damn Emmy out there. Danes and Lewis both won for Outstanding Actor and the show won for its writing staff as well as for Outstanding Drama, besting favorites Mad Men and Breaking Bad.
Who to Watch It With: How about President Barack Hussein Obama? It happens to be his favorite show. I doubt you can get him to come to your place though. Those secret service guys will take up a lot of space!
Moment We're Most Excited For: The trailer shows a moment when Carrie shows up at Brody's door and says hello. It's going to be amazing.
Moment We're Least Excited For: The trailer shows a moment when Carrie shows up at Brody's door and says hello. Don't do it Carrie! I'm cringing already.
What You Will Yell at the Screen: "Don't do it Carrie!"
Not to Miss Fashion Accessory: I don't know why, but I love the way Claire Danes looks in a head scarf when she's over seas. It makes her seem powerful and vulnerable and chic all at the same time. Also Brody is finally wearing something other than uniforms and boy does this devilish ginger look dapper.
All the Things Carrie Does: Carrie only seems to ever curse, run, and cry. That's kind of how you could sum up the first season, Carrie cursing, running, and crying. Oh, and touching her forehead. She does that a lot too. And saying, "But Saul!" Why hasn't anyone made a "But Saul!" supercut?
Follow Brian Moylan on Twitter @BrianJMoylan
[Photo Credit: Showtime]
More:

41 Questions About the 'Homeland' Season Two Trailer
The First 20 Minutes of 'Homeland' Season 2 Are Jam Packed with Action
Emmys 2012: 'Homeland' Takes Home Its First Outstanding Drama Award