Everything You Need to Know Before Tonight's 'American Horror Story' Premiere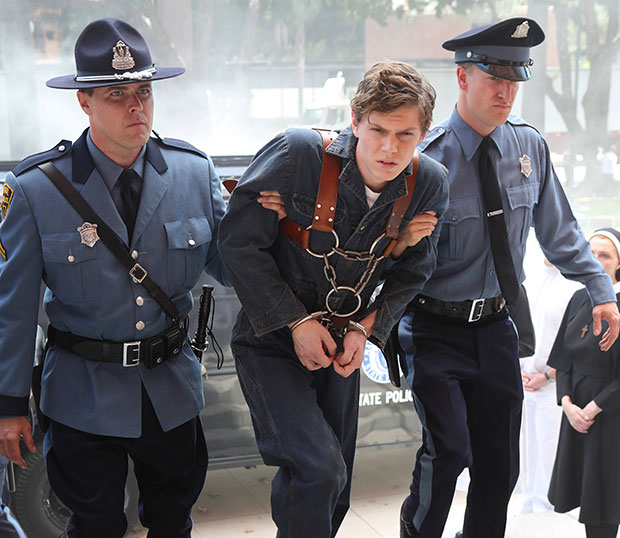 Over the next few months, we'll see new series soar, old series sour, and so much Jersey Shore madness, we'll want to shower. Let's face it: The Fall TV season is intimidating. With dozens of new and returning shows hitting our small screens, we know we have some big choices to make. So, to help you determine what to watch, we're digging deep into the most notable series premiering this season. Where did each show leave off? Where is it headed? And who should you watch it with? Today, we're checking out the return of American Horror Story now that it has buried the gimp in the leather suit and moved into an insane asylum. Are you quaking in your boots?
Series: American Horror Story
What Comes After the Colon?: Asylum
Premiere Date: Wednesday, October 17, at 10 PM on FX
Log Line: New story, new cast, new location, new ghosts, new bad accent for Jessica Lange, same old scariness.
Murder's In the House: This time around, instead of the California "Murder House" with all its deceased residents, the show is investigating Briarcliff, a former tuberculosis ward that became a mental institution in the 1960s that sounds like it's the name of a secretarial school. In modern America it is an abandoned, graffiti-covered relic much like an empty warehouse or Detroit.
Who Is Back: Jessica Lange, of course, this time playing a patrician New England nun named Sister Jude who has a bad attitude and lust in her heart. Sarah Paulson, who played a psychic last season, has an expanded role as Lana, a reporter who wants to expose what is going on at Briarcliff. Evan Peters, who was the man in the rubber suit is now Kit Walker a man who may or may not have murdered his wife. Zachary Quinto, one of the dead bickering gay lovers, is now a psychiatrist on staff at the hospital. Oh, and Ryan Murphy says that Dylan McDermott will be back in some capacity this year. As long as we get to see Dylan McDermott's back side, then everything is fine.
Who Is New: Shakespeare in Love star Joseph Fiennes is Sister Jude's scratch post as the cleric who runs the asylum, Babe lover James Cromwell is this year's creepy doctor who lurks in the basement, Argo escapee Clea DuVall is Lana's lesbian lover, Big Love sisterwife and hipster queen Chloe Sevigny plays a nymphomaniac, Lily Rabe as a stupid nun. Oh, and let's not forget Jenna Dewan (aka Mrs. Channing Tatum) and The Voice chair spinner Adam Levine as a pair of lovers visiting the asylum.
The Serial Killer: This year the big baddie is "Bloody Face," a creepy serial killer who skinned his victims and wears a corpse's bloody face as a mask.
Things in This Season that Ryan Murphy Is Obsessed With: Redheads, gay people, people with developmental disabilities, mean old blonde ladies, uniforms, bondage, S/M.
Worst Dirty Talk: "Do you want to do it in the death chute?" "Ready for an injection?" "Do it again and I'll blow you." "You can totally put it in my ass right now." "You can shave me bald as a cucumber and I'll still be the hottest tamale in this joint."
References to Women Receiving Anal Sex: Two.
Butt Shots: Two.
Sexual Encounters: Four.
Crazy Head Contraptions Like in Clockwork Orange: Two.
Worst Time Travel Joke: "30 cents a gallon? Just because you're out here in the sticks doesn't mean you can gouge people."
Creepiest Place Always: The woods. Nothing good ever happens in the woods in horror movies. It's not like that's where the teddy bears are having their picnic. People are always dying in them there woods.
Follow Brian Moylan on Twitter @BrianJMoylan
[Photo Credit: FX]
More:
Everything You Need to Know Before the Second Season of Emmy Darling 'Homeland'
Everything You Need to Know about 'Jersey Shore' Before the Final Season
Everything You Need to Know Before the Second Season Premiere of 'Revenge'
From Our Partners:

NY Comic-Con: 34 Crazy Costumes
(Moviefone)

(Moviefone)