Everything You Need to Know Before Watching CBS' New Comedy 'Partners'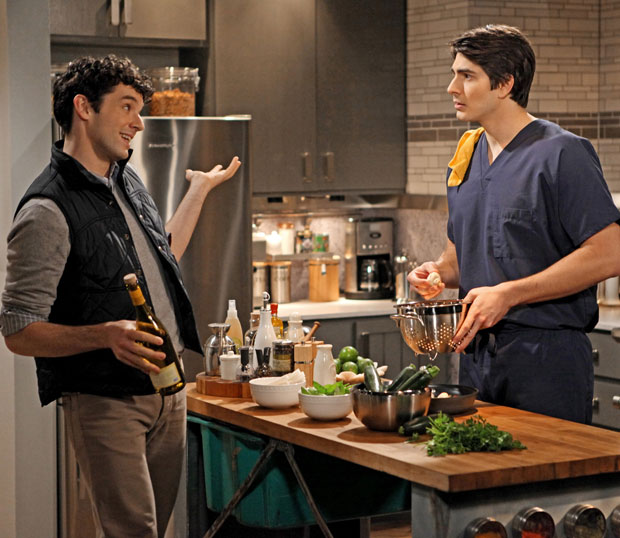 Over the next few months, we'll see new series soar, old series sour, and so much Jersey Shore madness, we'll want to shower. Let's face it: The Fall TV season is intimidating. With dozens of new and returning shows hitting our small screens, we know we have some big choices to make. So, to help you determine what to watch, we're digging deep into the most notable series premiering this season. Where did each show leave off? Where is it headed? And who should you watch it with? Next up is CBS's big new comedy Partners. No, it is not called Partners in Crime It has nothing to do with crime. Yes, it is still on CBS.
New Series: Partners
Premiere Date: Monday, September 24, at 8:30 PM on CBS
Tag Line: Two architects, one gay and one straight, have been friends their whole lives and coworkers for quite a bit. Their relationship is tested when the straight one decides to get married to, gasp!, a girl.
Pedigree: This comedy is from the minds of Max Mutchnick and David Kohan, the gay-straight duo behind Will & Grace and (let's not forget) S*!T My Dad Says.
Characters: First is the gay-straight duo Louis (Michael Urie) and Joe (David Krumholtz). They are architects; Louis is the flamboyant one who is very crazy and emotional (because he's the gay one), and Joe is very straight and, well, straight. He's straight. Also the straight man. He puts the straight in straight man. Then there is Louis' boyfriend Wyatt (Brandon Routh), a vegan nurse, and Joe's fiancee Ali (Sophia Bush) who is, well, Sophia Bush.
Where Do I Know Him From?: Urie is from Ugly Betty, Krumholtz is from Numb3rs and (every copy editors' nightmares), Routh was the Man of Steel in Superman Returns, and Bush was the President of the United States of America. He was! Sophia Bush, well, she was on One Tree Hill, which is an even more important job.
What's So Funny?: Partners is one of the few shows that's still taped before a live studio audience. That's no canned laughter, but you will hear plenty of laughing. There are also three cameras, so it looks a lot more traditional than something like New Girl or Girls. Think 2 Broke Girls, but with fewer girls.
Over the Rainbow: CBS is consistently the network with the fewest gay characters, even after adding in the two gay dudes on this show. Maybe they should make a series based on the classic gay play Boys in the Band, the life of Truman Capote, or just something about the fashion industry.
What's in a Name?: The title could be about anything. A buddy cop drama, a bunch of young lawyers, a P.I. duo that solves crimes and owns a coffee shop, every gay bar in a small town that is not called Triangles.
If You Like This, You'll Love…: The New Normal, Modern Family, homosexuals, families.
Follow Brian Moylan on Twitter @BrianJMoylan
[Photo Credit: CBS]
More:
Everything You Need to Know Before Watching NBC's Big Mystery 'Revolution'
CBS Last in GLAAD Network Responsibility Index Again: Will It Ever Change?