Everything You Need to Know Before Watching NBC's Big Mystery 'Revolution'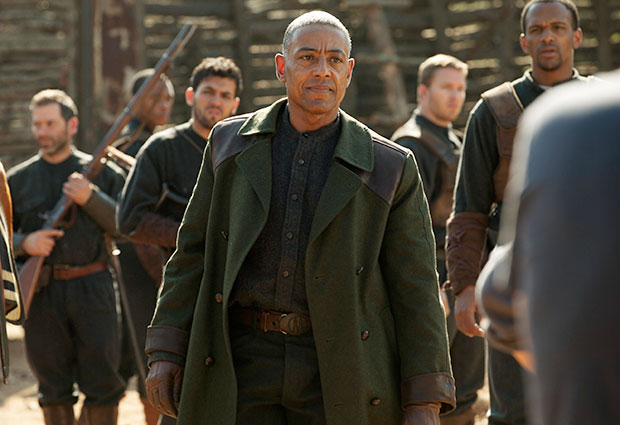 Over the next few months, we'll see new series soar, old series sour, and so much Jersey Shore madness, we'll want to shower. Let's face it: The Fall TV season is intimidating. With dozens of new and returning shows hitting our small screens, we know we have some big choices to make. So, to help you determine what to watch, we're digging deep into the most notable series premiering this season. Where did each show leave off? Where is it headed? And who should you watch it with? Next up is NBC's bit new mystery show Revolution. The Beatles told us you wanted it, so here it is.
New Series: Revolution
Premiere Date: Monday, September 17, at 10 PM on NBC
Tag Line: "What happens when all the lights go out?" In the first scene, some crazy event happens that knocks out all forms of electricity on the planet Earth. Planes crash, cars die, and society goes absolutely berserk. There is only one scientist who knows what happens. Cut to 15 years after "the event," and the country has been divided into tiny hamlets that are ruled by regional warlords. One of them kills the one scientist, who sends his daughter Charlie off on a quest to find his brother and, hopefully, turn the power back on.
Famous Pedigree: JJ Abrams is a producer.
Failed Advertising Slogans: "Revolution is electrifying." "When there is no power there is still great responsibility." "It keeps going and going and going…"
You'd Like It If…: You think that Terra Nova was cancelled too soon, that Lost was the best show ever on television, that the only problem with The Walking Dead is all the zombies, and that the Unabomber actually had some good points.
You'll Hate It If…: You like all your questions answered at the end of the hour, happy endings, and doing your hair with a curling iron.
Hollywood Trend Watch: Just like Katniss Everdeen, the Avenger Hawkeye, and Daryl on The Walking Dead, everyone uses bows and arrows. Apparently guns use electricity. Really? Are you sure?
Character to Love: Giancarlo Esposito, who chilled hearts as drug lord Gus Fring on Breaking Bad isn't breaking his bad reputation. He plays Capt. Tom Neville, a militia leader with a mean streak and a few secrets.
Character to Hate: It's a tie between Graham Rogers' Danny, a ne'er-do-well son of the famous scientist who seems like he's going to be getting into a lot of silly Kim Bauer-from-24 scrapes. Cue the mountain lion. His rival is Zak Orth's Aaron, who is like Hurley from Lost, an overweight billionaire who is just along to provide the necessary comic relief and inspirational aphorisms at key moments. Get a real character, Dude.
Character That Will Most Remind You of a Twilight Character: I don't know if it's the buff body or the simmering stares, but JD Pardo's Nate is basically Taylor Lautner's Jacob with a, you guessed it, bow and arrow.
Famous Faces: Elizabeth Mitchell, from Lost, joins the cast in episode two when she was recast to play the famous scientist's second wife and Danny's and his bratty sister Charlie's (yes, that's a girl) evil stepmother. Well, at least that's what they think.
Setting: It starts off in a small town, but soon the action travels to Chicago, which is still a big city, but one that looks more like Deadwood than Tron. Also, there are trees growing on all the buildings. That's how you know the power is still out. Danny also ends up on a farm. Maybe if we're lucky, he'll buy it. Oh, and it's in the future. Did I mention that?
What You're Most Like to Yell at the Screen: "Why aren't you using guns?! Guns don't use electricity!"
DIY Revolution: It's pretty easy to recreate this show in your very own home. Just go into the basement, shut off the power, and then sit in the darkness. For added effect, you can get your neighbors to chase you around while shooting arrows.
High Point: The surprising ending. No, I'm not going to tell you what happens. This isn't the spoiler page.
Low Point: The groan-worthy death scene of our famous scientist. It's like the cartoon version of a gasping man dying in the street with just one more secret he needs to get out before he expires.
If You Love This Show, You'll Love…: Ashrams, Mennonites, archery.
Follow Brian Moylan on Twitter @BrianJMoylan
[Photo Credit: NBC]
More:
First Look at 'Revolution' From Star Tracy Spiridakos
'Revolution' Gives a Supercharged Story with Half-Powered Characters