Exclusive 'Animal Practice' First Look: Meet Fall TV's Hottest Star — VIDEO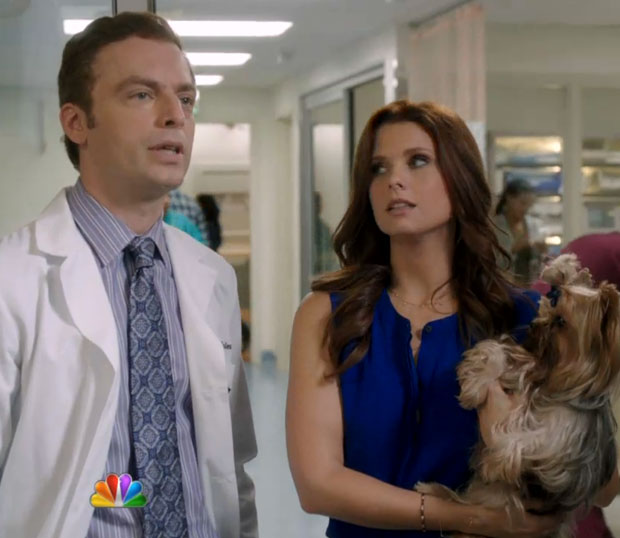 During July's San Diego Comic Con and NBC's recent star-studded TCA party, fans and reporters alike were able to mingle with the network's best and brightest. From sitcom staple Matthew Perry to Weeds (and now Animal Practice) star Justin Kirk, there was never a shortage of serious TV star power to keep the masses happy. Unfortunately for their egos, one emerging star shined much more brightly than the rest: Crystal the Monkey, a delightful capuchin who has starred in everything from Night at the Museum to The Hangover Part II to NBC's own Community, as the thieving Annie's Boobs.
Starting this fall, Crystal will take on a more permanent role as Dr. Rizzo in Animal Practice, a zany comedy that focuses on Dr. George Coleman's (Kirk) bustling veterinary practice in New York City. Coleman's natural way with animals contrasts sharply with his hilarious lack of human interpersonal skills, and he finds himself bonding much more with Rizzo than with his other coworkers, including his ex-girlfriend Dorothy (JoAnna Garcia Swisher).
In the video below, Kirk, Crystal, and the rest of the Animal Practice gang offer up a first look at the charming new sitcom. Check it out to learn why not all dogs go to heaven. (Cats do.)
Animal Practice premieres Sept. 26 at 8 p.m. ET/PT.
Follow Shaunna on Twitter @HWShaunna
[PHOTO CREDIT: NBC]
MORE:
NBC Sets Early Fall Premiere Dates
NBC Upfronts 2012: Go Funny or Go Home
UPDATE: NBC's Series Pick-Ups: Bit o' Ryan Murphy, a Dash of J.J. Abrams, & an Old 'Friend'