EXCLUSIVE: First Look at 'Revolution' From Star Tracy Spiridakos — VIDEO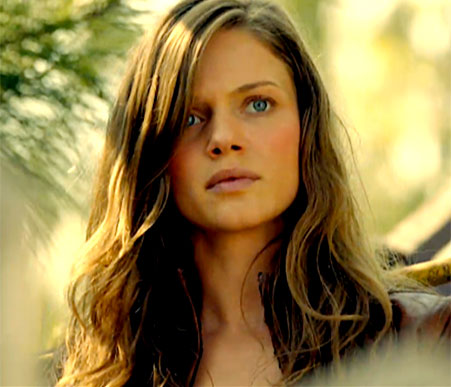 After two viewings of NBC's stunning, post-apocalyptic fall pilot Revolution, one thing remains abundantly clear: This is one of the most ambitious offerings from fall's TV season, and a total must-watch. The possibilities are endless — producers Eric Kripke and Jon Favreau have created a brave new world where literally anything (well, except for electricity) is possible. 15 years after the world's lights mysteriously went out, Charlie (Tracy Spiridakos) and what's left of her family have to survive in a world ruled by a brutal militia (run by Breaking Bad's magnificent Giancarlo Esposito), and hopefully figure out who flipped the switch in the first place.
Spiridakos' spunky Charlie and her uncle Miles (Billy Burke) are the show's standout heroes, so it's only fitting that Spiridakos is offering up a first look at the wonky world of Revolution. Watch below for a sneak peek at the show's beautiful landscape, and be sure to check out Esposito as he ditches his fried chicken hat for a pretty wicked trench coat. 
Revolution premieres Sept. 17 at 10 p.m. ET/PT on NBC.
Follow Shaunna on Twitter @HWShaunna
[PHOTO CREDIT: NBC]
MORE:
'Revolution': The Chase Is On — PICS
TCA 2012: 'Revolution' Stars on Creating Villains and a Brave New World