Exclusive 'Fringe' Clips: Will Walter Bring Back the Parallel Universe?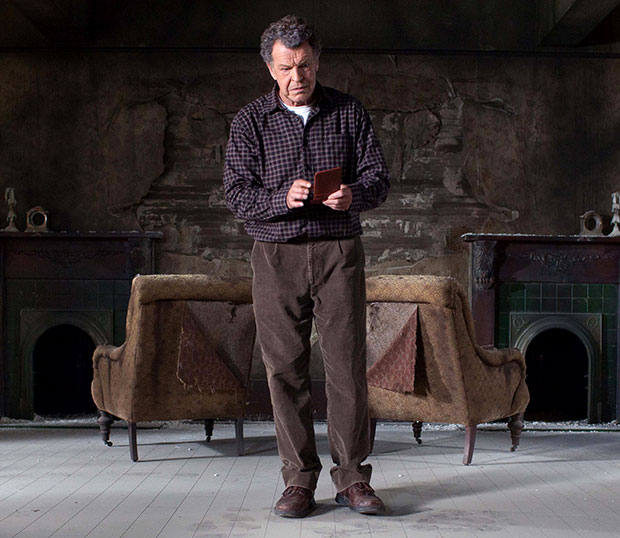 After a shocking death and Peter's, ahem, surgery, Fringe has finally provided us with a glimmer of hope — if Walter is right, the parallel universe may soon come back into play. Saying goodbye to the alterna-characters at the end of last season was painful, and if 167 Cedar Street turns out to be what Walter hoped, we *might* be in luck. Hollywood.com was on the Vancouver set during the filming of this Friday's episode, "Through the Looking Glass (And What Walter Found There)," and we saw John Noble hopping around on the dusty floor of an old apartment building. This clips below reveals this building to be the mysterious 167 Cedar, and we're oh-so-excited to see what he finds there.
In the first clip, we see Walter painstakingly retrieving (alone, in the middle of the night) the seventh tape from the amber, and the second clip shows why that tape is so important — it describes the location of a critical piece of the puzzle that will ultimately defeat the Observers. The piece is undetectable to Observers, and apparently involves transversing parallel universes — "a pocket universe, if you will." Of course, no one but Walter really gets what that means, but any mention of the parallel universe has us jumping for joy. Check out the clips below, and be sure to check out an all new Fringe this Friday!
Follow Shaunna on Twitter @HWShaunna
[PHOTO CREDIT: Liane Hentscher/Fox]
MORE:
'Fringe' Recap: An Origin Story
'Fringe' Star Georgina Haig on Her Character's Shocking [Spoiler!]
'Fringe' Recap: The Bullet That Saved the World

Lady Gaga Dons Strapless Bikini Top, Waves to Fans in Brazil (PHOTOS)
(Celebuzz)