Exclusive: 'Glee' Star Chord Overstreet Talks Stealing The Spotlight, Romancing Dianna Agron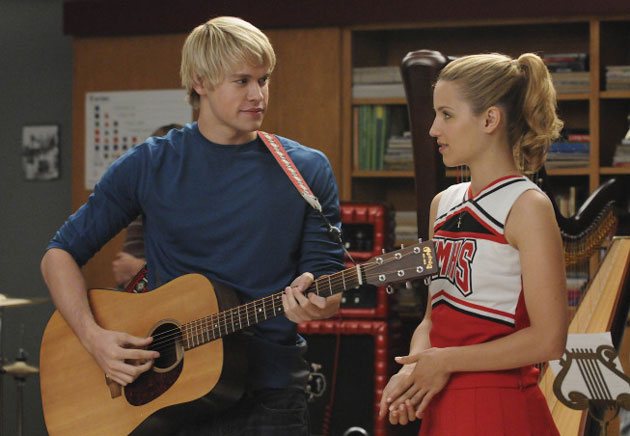 Trouty-Mouth, Cheerios, promise rings, astronomy, Justin Bieber and Color Me Mine.
Don't worry people, we're not just blurting out gibberish — we're describing one of Glee's most missed relationships! The unwavering fans of Sam (Chord Overstreet) and Quinn (Dianna Agron), a.k.a. Fabrevans, have been patiently waiting over a season and a half for their favorite couple to once again walk down the McKinley halls together. And now that Glee executive producer Ryan Murphy has joined Twitter, he has publicly squashed the relationship rumors between Sam and Mercedes (Amber Riley). Murphy writes, "SAM will have a new girlfriend this year. Guess who it is!"
While Overstreet doesn't officially reveal the identity of his new leading lady, he does admit that Agron will always be one of his favorite on-screen partners. Overstreet gushes to Hollywood.com, "Diana is one of the easiest people to work with, so I always love doing scenes with her."
Now that we eased the conversation into shipper territory, we decided to just ask him flat out: how does he feel about the fans who are absolutely dying to see Fabrevans again? "That would be a blast!" exclaims Overstreet. "We'll see what happens in the show." He adds with a smile, "You guys could be in for a treat!" Only one word can captivate how Fabrevans fans are feeling right now: Squee!
Although Overstreet has only read the first episode, he was kind enough to spill some Season 4 scoop. The 23-year-old actor says, "They're really doing a really good job at blending what's going on in New York with Rachel Berry (Lea Michele) and what's going still back in Ohio and kind of blending in all the seniors that graduated into the show and intertwining it." Hmm, perhaps he's referring to his favorite alum Quinn?
Overstreet continues, "The first script is hilarious. There's a lot of really good stuff. [A lot of] scenes with Jane [Lynch] and a lot of really good stuff with Matt [Morrison] and the new kids they're bringing in. So I can't wait to start shooting and see the chemistries."
Now that the seniors have left the choir room, it seems like it's up to Sam, Artie (Kevin Mchale) and Blaine (Darren Criss) to fight for the spotlight this season as the leading man. Although he's got some tough competition, Overstreet says he's confident Sam has what it takes to lead the New Directions. "I would love to see him just go out there and own it," explains the Tennessee native. "Those [other] guys just don't match up, I could take 'em. I would just outrun Artie."
Who do you think would be the best male lead this season? Are you hopeful for a Fabrevans reunion this year? Sing us your thoughts in the comments below!
Glee returns Thursday, Sept. 13 at 9 p.m. on FOX.
Follow Leanne on Twitter @LeanneAguilera
[Photo Credit: FOX]
MORE:
Darren Criss, Chris Colfer Teaste 'Glee' Season 4
'Glee' Newbie Jacob Artist Spills on His "Bad Boy" Role, Hopes for Season Four