Exclusive: Gloria Estefan Will (Probably) Return to 'Glee' This Season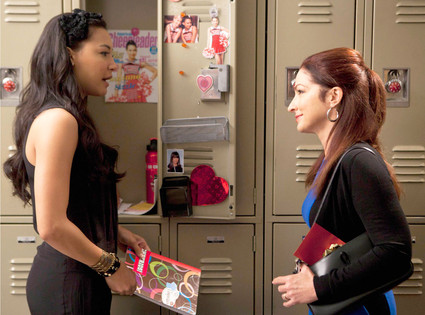 There are only a few things we really want out of life. The first is a music player that can read your mind to always give you the perfect song. The second is calorie-free brownies and cupcakes. And the third is for Gloria Estefan to return to Glee as Santana's (Naya Rivera) sassy yet sweet mama Maribel Lopez. Welp, looks like one of our wishes is coming true — but this one definitely does not involve frosting.
"I'm totally up for it, are you kidding me? I had a blast! I'm a big gleek myself and it was such a thrill to play Santana's mom," Estefan gushed to Hollywood.com this morning while promoting her new show The Next (more on that later).
The legendary singer confirms that her second guest appearance is "in the works" but she can't pinpoint her exact episode just yet. "From last time, look at the difference from when they announced that I was going on, to the time that I actually got on [the show]," said Estefan. "I can't say for sure I'm going to be on this episode or whatever, but it is in the works. They really want to do it." Praise Breadstix! Our favorite Lima Heights mama will be back!
Plus, the lovely Latina knows exactly which storylines she would like to tackle in her next visit to Lima Heights. Estefan reveals, "I would love to close that circle that we left open with Santana's grandma."
Here's a quick little recap for those who have let the fumes of suntan oil mess with their memories during this summer break: Santana had always been extremely close with her Abuelita, but when she bravely told her the truth about her sexuality, Santana was heartbreakingly shunned by her own grandmother.
Estefan continues, "I know in my family I would never let that sit. If my mother were to talk like that to my daughter I would definitely want some kind of reunion or at least some resolutions out of that. I think that's a crazy thing to have left open so we're hoping to do that in this new season."
Now that we've discussed the drama, let's get down to the music. Estefan heard your tweets of despair when Maribel didn't sing her heart out in the McKinley halls. "I know everybody was disappointed that I didn't get to sing on [the last] show, but quite honestly, I'm happy about it," Estefan says, adding that she was less concerned with singing and more focused on building a strong connection with her onscreen daughter.
In this next episode, the down-to-earth Estefan says she has only one diva demand: "I would love to sing with Naya. That would be my number one."
Are you excited to see Gloria Estefan on Glee again? Which song do you think would be perfect for Maribel/Santana duet? Sing to us in the comments below!
Glee returns Thursday, Sept. 13 at 9 p.m. on FOX.
Follow Leanne on Twitter @LeanneAguilera
[Photo Credit: FOX]
MORE:
'The Glee Project' Recap: And the Winner Is…
'Glee' Star Kevin McHale Under Consideration for 'The X Factor' Host
Exclusive: 'Glee' Star Chord Overstreet Talks Stealing The Spotlight, Romancing Dianna Agron