Exclusive: 'The Walking Dead' Tops Deadliest Shows on TV Study — INFOGRAPHIC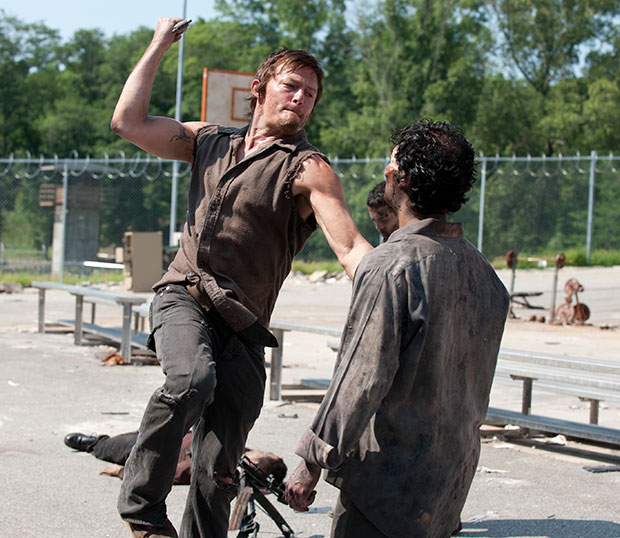 Who's the deadliest of them all?
In an exclusive new report with Funeralwise.com, Hollywood.com revealed the Top 10 Deadliest Shows on TV. Leading the pack is, unsurprisingly, The Walking Dead. 
In the study, which measured TV death tolls between Oct. and Dec. 2012, the AMC zombie series beat out its fellow small screen slaughterhouses by a wide margin, representing 20 percent of all television deaths on its own. The Walking Dead racked up 304 dead bodies (including zombies, which make up 91 percent of that count) in the eight episodes that were studied. 
Cinemax's Strike Back and NBC's Revolution came in second and third.
RELATED: 16 Most Moving TV Deaths — GALLERY
Among the other findings, guns were the weapon of choice on TV: Firearm killings topped the list as 44 percent of observed deaths, followed by murders caused by bladed weapons, which amounted to 19 percent.
RELATED: Another One Bites the Dust: The Best and Worst TV Deaths and Resurrections of 2012
But, of course, that's just when we're talking about human deaths (which make up only 52 percent of all television casualties). The Walking Dead's zombies most regularly face the wrath of blades, followed by arrows (you can thank Daryl Dixon for that one).
To learn more about which shows kill of the most characters, how these characters get the axe, and who these poor unfortunate souls are most likely to be, check out our exclusive infographic below!

[Photo Credit: Gene Page/AMC, Infographic by Hollywood.com]
---
You Might Also Like:

 Adam Brody, Leighton Meester Dating?

'Smash' Crashes in Ratings: What Went Wrong

'Walking Dead' Tops Deadliest Shows: Exclusive