Exclusive! 'Weeds' Hunk Hunter Parrish Spills a Big Secret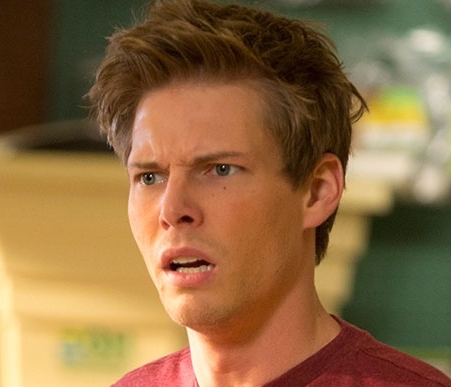 We caught up with Weeds hunk Hunter Parrish last night at the CBS/CW/Showtime party in Beverly Hills, and he told us the truth about those Fifty Shades of Grey rumors that have been swirling about (Parrish is among the list of young actors being talked about for the lead role). Plus, Parrish told Hollywood.com an exclusive secret that he's keeping from his parents! Believe us when we say, it's one of the sweetest things. Ever.
Any diehard fan knows that the Weeds' theme song "Little Boxes" can get stuck in your head for days. Such a fan would also know that it's one of the most-covered theme songs, with artists like The Shins, Regina Spektor and Lincoln Park putting their own spin on the quirky lyrics over the years.
So it's only natural that we would ask Parrish what other amazing artists would be singing about "ticky-tacky" in the final season — and imagine our surprise when he revealed one huge one: himself. Parrish, who most recently used his heavenly voice in a six-month stint in Broadway's Godspell, will be singing his own version of "Little Boxes" later this season! 
The only catch? He's been trying to keep it a secret from his parents. "I'm just going to tell my parents not to look at Hollywood.com for at least eight weeks, because it's a surprise to them," Parrish says with a sly laugh. "So if they find out, I'm going to blame you." Whoops! Are you reading this, Mr. and Mrs. Parrish? Avert your eyes!
The 25-year-old actor then proceeded to grace us with another fun fact: "In the third episode, which was two weeks ago, Kevin Nealon did a cover with Steve Martin. That was Steve Martin yelling and Kevin Nealon was playing the banjo. It was slightly bizarre, but now that you know who it is, it's way better."
Of course, given Parrish's buzz with Fifty Shades of Grey, we knew we had to ask about that, too. This season on Weeds, Parrish's Silas has been having a very interesting relationship with model/dealer Kiki (Kat Foster). And by interesting, we mean that whips, chains and ball-gags have been involved. Christian Grey would definitely be proud, so we're casting our vote for Parrish to take the lead in the upcoming movie. He laughs, "You know, people have said that I'm perfect for roles in other book series as well, and it didn't fare so well." Not gonna lie, he would've been perfect with a trident in his hand.
Parrish says we're not the only ones who thinks he'd be perfect for the S&M lead. "It's really nice," he says. "It's very exciting. I've had a few friends say that. I haven't read the books [though] — I think they're more geared toward another demographic."
Not to worry! Hollywood.com has provided the world with discreet book covers, so that you can read your Fifty Shades of Grey without feeling one ounce of shame! Parrish exclaims, "Oh, so people don't know that you're reading like lit-porn? That's amazing!" Why thank you, Hunter. We think so, too.
Weeds airs Sunday nights at 10 PM ET/PT on Showtime.
Are you excited to hear Hunter Parrish's version of "Little Boxes?" Think he'd be perfect for Christian Grey? Let us know in the comments below!
Follow Leanne on Twitter @LeanneAguilera
[Photo Credit: Showtime]
MORE:
TV Tidbits: 'Weeds,' 'Supernatural' Add Mysterious Roles
'Weeds' Season Premiere: Karma, Politics, and the Return of Little Boxes