Exclusive: What's Coming Up For Your Favorite 'Big Bang Theory' Couples?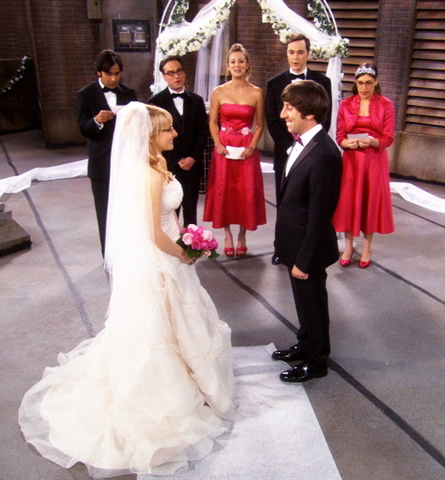 If you haven't been watching The Big Bang Theory for the past five years, you've been missing out on some amazingly quirky characters, science-themed plots and long-winded dialogue. So to help get you prepared up for the new season we've graciously compiled a cheat sheet on what to expect for your favorite BBT relationships.
Hollywood.com recently caught up with out of this world actress Melissa Rauch and Producer/Writer Steven Molaro about who will be the new "power couple" this fall in the stellar sixth season.
First up, we have the newlyweds Howard (Simon Helberg) and Bernadette (Rauch). In the May finale, fans witnessed an absolutely adorable wedding in which their five closest friends married the couple in a rooftop Google-worthy ceremony. Now the sixth season is going to pick-up right where the couple left off. Rauch reveals, "They are doing a long distance relationship with Howard being in space. They're going to be just finding out how to navigate married life and where they're going to live."
For those who have been living under a rock, let us remind you that Howard has been living with his mother—the never seen but always heard Mrs. Wolowitz—for his entire life. Rauch confirms that this totally normal (sense the sarcasm) living arrangement will definitely be addressed, "Yes, we'll find out if they'll be living with his mother and all that business." We can't wait to hear what Mrs. Wolowitz screeches about this one!
Luckily Howard has some time before he has to return to earth and choose between the women in his life. Molaro explains the BBT space-time continuum of Howard's galactic travels for us, "I don't know the exact calendar of it all I would say more than a month but less than three months…He'll be up there for a few episodes."
All in all it looks like things are looking good for the first married couple on BBT. Rauch says with a smile, "With Howard's astronauting business going on and Bernadette's high powered job, they're the new power couple."
Unfortunately the same can't be said for the show's longest on-and-off again relationship: Leonard (Johnny Galecki) and Penny (Kaley Cuoco). Molaro explains what is coming up for our favorite beauty and the geek, "We'll continue moving forward with where we left Leonard and Penny off. They're in a bit of an awkward place in their relationship." Oh yes, shouting out "Marry me!" in the middle of coitus (Sheldon's term not ours) can be quite the awkward predicament.
Leonard and Penny's kinda sorta causal thing was put on the backburner for most of last season, but Molaro wants to clarify that won't be the case this year. "I know that we will be touching on the Penny and Leonard relationship quite a bit." Maybe this means we'll finally be able to get some solid answers from a show that hides the little details. Ahem, yes we're referring to Penny's MIA last name. Molaro quips, "We made it this far without it I wouldn't get your hopes up!" Ooh bazinga!
Speaking of bazinga, let's move onto the short but sweet scoop we got on our beloved Sheldon (Jim Parsons) and Amy (Mayim Bialik). Last season we saw Amy trying to crack the code, a la Strawberry Quick, on how to develop Sheldon's feeling for her. So will things continue to progress for this contractually bound couple? "Yes, but not if Sheldon can help it." Molaro smiles, "Amy will continue to try and drag him in that direction." Fingers crossed we'll see Amy and Mrs. Cooper work together to make that happen.
And of course we can't forget about our favorite relationship of all: the ladies of BBT! The infamous girls' nights with Penny, Bernedette and Amy definitely steal the spotlight in each episode. So we were curious if we could expect more truth or dare, bestie paintings, or wine-induced confessions. Molaro was quick to respond, "Absolutely, yes! I don't know if there's any paintings, but [Amy] is still overly excited to have this dynamic in her life."
Rauch says with a laugh, "I love those scenes…I want a painting too!" Get in line honey, because we've heard that an Amy Farrah Fowler original is harder to find than a signed mint-condition Star Trek Wesley Crusher action figure. Hey, we pay attention!
So that's four relationships for BBT—you go, BBT!—and none for Raj Koothrappali (Kunal Nayyar). Bye!
The Big Bang Theory will premiere at 8 PM Thursday, September 27 on CBS.
Who is your favorite Big Bang Theory couple? What are your predictions for the sixth season? Send us your hypothesis in the comments below!
Follow Leanne on Twitter @LeanneAguilera
[Photo Credit: CBS]
MORE:
Mayim Bialik returns to Big Bang Theory after Car Crash
'Big Bang Theory' Star Jim Parsons Acknowledges He's Gay
'The Big Bang Theory' Finale: Howard and Bernadette Have a Marry Old Time