'Facts of Life' Star Lisa Whelchel Talks About Life After 'Survivor'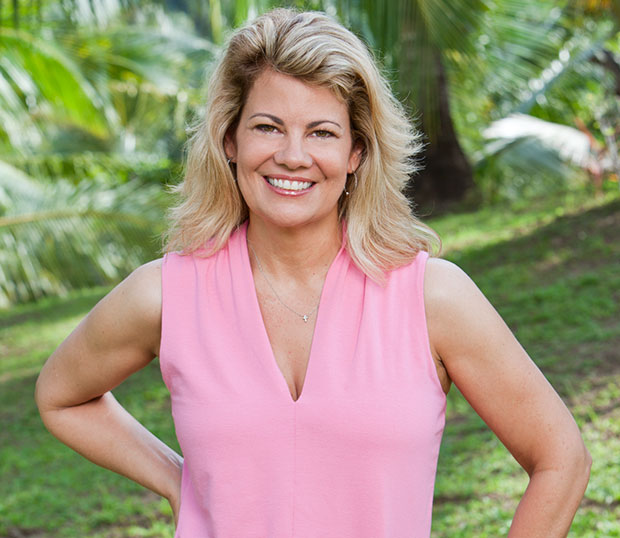 You take the good, you take the bad, you take them both and there you have The Facts of Life. Either that or you learn the same lesson about yourself like the show's former star Lisa Whelchel who was in the final three on the 25th season of Survivor, which wrapped on Sunday. Though she didn't take the top prize, she said on the show's live reunion special that learning all about herself was worth the $1 million prize.
"I didn't realize how much I had invested in how much people felt about me," she says. "I didn't realize I gave them so much power to determine how I felt about myself. The biggest thing I will take away from that is that I can accept all of me and call it like it is. I'm not all good and all bad and that's OK. I knew God accepted all of me, but because I couldn't accept myself I couldn't get his acceptance. Having taking that power away from other people has set me free."
That's quite a lesson to learn. Now if only her erratic game play on the show could have been as precise. Lisa says it makes sense she didn't get more votes in the final. "I'm able to objectively look at my game and Denise [Stapley] totally deserves the title of sole Survivor," she says. "I think I came across as I was, which was all over the map. If any one of us is stripped of everything and then filmed, it wouldn't be much of a different picture. We all have conflicting feelings inside. We want to do the right things and want to do the best for us, and we want to be honest and to protect ourselves if we have to lie."
And that badness is, according to Lisa, what attracted her (and possibly other Christians) to the game of Survivor. "If you're a Christian there is so much emphasis on being good and the definition of good that is synonymous with perfect that is not possible," she says. "For me, on a subconscious level, I wanted permission to not be good all the time. I wanted a context when I could be all sides of me and not just acceptable or Christian. What I didn't realize that was the draw…It's sad that this image of perfection is synonymous with Christian when that is not the message at all. I think it's that we can be authentically all that we are and that is a mixture of good and bad in everyone."
Speaking of Christianity some (including myself) have accused Lisa of not accepting gay men and lesbians and she was happy to set the record straight, saying that she once responded in a column to a mother concerned that her son was gay and mentioned Exodus Internation, a group that (incorrectly) claims it can "pray the gay away." She later took down the column. "I realized that was way too big to try to answer in a column," she says. "It's not mine to answer and on the other hand, I think that the answer is going to be love no matter what and not judgement."
As for what comes next, Lisa would love to stay in the spotlight. "My kids are all grown up and married and in college so a few years ago I started asking the question what I wanted to be when I grow up," she says."The answer was the same when I was a kid. I'm moving back to CA after Christmas. I'd love to be in another sitcom, that was a great memory. I'm doing some cohosting with Jeff Probst on his talk show, so my Survivor adventure continues."
But what kind of show would Lisa want to do? A comedy definitely, but she's having a hard time finding one she loves. "There are so many excellent shows, but some of them that are the most excellently written and acted, I don't want to be a part of a show that I think brings less than positive enegy to the world," she says. "Sadly the ones that bring the positive energy are the cheesiest, so I don't know if there is a show out there yet. I don't watch a lot of television, so maybe I'm missing something that's out there."
There is one problem about Lisa's new-found fame. Even though she still looks exactly like her character Blair Warner, she had a trick for not getting recognized. "The problem with being on Survivor, after playing the part of Blair whenever I wanted to be incognito I could put my hair in a ponytail and not wear makeup and no one would recognize me. That doesn't even work anymore," she says. As the theme song says, with the good comes the bad.
Follow Brian Moylan on Twitter @BrianJMoylan
[Photo Credit: CBS]
More:
'Survivor' Recap: And the Winner Is…
'Survivor' Winner Denise Stapley Totally Knew Blair from 'Facts of Life'
'Survivor: Philippines': Find Out Who Won!

'The Hobbit' Cast: A Who's Who New Character Guide (Moviefone)

'Les Miserables' Unscripted: Hugh Jackman, Anne Hathaway On Singing And Being Modest