Fall TV: 'Homeland' Pilot Review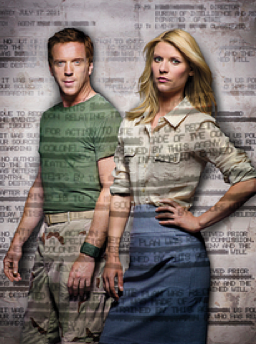 It's really a shame that the buzz for Showtime's new drama Homeland is so minimal, because it's pretty fantastic. Sure, the phrase "political drama" or "political thriller" inspires little excitement in the masses, but it should. This Claire Danes-starring series is (at times) sexy, smart, thrilling and suspenseful and it's certainly worth your attention.
Our protagonist, Carrie Mathison, is a CIA Agent with a volatile history and a potentially unstable present and she's already on thin ice at the agency when Missing In Action Marine Sgt. Nicholas Brody (Damien Lewis) returns home after being a prisoner of war for years in Iraq. While everyone else is happy welcoming the tortured soldier back to the States, Carrie isn't buying his innocence. One of her informers in the field told her that an American prisoner had been turned to Al Qaeda's side and Carrie believes Brody is that prisoner. For someone in such a precarious position, accusing an American hero freshly returned to American soil isn't exactly the easiest task – especially because of the actions she took in order to obtain the intelligence she's using. Her illegal actions are what landed her in hot water three years prior. Needless to say, Carrie is facing an uphill battle.
But Brody isn't just facing a CIA agent breathing down his neck; he's also got problems at home. He's been gone so long that his 13 year-old son has grown up without really knowing his father, since he was just a tyke when Brody shipped off. His 15 year-old daughter is in her rebellious phase, smoking pot with the slacker from her school and being generally sullen and apathetic. Add to this that his wife started sleeping with one his friends and almost let him move in with her when Brody returned home unexpectedly. Plus, there's the whole living in a Iraqi prison camp — that could really mess with someone's head.
Both Carrie and Brody are incredibly complex, introspective characters. They're both incredibly flawed – the nature of those flaws should remain hidden until you've actually seen the fantastic first episode – and incredibly fragile. Watching these two play out their intricate, delicate little dance for the next 12 episodes is going to be an incredible journey. Danes and Lewis are fantastic choices to lead the series and we find equally capable supporting characters in Brody's wife, Marina Baccharin (V), and Carrie's boss and mentor, Mandy Patinkin (Criminal Minds, The Princess Bride).
My biggest fear with this series is that audiences won't give it the time it deserves. It faces some series competition in its Sunday night time slot and its mystery is slowly unraveling, the dance is just beginning, and you have to pay attention to every last detail in order to keep up. The good thing is that unlike some series (ahem, Lost), Homeland does reveal enough of the mystery to keep us on the hook; I'm just hoping that audiences actually allow themselves to be caught.