Fall TV: 'New Girl' Pilot Review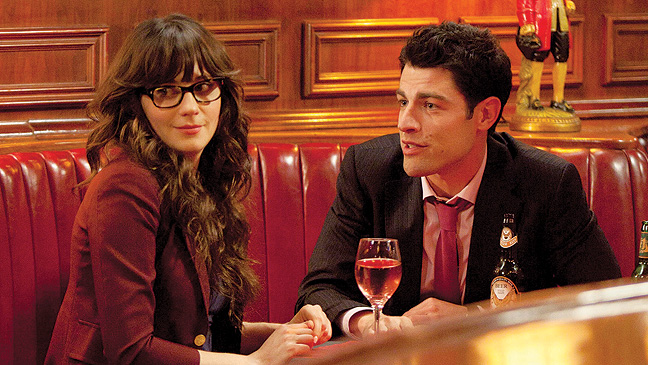 This is one of the most highly-anticipated shows of the fall season, and with good reason. It's not going to change anyone's world view or challenge us intellectually, but what New Girl does accomplish is something that somehow seems to be lost amongst the plethora of modern sitcoms: it's a genuinely funny, entertaining good time. To boot, New Girl delivers some of the most refreshing female dialog we've seen on a sitcom in quite some time, straight from No Strings Attached screenwriter Liz Meriweather's brain and right out of Zooey Deschanel's Disney Princess mouth. But does the show rest comfortably and lazily on Deschanel's capable talents? Or does it forge a path to becoming a fully-developed, rich series that we can continue to cherish for seasons upon seasons? Well, we've got a few ideas. Join us, why don't you, as we examine the potential of New Girl's pilot episode.
Let's start with the most important factor: The New Girl herself. Jess is a young school teacher who's a little clumsier and dorkier than most small screen heroines, and she's just been dumped – and rather embarrassingly, I might add. Those who often complain about Deschanel's predictable, adorable quirkiness may want to just stop right here, because her character relies on that well-cultivated persona and takes it to a whole new level. Jess refreshingly differs from most TV leading ladies in that she's a girl who's both ignorant of girl-world practices and she's still typically feminine enough to watch Dirty Dancing five times a day to get over her ex. And while she may be hapless, she's not completely helpless. It's territory that Liz Lemon first explored, except with New Girl our heroine can't debase herself enough to bear the the coating of weird body issues and disgusting eating habits that good ol' LL carries with pride. Jess is like the kinder, gentler, cuddlier kid sister to Liz Lemon (complete with Lord of the Rings references). And she'll continue to be charming and chuckle-worthy as long as her character can find new, deeper territory as the series continues.
Now, we already knew we'd love Deschanel's character, so the next question lies with her cohorts – or in this case, her roommates. We couldn't have these guys just be accessories to Jess' quirks, and luckily they're not. The only one that seems a bit out of place is Coach (Damon Wayans Jr.) but thanks to Happy Endings' miraculous pick up over on ABC, he'll be replaced in episode 2. That transition will probably be awkward, but hopefully it will improve upon his lack of chemistry with the rest of the cast. What does work is the dynamic of Nick's (Jake Johnson) heartbroken softie pitted against Schmidt's (Max Greenfield) horny douchebag, with the buffer of Coach's boring sports buff. (Wayans' replacement will be a new character, but he'll also be athletically-inclined.) But these dudes aren't just a set of know-it-alls put in place to school the ditzy, dorky new girl in the ways of the world outside her own little mental playground. They're just as stunted as she is, just in a few distinctly different ways. Together, they create a sort of dysfunctional sitcom version of Dorothy and her yellow brick road brigade – Jess sings her own little theme songs and if you remember correctly, Dorothy was guilty of that too.
The series has potential for storyline expansion thanks to Jess' best friend, the model; Nick's still-present ex-girlfriend (played by It's Always Sunny in Philadelphia's "The Waitress"); and in the mildly hinted potential chemistry between Nick and Jess. Series like this tend to hinge on strong romantic potential, so here's hoping that push and pull increases in the coming episodes – which could prove interesting when guest star Justin Long shows up in episode 6 to serve as a love interest for Jess.
New Girl is very much a Deschanel specialty, so if you're a Zooey hater, you're S.O.L. But if you like the actress and Meriweather's simultaneously punchy, off-putting, and sweet dialogue, then it's worth sticking around to see how far this series takes these very likable characters in the coming weeks. If it continues on this path, Glee and Raising Hope may have finally found a worthy Tuesday night companion – or at least a show that audiences actually watch.
New Girl premieres after Glee on Fox at 9 p.m. ET/PT on Fox.