Fall TV Preview: 'Secret Circle' Pilot Review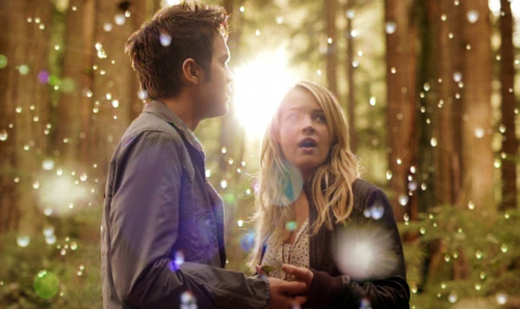 It's the era of the Young Adult fiction series. First Harry Potter and Twilight became film series and now we find The Vampire Diaries and The Secret Circle with reiterations in the form of television series. We've already witnessed the addictive power of the Nina Dobrev-powered Vampire Diaries series, and now the CW is adding some witchy magic to the Thursday night lineup with The Secret Circle. Surely the placement alone will serve the series well, but is it worth the extra hour in front of the television? We've landed on a solid "maybe."
From the start, the pilot takes significant liberties with the source material, which makes sense because fans of the novels still deserve a few surprises here and there, but it's an incredibly dark, abrupt start to a series that for the most part promises to be a cross between Charmed and Sabrina the Teenage Witch tinged with the Northwestern sensibilities of the Twilight series. Due to circumstances we'll try not to spoil for you, our heroine, 16-year-old Cassie (Brittany Robertson), finds herself moving to a small town called New Salem set ambiguously in Washington or Oregon. There, she's immediately the topic of discussion for a few Cullen-esque classmates who seem just a little too disparate to naturally be friends. Perhaps that's because it's their supernatural powers that bring them together. That's right, they're the titular secret circle of witches and Cassie is just now learning that she's one of them.
Throw in the token bad girl Faye (Phoebe Tonkin), some vanilla supporting characters in the forms of Melissa and Nick (Jessica Parker Kennedy and Louis Hunter), the best friend Diana (Shelley Henning), and the mysterious, magnetic — though seemingly eye-linered — boy Adam (Thomas Dekker). Cassie and Adam are immediately drawn to each other, but of course there are many obstacles between the pair. We can assume this angsty connection between the two will be the bait that strings viewers along all season. The problem is it's about the only thing that's got us hanging on.
When it comes to a supernatural show, if you don't have a lead who can pull you in like Buffy or Mulder and Scully, it's just hard to find reason to add it to your weekly schedule. Cassie's cute and spunky and completely likable, but she's remarkably middle-of-the-road. Then there's the element of magic. Viewers aren't impressed by teenagers who can make it rain with their minds; this is the generation that grew up with Harry Potter. Sure, there's a grand mystery surrounding the two separate sides of the good and evil coin in the witching community and it's somewhat compelling, but once again, unless it can rival on the Harry Potter/Voldemort connection (and it can't) it will likely have trouble holding audiences' attentions. Sure, you could say the same thing about The Vampire Diaries and Twilight, but what VD did that Twilight took years to do, was to put the lusty, sexy elements right out in front. It filled the chaste void left by Twilight, and while Secret Circle is definitely a bit more concerned with love and lust than Potter is, it doesn't hold a candle to VD.
The series isn't by any means dismal or boring. It's got plenty going on if you don't mind the typical CW style narrative, and it's a teen girl's dream full of great clothes and cute, brooding boys. It's just a matter of choosing an average, magic-laden drama over the plethora of other great Thursday night offerings. Which is sort of asking a lot on a night that offers some of the most beloved shows on television.
The Secret Circle premieres tonight at 9 p.m. ET on the CW.