Fall TV: 'Prime Suspect' Pilot Review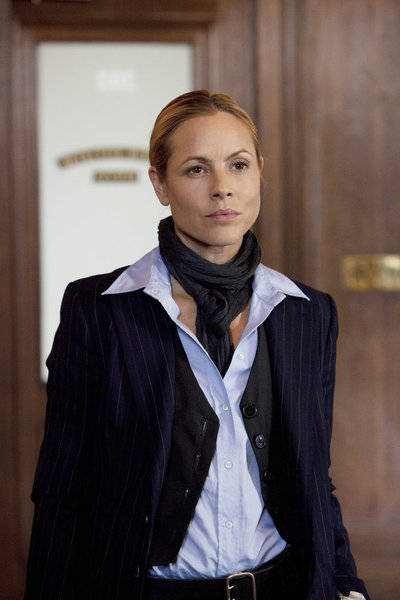 Another season, another by–the–book procedural cop drama. Another season, another no–nonsense, stubborn female who commands the screen, while portraying a woman in a man's world trying to prove herself. Maria Bello takes on the role of Detective Jane Timoney, in Prime Suspect, a re–imagining of the acclaimed BBC television series, which starred Dame Helen Mirren.
We're introduced to Detective Timoney in a unique-to-TV, but relatable situation. On her first day of quitting smoking, her cabbie decides to light one up. Although not many of us have had the pleasure of pulling out a badge and a gun to get the driver to put his smoke out, I'm sure we all have dealt with an annoying cabby before and smokers definitely know how hard it is quit. As stated before, Jane has to deal with being a woman in a man's world, which gives her a proverbial annoyed demeanor as she argues with the other homicide detectives, like Phil Carter (Kirk Acevedo), as well as her captain, Kenny Rowe (Aidan Quinn), who is also her only ally in the department.
Of course, the men on Prime Suspect are stereotypical New York cops, tough-as-nails, well-meaning, and they occasionally miss a detail or two. This is where Jane comes in, because her character is just as stereotypical of the genre–she's a woman who will do whatever she needs to do to succeed, so she obviously picks up on whatever detail the men miss, which helps her solve her cases.
Full disclosure–I have not seen the BBC original series and while I've heard the series was excellent, it's not required viewing to understand the American version. Heck, Dick Wolf could have slapped his name on the show and we'd have another Law and Order installment on our hands.
With that said, Prime Suspect is not bad at all, it's just decidedly formulaic. Everything about the show's pilot is by the numbers. The plot had Jane seeing through her co–worker's shoddy detective work, while connecting with a small boy to solve the case. I'm not saying I could have done it better, but considering the countless hours of SVU and Criminal Intent marathons that I've logged (thank you, USA Network), I felt like I saw this episode several times already, and in several different iterations. Timoney spends the hour telling every other cop they're wrong and then proving them so in order to solve the case. But, remember it's only the pilot episode and pilots ordinarily either try to shatter the mold or stick to the formula and branch out over time (hopefully).Even the X–Files started out as a typical procedural too, just with aliens.
What makes Prime Suspect compelling enough to see where this show goes is its remarkable cast of "I know that guy from somewhere" actors like Kenny Johnson (The Shield, Sons of Anarchy), Kirk Acevedo (Oz, Fringe), Aidan Quinn (Benny and Joon, and more recently, Weeds), and of course, series star, Maria Bello (History of Violence), who plays Timoney as a cop who knows everything, even when she doesn't.
With the fledgling peacock network looking for hits anywhere they find one, there is slight possibility that the actors' various cult fan bases will converge on this show and make it a worthy ratings hit, but even with that, Prime Suspect needs to break the procedural mold, and fast. Jane needs to get down and dirtier. I couldn't help but think throughout the pilot that if this was on FX or HBO, maybe even Fox, that a grittier feel would've been possible. Just dressing this girl in rugged clothing does not make her rough around the edges, no matter how hard Bello tries.
Despite all this, I will repeat, this show is not actually bad at all; it's an enjoyable hour, but it's going to need a lot of work to avoid being lost in the shuffle amongst other established police shows. Not to mention the fact that it's up against Thursday heavyweights like The Mentalist and Private Practice.