Fall TV: 'Suburgatory' Pilot Review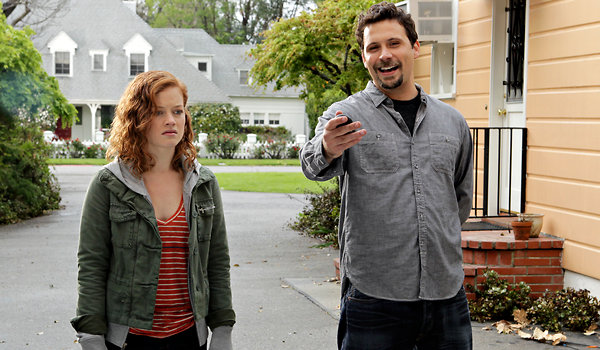 Wednesday night's ABC comedy lineup is somewhat akin to NBC's Thursday night comedy blocks of years past. The newest entry into what is slowly but surely becoming the funniest night on TV is Suburgatory. The name and the idea of the show is exactly what it sounds like: the suburbs plus purgatory. Moving to the suburbs is a hellish thought for Tessa (Jane Levy, Shameless) a Manhattan teenager ripped from the cacophony of the big city to the unsettling quiet of the suburbs by her dad, George played by Jeremy Sisto. I know he's grown far beyond the role of Elton in Clueless, and he was great on Six Feet Under and Law and Order prime but who doesn't think of "rollin' with the homies" when they hear his name?
Like many great comedies, Suburgatory relies on its ability to appeal to everyone, while still having moments of quirkiness, such as a sugar free Red Bull smashing Tessa in the head or a woman busy texting plunging headfirst into a pool. Another welcome bit of casting is Rex Lee (Entourage) as high school guidance counselor, Mr. Wolfe. Man, I hope we get some sort of bit with Lee as Winston Wolf from Pulp Fiction. Other friendly, albeit plastic, phony faces in the 'burbs are Cherly Hines (Curb Your Enthusiasm) as Dallas, the local neighborhood gossip and milf with a thing for George; and Alan Tudyk (Firefly, Knocked Up), as George's old friend from college, Noah, who has become assimilated into the suburban life ("nothing smells like urine!"). There's also Dalia (Carly Chaikin) as Dallas' typical blond with an acid tongue, daughter and Tessa's assigned school buddy; as well as Allie Grant (who is no stranger to the warped suburban life after playing Isabelle Hodes on Weeds) as a girl Tessa wants to be friends with. Saturday Night Live alum, Ana Gasteyer rounds out the surprisingly solid supporting cast. Anyone of these guys can headline their own series.
While the supporting players are worth their weight in comic gold, the series will most likely rest on the shoulders of Jane Levy. Previous seen as Ian Gallagher's beard of a girlfriend, Mandy, on Shameless, Levy is the perfect mix of Darlene Connor from Roseanne, Cady Heron from Mean Girls, and Lisa Simpson. She's the loveable outcast with the verbiage to match. When trying to rebel against her dad forcing her into the suburbs, she ironically becomes the very thing she loathes, a suburban girl with too much makeup, who drinks Red Bull for dinner to stay a slim 85 lbs. She's the snot-nosed, rebellious teen with the sarcasm and wit to match. Another great sight-gag was father and daughter warring silently, but the message was hysterically emphatic; Tessa was reading a book on how to become an emancipated minor, while George was reading up on how to give his daughter up for adoption.
By episode's end, just as Dallas begins winning Tessa over, Suburgatory begins to win the viewer over. Tessa realizes that her dad's stuck in suburgatory as well and lets her anger towards him go. The show does have a dull premise, the tried and true fish-out-of-water tale. But Levy emerges as a rising star who can actually shine above her co-stars and Sisto is probably the most underrated actor in the history of Hollywood. As a lead-in to Modern Family, Suburgatory needs to find an audience with the speed of its own sharp-tongued wit, which it most likely will. ABC has found itself creeping out ahead of NBC and CBS as the overall best network for comedy and this show makes a fine addition. Now, if we can somehow convince them to bring back Pushing Daisies or Better off Ted…