Fall TV: 'Whitney' Pilot Review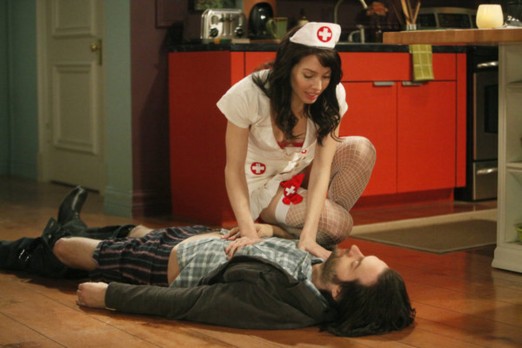 This morning, on the fourth hour of the Today Show, Hoda Kotb and Kathie Lee Gifford said that Whitney Cummings and her new show were the things that were going to ride in and save the network. I'm thinking those statements had something to do with the colorful cocktails in their hands because after watching the pilot episode of Whitney, I can resolutely say there's no way it's strong enough to carry an entire network, especially when the peacock has so many other better and more promising shows (Up All Night, Parks and Rec, The Office, 30 Rock – Whitney can't compare). So what's the problem? Well, there are a few.
First off, I really want to like Whitney. She's got the down-to-earth girl attitude, she's not about getting all dolled up all the time or perpetuating some unrealistic expectation of how a woman should behave. This notion is refreshing, it's just too bad the show doesn't deliver on that idea. Whitney is in a long-term relationship her boyfriend Alex (Chris D'Elia) who she lives with. They're extremely comfortable and incredibly in love, but the constant barrage of societal pressures about how their relationship should progress or what their sex life should be like starts to get to her. She tries to spice things up with a nurse outfit and role-playing, but her little stunt lands her man in the hospital. She's not allowed back because she's only his girlfriend and the question of marriage comes up – it would solve everything in this situation. Too bad that question is answered by the time the tag hits.
Her friends consist of Lily and Neal (Zoe Lister-Jones and Maulik Pancholy), a new couple who can't keep their hands off each other; the horndog cop Mark (Dan O'Brien) and a bitter, drug-addled divorcee named Roxanne (Rhea Seehorn). These are not only the exact cohorts we'd expect for a premise like this, but not a single one of them is likeable. They're all obnoxious and not as a result of their most recent relationship status changes; their issues are inherent. It's a bit of a bummer, since Lister-Jones is such a solid presence in indie films, but when she steps foot on Whitney, she loses her charm.
Finally, even if those characters worked and the pilot didn't resolutely answer the only question it answered, the show would still be lacking a little something. Cummings has made a decent living as a stand-up comedian and that's obvious throughout the show. Many scenes feel much like a stand-up routine instead of a conversation or an actual event. It's not that there isn't something funny about them, but in a sitcom setting we need more than just a good joke, we need it to fit in the story, be believable and still make us laugh. Whitney just doesn't seem to accomplish that, and often it feels like the characters are explaining the situation just a little too much. This isn't the set-up for your bit about anniversary sex, Whitney. Show us, don't tell us.
There was one scene in the whole episode that gives me hope. Whitney gets a nurse costume for her anniversary with Alex and the whole awkward/sexy scene was charming and enjoyable. Whitney's delivery wasn't as stale as it is in the rest of the series and D'Elia's dumb guy schtick is pretty cute and likable. We also get a spot of Jane Kaczermarek as Whitney's mom, and despite the boring dialogue, the actress makes it work.
There are areas of the sitcom that work, but there's so much that doesn't. If the writers don't adjust their supporting characters to be more likeable and Whitney doesn't loosen up, I don't see this series making it for very long. Then again, NBC needs a hit, so maybe shying away from the critically-acclaimed single-camera comedies for a typical, cute, multi-camera sitcom with a live studio audience is just what the doctor (Quinn medicine woman?) ordered. It's hard to gauge what the American public will do, but Whitney sure doesn't get my vote on a night when some of the best shows on television are competing for our viewership.