'Fame' Gets TV Reboot, Again, Because 'Fame' Is Gonna Live Forever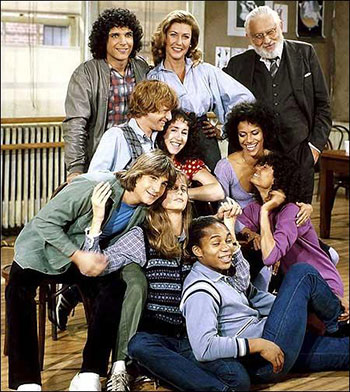 As if two movies, two TV shows, a stage musical and a reality show weren't enough, there will be yet another entry in the Fame franchise!
Deadline reports that Nigel Lythgoe (So You Think You Can Dance) and MGM Television will executive produce the scripted series based on the 1980 film about the singing, dancing and acting students vying for success at the New York High School of Performing Arts. According to the report, the new series will take place in modern times and will "strive to embody their spirit set in today's unprecedented access to the world of celebrity. It will expose the gritty struggle, heartache and pain endured in the search for stardom and the often lofty price paid for success."
Fame debuted as a cult hit in 1980, winning two Academy Awards (including one for Best Original Song for the immensely hummable theme song) before spinning off in a number of directions: a 1982 TV series that lasted for six seasons; a short-lived spin-off of said TV series that took place in Los Angeles; a singing reality show; a stage musical; and a 2009 movie remake (spoiler alert: it flopped).
What do we make of this new entry into the belabored musical series? For one thing, there's no reason it has to actually be called Fame. People haven't flocked to that franchise title in years, so why not take the opportunity to develop a new show about starving artists hoping to reach their dreams in New York City? Then again, if Glee decides to focus on the grittier aspects of its new season and have Rachel and Kurt get mugged in the season premiere, then we may not even need this new show anyway.
And, just because:
[Photo Credit: NBC]
MORE: