That 'Family Guy' Boston Marathon Bombing Clip is Fake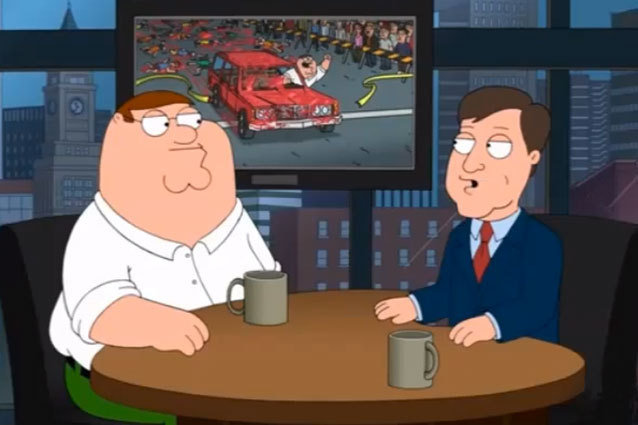 Early Tuesday afternoon, a doctored clip from Family Guy plagued social media with the horrific idea that the FOX animated show predicted Monday's Boston Marathon bombing. Guess what: It's not true, and the show's creator Seth MacFarlane thinks the edited piece is "abhorrent."
For all those who are a bit behind on the fast-paced trends of the interwebs, here's what happened: The 14-second video below was edited from two separate moments from the episode "Turban Cowboy," which aired on FOX a little more than a month ago. Within minutes many Internet-based idiots were claiming that this fake footage is proof the government was somehow responsible for this week's tragedies in Boston.
"Turban Cowboy" featured a plotline in which Peter decided he wanted to become Muslim, and given the brash — and yes, at times distasteful — nature of Family Guy, the episode also featured a cell phone-triggered bombing. In a cutaway that was completely unrelated to the story's central plot, Peter was also seen reflecting on a time he won The Boston Marathon by running over the race participants with his car.
Family Guy creator Seth MacFarlane even took to Twitter to clear up the rumors and express his deepest sympathies to those in Boston.
The edited Family Guy clip currently circulating is abhorrent. The event was a crime and a tragedy, and my thoughts are with the victims.

— Seth MacFarlane (@SethMacFarlane) April 16, 2013
Follow Leanne on Twitter @LeanneAguilera
MORE:
Seth Macfarlane Says Family Guy' Movie Is (Probably) Happening
On Seth Macfarlane's Solid Oscars Opening
'Family Guy' Postponed In Wake Of Sandy Hook Shootings
---
From Our Partners


Jessica Alba Bikinis in St. Barts (Celebuzz)


Which Game of Thrones Actor Looks Least Like His On-Screen Character? (Vulture)